Countless ways to relish radishes
This article was originally published in June 2012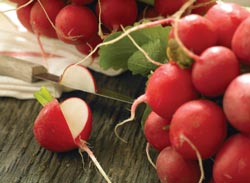 Radishes typically keep a low profile in this country, relegated to salads and crudite. But other cuisines elevate these peppery, rosy roots to a starring role. Explore these appealing ways to prepare organic radishes, which arrive fresh to PCC from Full Circle in Carnation, Wash.
In sandwiches — Facing yet another hot summer day? Make like the French and slather your favorite rustic bread with butter, sprinkle with salt, then layer on thinly sliced, perfectly crisp radishes for a lunch with a cool crunch.
Roasted — Clean and quarter a pound of radishes, toss with olive oil, place on a baking sheet and sprinkle with salt, minced garlic or your favorite seasoning salt. Roast at 375° F for 20 minutes or until radishes are tender. Serve as a side dish or add to a quinoa or leafy salad. Alternately: Toss with toasted sesame oil and soy sauce, roast, then top with sliced scallions and toasted sesame seeds.
In salads — When craving a crunchy salad suitable for nearly any diet, look no farther than PCC Chef Lynne Vea's Radish and Cucumber Salad, a fresh blend of radishes, cucumber, chives, dill and vinegar.
Get cooking with radishes