Top 10 allergy remedies
This article was originally published in June 2012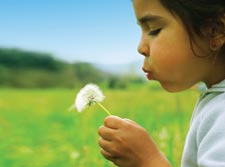 When everything's in bloom, you don't have to shy away from the outdoors because of seasonal allergies.
Find relief with help from natural products in our health and body care department so you can enjoy the grass, flowers and trees. Here are our top 10 favorite remedies.

Boiron Sabadil — Homeopathic tablets that address upper respiratory allergies, helping to relieve runny nose, cough, irritated eyes and sneezing.
Boiron Sinusalia and Sinusalia Pellets — A homeopathic remedy that helps relieve sinus pain that may be associated with allergies. Choose from tabs, or pellets, which can be taken with more frequency.
Oregon's Wild Harvest Aller-Aid with Quercetin — This herbal blend possesses antioxidant activity, vitamin C (which boosts the efficacy of quercetin), and an amino acid derivative that can break down mucous, providing support and relief.
Oregon's Wild Harvest Nettle Quercetin — Organically cultivated, freeze-dried nettle, which helps relieve inflammation caused by allergic reactions and clears congestion in the nose and chest, and quercetin — a flavonoid that inhibits the production of histamines — are a powerful combo in this herbal supplement.
Sinupret Adult Tabs — Breathe freely again with this powerful combo of medicinal plants that includes cowslip, common sorrel and elder. It helps with inflammation of the sinuses and loosens mucus to clear and relieve.
NatraBio bioAllers Sinus & Allergy Nasal Spray — This spray, from NatraBio, locally based in Bellingham, Wash., provides relief for nasal and sinus symptoms due to respiratory allergies stemming from grass and tree pollen, hay fever and other outdoor allergens.
Natural Factors Lung, Bronchial & Sinus Health — These tablets nourish and support the entire respiratory system with extracts of mullein, wild cherry, horehound and ivy. Ideal for those with chronic respiratory problems to help them breathe easier.
NatraBio bioAllers Pollen Hayfever — Relieve symptoms such as runny nose, sneezing, sinus pressure and itchy, watery eyes, and help prevent future allergic episodes with this homeopathic formulation.
B&T Allergiemittel Allergy Relief — A non-drowsy remedy that eases sneezing, wheezing, nasal congestion and scratchy throat caused by grass, pollen, dust, mold and pet dander.
Source Naturals Allercetin Allergy & Sinus — Support multiple body systems associated with hay fever with this combo of natural homeopathic remedies. It specifically addresses the respiratory system, sinuses, mucous membranes, histamine inhibition and more.