Canned seafood
This article was originally published in March 2012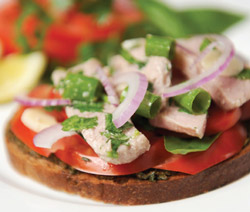 Canned seafood often gets a bad rap compared to fresh, but the unusual kinds at PCC — local albacore, Oregon pink shrimp and more — are reason to reconsider. They're canned or jarred right when they're caught — preserving the quality and nutrition — and are affordable, available year-round, and perfect to store in the pantry for quick, easy meals. They're all sustainable, to boot!
Tuna: a good catch — Not all tuna is sustainable and healthy, but the varieties at PCC are. We carry several brands of Pacific Northwest albacore, which is smaller and much lower in mercury and other contaminants than the tuna you'll find in other stores. It's also exceptionally high in heart-healthy omega-3 fats that give it a rich, succulent flavor. Each albacore is pole-caught by independent fishermen, so the fishing supports local fishing communities and doesn't incur bycatch.
Tuna may be the king of canned seafood, but here's a sampling of other varieties you'll find at PCC:
Wild Alaskan salmon — Boneless, skinless canned wild Alaskan salmon has the same omega-3 content as fresh, but it is fully cooked so you can add it to salads, chowders and other recipes.
Anchovies — Did you know anchovies are an excellent source of calcium and have more omega-3 fats than wild salmon? They're salty (often used to flavor sauces), but you can soak them in cool water to make them less so. They're low in contaminants and are a low-calorie but filling little fish, so add them to pasta or eat them plain on toast.
Sardines — Like anchovies, sardines also are high in calcium and one of the best sources of omega-3s. They're also low in contaminants and a tasty addition to pasta or salads, or whipped into a spread for crackers.
Oregon pink shrimp — Pre-cooked, so you can use it straight from the can, these shrimp taste fresh with a mild, sweet flavor and flaky, firm texture. Add them to omelets, or toss into pasta or salads.