Tea time
This article was originally published in February 2012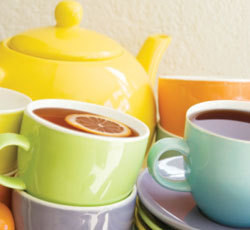 The simplicity of a piping hot cup of tea, its ability to soothe and warm, makes it universal. According to the Tea Association of the USA, it's second only to water as the most consumed beverage in the world. With so many variations and flavors that range in character from smoky to floral, bold to mellow, there's a blend for everyone.
At PCC you'll find packaged tea galore and loose-leaf options in bulk.
Traditional
The leaves of black, oolong, pu-erh, green and white tea originate from the same plant — a magnolia-related evergreen tree. These varieties, the oldest, are considered traditional or true teas. We carry traditional blends from Choice Organic Teas (a locally based company), Numi Organic Tea, Equal Exchange, Stash and Tazo among others. Black blends include English Breakfast and Earl Grey. Look for a number of green tea blends too, such as Genmaicha, which features green tea paired with toasted brown rice.
Medicinal
Herbal teas contain dried flowers, herbs and fruits. Yogi Tea and Traditional Medicinals offer herbal blends geared toward promoting wellness with their combination of ingredients. Sore throat? Try Throat Comfort or Throat Coat, which contain slippery elm bark and mullein to help soothe an irritated throat. Trouble sleeping? Try Bedtime or Nighty Night. You'll find many other blends designed for specific symptoms on our shelves.
Yerba maté
A healthier alternative to coffee, yerba maté is nature's most balanced stimulant, delivering both energy and nutrition with 24 vitamins and minerals. It has a strong, earthy taste and traditionally is drunk from a gourd. Find organic, fairly traded maté from Guayaki and Eco Teas. If you love the flavor of peppermint, try Choice Organic's Yerba Maté Mint.
Bulk
Tea steeped in its loose-leaf form imparts the most flavor and health benefits. Our bulk department offers a variety of loose-leaf options and provides an opportunity to sample many new blends, affordably. Try Mango Ceylon or Moroccan Mint Green from Choice Organic, White Peony or Gunpowder from Frontier Organics, Jasmine Pearl or Wuyi Oolong from Rishi Teas, and more. Don't let the price of tea per pound dissuade you from trying our many varieties. A mere two ounces is enough to brew more than 20, six-ounce cups of loveliness (depending how strong you take it). Bring home as much or as little as your heart (and budget) desires.