Light up the fall
by Karen Gaudette
This article was originally published in November 2011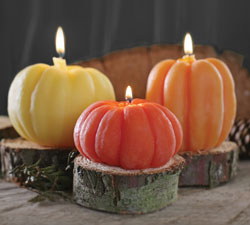 Whether you crave their scent or simply relish their cozy glow, candles are a lovely way to make any occasion special.
At PCC you'll find candles free of paraffin and other petroleum by-products, crafted instead from sustainable materials such as beeswax, soy and fair trade palm wax so you can breathe easy.
Up close
Big Dipper Wax Works, Seattle — When the weather turns chilly, you're sure to find whimsical, 100-percent beeswax candles in the shape of pumpkins, birds, ornaments, hearts and more from this local candlemaker at PCC. Since 1993, Big Dipper has crafted tapers, pillars, votives and more from pure, pesticide-free beeswax from the Northwest.
These long-burning candles light up the night without artificial extras and are a glowing reflection of the company's commitment to nature, sustainability, and the health of the environment. Big Dipper is a Green America Approved Business, supports many local community groups and institutions, and donates 10 percent of net profits from all candle sales to organizations that support sustainable beekeeping. Read more about their values: bigdipperwaxworks.com.
For everyday enjoyment
Big Dipper Wax Works (local!) 100 percent beeswax, handcrafted tapers and pillars, plus tins, votives and candles in whimsical seasonal shapes (pumpkins, ornaments and more).
Aloha Bay — Find these fair trade palm wax candles in tapers, pillars and glass votives.
Especially for the holidays
Kiss My Face Peace Candles — These handcrafted soy wax beauties are a gift that keeps on giving: 10 percent of profits support Seeds of Peace and its mission to unite teenagers for conflict-resolution training.
Zum Glow Candles from Indigo Wild fill your abode with the scent of Frankincense & Myrrh, crafted with soy wax and pure essential oils, plus a lead-free wick.
Luminaries from Jande — These soy candles glow from within glasses wrapped
in decorative paper in a variety of vibrant colors and patterns.