6 tremendous heirlooms
This article was originally published in August 2011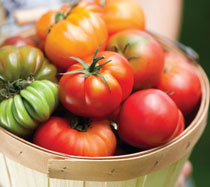 Heirlooms are the nonconformists of the tomato world, their size, shape, even color defying the traditional mold of their shiny tomato brethren. Each with its own unique history, heirloom tomatoes offer unbelievable flavor that can electrify a salad, sandwich or other dish with outstanding taste. You'll find the following varieties in the produce department at PCC this August.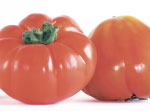 Brandywine — Introduced some time in the late 1800s by the Amish, the Brandywine is found in a variety of colors but most commonly is a reddish-pink. It has a rich, sweet flavor and makes a good slicing tomato that is best eaten raw.
---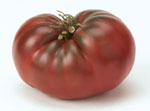 Purple Cherokee — Over 100 years old and originally grown by the Cherokee tribe, the Cherokee Purple is a dark rosy color with a hint of purple and a touch of green. It offers a sweet, smoky flavor and is versatile in the kitchen — in particular it's a good substitute for vine-ripened tomatoes.
---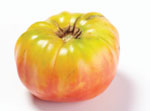 Marvel Stripe — Bi-colored — yellow-orange streaked with red — the Marvel Stripe originated in Oaxaca, Mexico in the 1800s. It's big and beautiful with deep orange marbling inside and a fantastic fruity, sweet taste that is best when eaten fresh and lightly seasoned.
---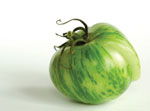 Green Zebra — Small yet bold, the Green Zebra is one of the most visually stunning of all heirlooms. Its green skin is marked with yellowish-green stripes — slice one open and inside you'll find sparkling green flesh. With a tangy, tomato flavor, Green Zebras add great color to salads and other dishes.
---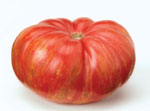 Vintage Wine — Pastel pink marked by beautiful, golden stripes, the Vintage Wine is a gorgeous heirloom variety with a deep pink interior and thick, juicy pulp. It boasts a finely balanced flavor that complements most dishes.
---
Chocolate Stripe — The sweet, earthy flavor of the Chocolate Stripe is enchanting, and its mahogany skin striped with green is a sight to behold. Slice one up for sandwiches or add it to a salad.
Simple ideas for late-summer tomatoes
Toss fresh heirloom tomato chunks with local smoked salmon and drizzle with balsamic vinaigrette.
Sauté tomatoes in olive oil with garlic, lemon juice and white beans. Stir in 2 cups of chopped chard.
Top tomato slices with a basil leaf and fresh mozzarella and cook under the broiler until golden. Sprinkle with coarse sea salt.
Season chopped tomatoes with rosemary, oregano and a pinch of salt. Top with buttered breadcrumbs and bake at 400° F for 25 minutes or until bubbly.
Make a Parisian Bisque by simmering tomatoes, sautéed shallots, white wine and tarragon. Purée and drizzle with crème fraiche.
Ideas by PCC Chef Lynne Vea