A fool for rhubarb
This article was originally published in April 2011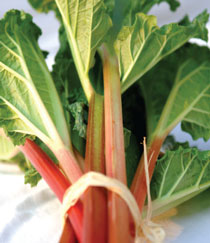 Rhubarb is a cheerful harbinger of spring, its sturdy stalks a head-turning, vivid first flash of ruby red before local strawberries arrive to grace our tables.
It offers vitamin C and potassium just as winter's wealth of citrus dwindles to a final few precious oranges.
Rhubarb's lovely tartness works well in recipes both savory and sweet, though the latter calls for a generous dose of sugar or your sweetener of choice to balance the pucker.
Try a rhubarb pie, a vibrant dessert like rhubarb fool, or enjoy rhubarb year-round in preserves. Try a sweet and spicy rhubarb sauce or chutney ladled over meats or fish.
Choose straight and firm stalks with bright color and fresh, blemish-free leaves (if they're still attached). Store your rhubarb in the crisper drawer of the refrigerator for up to three days. Wash stalks and remove the leaves (which are toxic) before baking or stewing, the two most popular ways to transform rhubarb to its future glory.
by Karen Gaudette, PCC Taste, April 2011
Get cooking with rhubarb