What to do in April
by Lydia Cox
This article was originally published in April 2011
April hath put a spirit of youth in everything.
— William Shakespeare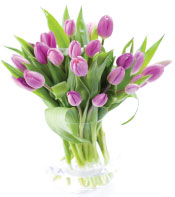 Tiptoe through the tulips
Pack a picnic or stop by the PCC Deli for ready-made sandwiches and salads, then head north to the Skagit Valley Tulip Festival, which lasts the entire month of April. If you're not feeling the day-trip, brighten up your desk or kitchen with a beautiful bouquet of our colorful tulips.
Go egg hunting
Kids 8 and under can hunt for prize-filled eggs at our annual PCC Egg Scramble, which will be held on April 16 at 9 a.m. at the Edmonds, Issaquah, Redmond and West Seattle PCC stores. This year we're asking participants to bring an item to donate to our local food banks. The PCC Bunny will be on-site to collect the food. It's a great way for kids to learn about giving back to the community while having lots of fun.
Create a memorable spring brunch
With asparagus now in season and the first few strawberries popping up, it's a great time to gather with friends and family for a delicious spring brunch. Try one of our asparagus recipes, and check out our recipes for Good Morning Coffee Cake and French Omelette with Sweet Peppers, Smoked Salmon and Gruyère. We'll also have all-natural spiral-sliced ham and easy-carve ham from Beeler's for the Easter holiday. If you'd rather leave the cooking to us, stop by the PCC Deli where you'll find spring-inspired, brunch-like dishes and scrumptious baked goods. Get inspired »
Now in season
New crop organic Packham, Abate Fetal, Bosc and Asian pears. Local asparagus will arrive late in the month.
Last chance for
Organic citrus navels and Texas Rio grapefruit.
Add to your book collection and get reading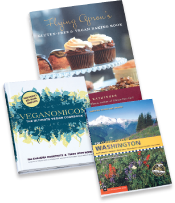 Research great hikes for the warmer months ahead with "100 Classic Hikes in Washington," "Best Hikes with Kids: Western Washington & the Cascades" and "Day Hiking: Snoqualmie Region." Learn great vegan recipes with "Veganomicon: The Ultimate Vegan Cookbook," or try your hand at gluten-free baking and get local with "Flying Apron's Gluten-Free and Vegan Baking Book" (Flying Apron Bakery is located in Fremont). And get great ideas for gardening and other spring/summer projects with "The Backyard Homestead" and "The Urban Homestead," all available at PCC stores.