The Origins of Cascadian Farm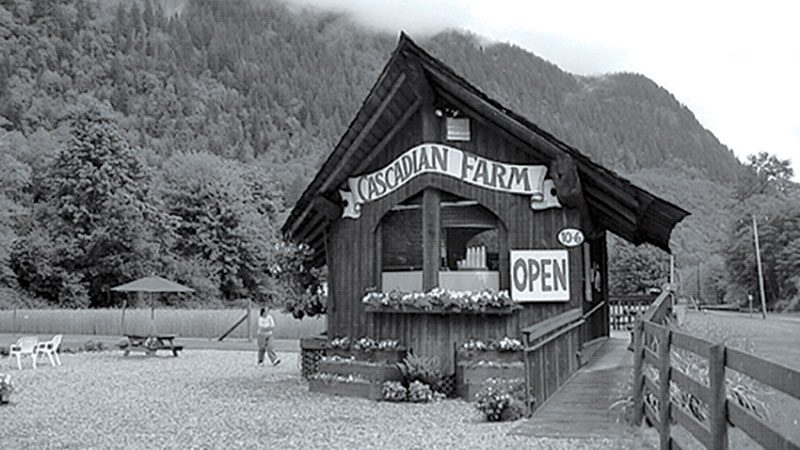 To most shoppers, Cascadian Farm is a label. The national organic brand owned by General Mills features frozen vegetables, granola bars and cereal.
To those who remember, though, Cascadian Farm is both an ideal and a place.
Founder Gene Kahn was a graduate student in English literature at the University of Washington before heading 90 miles northeast to Rockport in 1971 to grow organic strawberries, barley and other crops.
"It was just a wild time, and dealing with Chaucer and English poetry just didn't seem relevant at the time," Kahn recently recalled. The counterculture movement was changing social and political views, the Vietnam War and related protests raged, and books like Stewart Brand's "The Whole Earth Catalog" influenced a new generation toward a different way of life.
"Like so many people at that time, we were committed to going back to the land and getting out of the rat race, and rediscovering ourselves in a rural environment," he said.
PCC was Cascadian Farm's first customer. Kahn still has a 1971 invoice for vegetables signed by then-PCC-manager Randy Lee.
"I don't want to get hyperbolic here, but PCC was the key reason I survived," Kahn said.
Kahn had little farming experience and worked with a mostly-volunteer crew. But co-op members sought out the then-scarce foods that were grown locally and organically.
"Even when I showed up with ugly, very improperly washed carrots, Randy would take them. They were so flexible because they were full of empathy and respect for what we were trying to do…" Kahn said.
"PCC sustained us and encouraged us, and not only us, but others."
A 1977 Sound Consumer report noted that less than 200 acres were farmed organically in Washington state at that point, with PCC sourcing produce from pioneers like Kahn and Tilth Association co-founder Mark Musick of Pragtree Farm in Arlington. Another Sound Consumer alert asked for volunteers to dig Cascadian's "exceedingly flavorful russet and white potatoes" in exchange for a share of the spuds—and for the knowledge the volunteers would acquire—noting that "the need for folks with a willingness to work long, hard and cooperatively can't be overstated."
"Cooperatively" was a key word, literally and figuratively. Cascadian Farm worked through the Cooperating Community, an alliance of worker and consumer cooperatives, from dry goods to day cares, set up with loans from PCC.
The farm ultimately thrived, though in the process it shifted toward value-added foods like jams and eventually bought many raw ingredients from other farms. Mergers and acquisitions over the decades ultimately put the company under the General Mills umbrella, where Kahn was a vice president, starting its environmental sustainability program, and serving on the National Organic Standards Board. He now volunteers for the Service Corps of Retired Executives, advising small food-focused businesses like the one he once ran. The original Cascadian Farm property was donated last year to the Rodale Institute, "a dream come true" for Kahn, where it will be a site for research and support for organic farming.
"We had optimism and we really thought we were going to create change," Kahn said. "We did."