Community Voices: A Conversation with Town Hall Seattle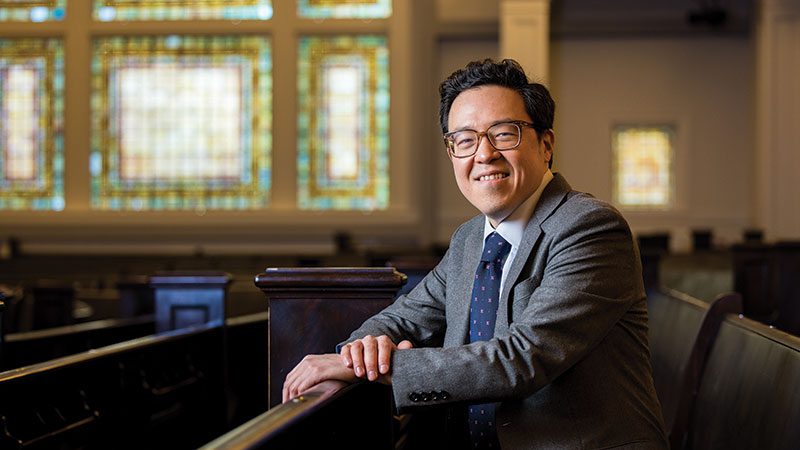 PCC's mission is to ensure that good food nourishes the communities it serves, while cultivating vibrant, local, organic food systems. We're proud to partner with organizations throughout the region and share their stories.
One partner is Town Hall Seattle, a gathering place that provides an enormous variety of public programming on topics ranging from the arts to politics to science to food and culture.
"I think we've done a particularly good job the last couple of years of being among the best organizations nationally in platforming important social justice voices…" said David Song, who joined Town Hall in April as the third executive director in its 25-year history. "I'm glad we are a place where people can talk about where society is headed."
Song talked recently with Sound Consumer contributor Tara Austen Weaver.
Q: How did Town Hall get started?
A: We were founded by David Brewster—I would call him a social entrepreneur. He's started a number of different organizations and causes in Seattle. In 1998, he led a group of people to purchase the Fourth Church of Christ Scientist (at 8th and Seneca), which became our home. Wier Harman took over in 2005 and built Town Hall (TH) into the modern, thriving organization that it is.
There was a $35.5 million capital renovation that happened in 2017-2019. We redesigned the ground floor of our building and added the beautiful Wyncote NW Forum. All the amenities were updated, and they did a lot of work on the acoustics for theater and live music. I give Wier a ton of credit for turning TH into this beautiful performance space that we share with so many partners in Seattle.
Q: Can you tell me about the programming series?
A: I think it's intentionally designed to be eclectic. We have civics, arts, sciences and literature, which is an opportunity to bring in both local and national authors. We have a number of partnerships with community organizations who either rent or share our space—classical music organizations, jazz orchestras—and we do the spelling bee every year!
There's a Saturday Family Concert with NW Folklife where families will dance to music from all over the world. It's eclectic and broad. We don't have one audience, we have multiple audiences and multiple communities—I think everyone can find something that interests them in our calendar every month. I love that it feels like a community, like Seattle is a small city.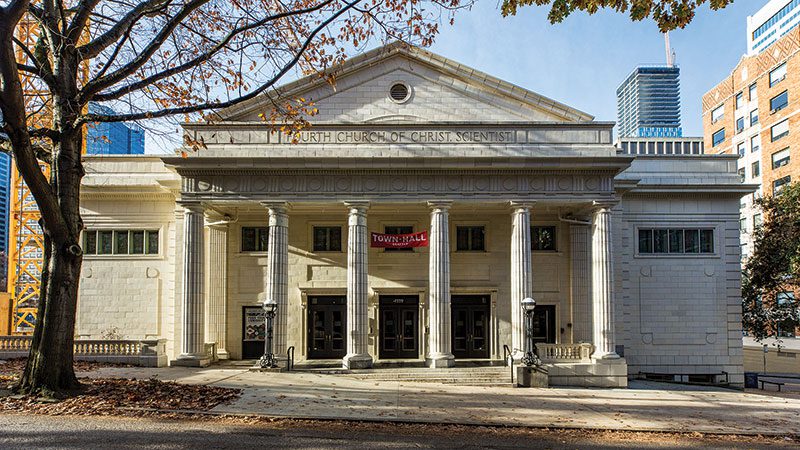 Q: You're just starting out, but do you already have a favorite memory of being at Town Hall?
A: My first week we had a Global Rhythms concert, our international music series, with Aynur, who is modern Kurdish folk music—and there was an impromptu dance circle in the Great Hall. People were holding hands and dancing around. It wasn't just a reunion for the Kurdish community, it brought in people from different places. We had the most amazing catered food before the event and then people enjoyed the music. No one knew I was the executive director—I'm just a guy in the back—but I felt included. I was learning about the culture and it wasn't appropriation—I got to be part of it. I saw people of all backgrounds and ages joining the dance circle. It is so cool that, for a night, you can be a part of this big celebration.
Q: Due to COVID-19, your programming shifted online. How are you approaching bringing people together now that the isolation of the pandemic is, for many people, over?
A: This is something most arts and culture organizations are trying to figure out. It's not just getting people together, it's also getting people downtown. It may never look exactly the same, but we are seeing a good return of people coming back for events they connect with. Also, we have a lot of folks rediscovering our building, post-renovation, and seeing how beautiful it is—so that has been an incentive as well.
Seattle is an increasingly diverse city with a lot of young professionals and transplants from all over the world. I like that Town Hall is a place they could find community or voices that appeal to them—around social justice or racial equity, for example. As someone who was new to Seattle [moving here in 2020], I didn't know where to find fellow travelers.
I'm a foreign-born immigrant, and someone who moved around a lot as a kid, so I needed spaces like this. It's hard to make friends as an adult, so that is something I want to foster. It feels good to be part of a place where people can dive deep in ways that are energizing and gives them a sense that they are part of a real community.
Q: In a changing Seattle, how do you keep the personality of an organization like Town Hall? How do you keep it accessible?
A: I really admire that Town Hall has a low barrier to access. Anyone who is under 22 can attend for free at most of our events, and we have sliding scale tickets for as low as five dollars. We maintain that accessibility because we value having a big tent; we'll continue to do that.
I have elderly parents, and it's a challenge to get someone like my mom back to events. But we have a variety of accommodations—like assisted listening devices. We've had ASL translators and other accommodations such as livestreams or captions. We're not doing livestreams for all events, but we are for some—and people can always request that.
I want to have programs that are broadly appealing to a wide range of people—it's not going to all be some tech disruptor guy, that's not interesting to everyone. Our science programming, for example: we did a program on butterflies that appealed to everyone from little kids to adult science journalists. We had Dave Barry recently, and he is someone who brings in a multi-generational audience. We have all sorts of access points.
Q: Are there certain ways you're addressing sustainability in your programming?
A: Yes. In our Town Green series, which spans arts and culture, civics and science programming. We've had an intentional focus on sustainability and environmental issues—and not just because this is very Pacific Northwest and people are into it. In order to talk about economics or politics successfully, you have to talk about climate change—it's going to change things in irrevocable ways. It's an issue of race, of class, and it's felt disproportionately—these are things we're committed to exploring. We want people to have enough knowledge so they can understand when they make choices.
Q: How can people get involved with Town Hall?
A: Come to an event! See what it's like to be in our beautiful space, see the sort of conversations we encourage. Most people are used to someone just standing in front of a lectern talking, but we bring in interviewers—so there is always someone who is a local intellectual and understands what our community might be interested in, there is a conversation that happens.
If you haven't been to Town Hall in a while, check out our Wyncote NW Forum on the ground level—there is the Otto Bar where people can congregate before or after an event. Go to our website and look at our calendar, sign up for our newsletter, or consider joining Town Hall as a member.
Q: What are you excited about as you start this new chapter with Town Hall?
A: Town Hall feels like home to me already—but I want it to feel like home to everyone. When I was researching this job, I went on Yelp and the word "treasure" came up so often. I want people to know about this landmark historic building that has 400 events a year and brings in the most diverse audiences. It's this treasure we have in the middle of our city and I just want to share it with everyone in our region.
Tara Austen Weaver is a writer, editor and author of seven books, including "Orchard House", "Growing Berries and Fruit Trees in the Pacific Northwest", and the Little Book of Flowers series: Dahlias, Peonies, and Tulips.
Interested in learning more?
Information and a full calendar is at townhallseattle.org.
Upcoming events at Town Hall include the Sept. 27 Seattle premiere of the film "Common Ground", featuring pioneers of regenerative farming. The film explores "how Americans from different walks of life, different political backgrounds, and different parts of the country share one thing in common—the very soil beneath their feet." The cast includes Laura Dern, Rosario Dawson, Jason Mamoa, Woody Harrelson, Ian Somerhalder and Donald Glover, and the Town Hall screening includes a post-event discussion with filmmakers Josh and Rebecca Tickell and Producer Eric Dillon.
Cost: $21, tickets online here