The benefits of being a PCC member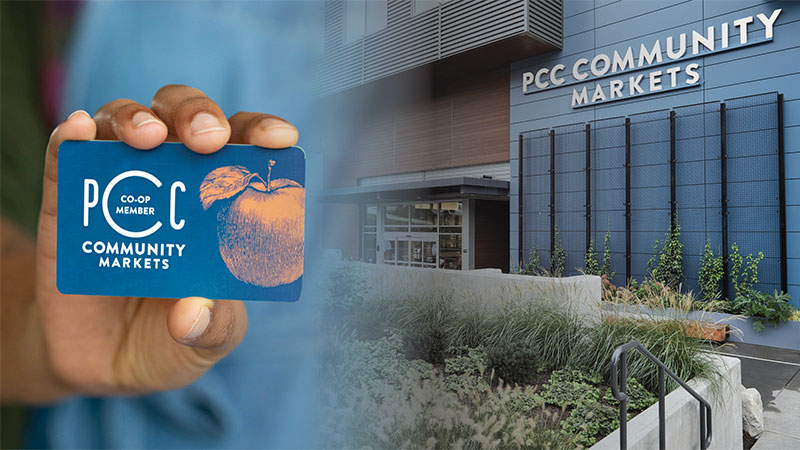 Since its founding, PCC has been owned by its members. As we celebrate our 70th anniversary, we recognize a large reason for our success today is thanks to our member-owners—all 113,000 of them and counting.
Today, anyone can shop at PCC. Unlike its earliest days, you don't need to be a member to benefit from the co-op's strong product standards and relationships with local farmers and producers. But the $60 lifetime membership fee still provides powerful financial and community-building rewards; a chance to literally own your values. While much has changed since 1953, our commitment to members is as strong as ever.
Membership benefits include:
Member-Only Deals and Dividend:
Throughout the year we deliver additional discounts, coupons and free items directly to our members' email inboxes. In the past year alone these offers had a retail value of $250, including a free pound of organic strawberries; free bags of locally roasted, fair trade coffee; 20% off Washington wine and more. Additionally, in years when the co-op is profitable, members are eligible to earn a potential annual dividend.
Member Events:
Since our founding in 1953, education has remained a cornerstone of our co-op. We've continued to find new ways to engage the PCC community through special member events—from member-only cooking classes to educational happy hours that bring together experts in fields of food access, sustainability and more.
Perks and Discounts at Local Businesses:
We know our community stretches far beyond our members. It includes the many bakers, farmers, makers and fishers that fill our shelves and the small businesses that make our neighborhoods unique. That's why in 2020 we started our partner program, providing members with special offers and discounts at more than 40 local, like-minded businesses, including Molly Moon's Homemade Ice Cream, DeLille Cellars, the Seattle Art Museum, Ridwell and more. These deals for PCC members range from free merchandise at independent bookstores to discounted admission at local museums. Taking advantage of this program helps foster those relationships and supports locally loved small businesses.
Making a Difference:
As the largest food co-op in the U.S., we recognize the impact we have in our communities and beyond. As a member-owner of our co-op, you take part in that impact. Each dollar you spend at our co-op supports local business, funds sustainable farmland, and goes back to your community. Membership also provides opportunities to stay informed and make your voice heard, through regular emails sharing Sound Consumer articles, through advocacy work and other calls to action. Member support has made a major impact on local, state and national regulations over the years. In 1997, for just one example, more than 30,000 PCC members sent comments to the U.S. Department of Agriculture  regarding proposed organic food standards—10% of the total comments the agency received.
PCC Cooking Class Discount:
We started our Cooking Class program in 1983 to offer nutrition courses to our communities. Today, we offer more than 1,600 cooking courses. When you become a PCC member, you automatically receive 50% off one online cooking class. Then, on your member anniversary each year, you'll receive 50% off another online cooking class. Whether you're kitchen curious or have an advanced culinary skillset, our expert instructors provide a variety of classes—from basic knife skills to intricate baking techniques.
Taking Ownership:
Each year, our member-owners guide the future of our co-op by voting for our Board of Trustees in PCC's annual election. The Board, which currently includes two PCC staff members, represents members' interests in the co-op and in our advocacy efforts.