Nutrition Education from "Ask Goldie"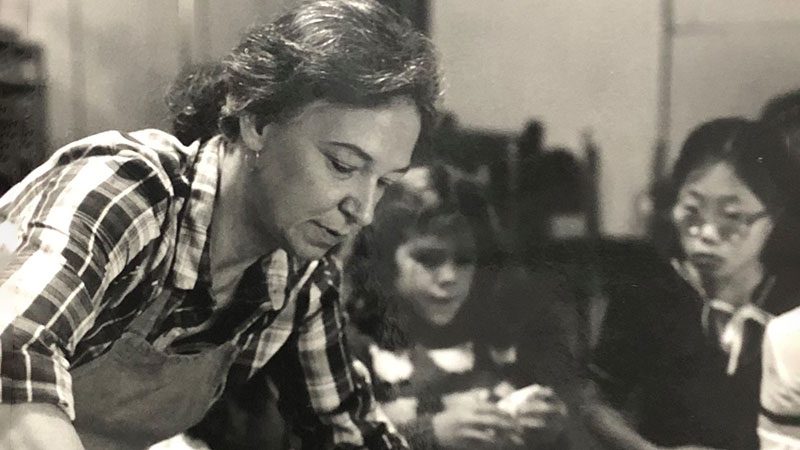 The day Goldie Caughlan walked into PCC in 1973 sparked a lifetime of education—for her, for the co-op, and even the nation.
A skilled paralegal and mother of three, Caughlan went back to school at the University of Washington in her 30s, considering a law degree. Instead, a physical anthropology class changed her life, introducing her to the new "Diet for a Small Planet," Frances Moore Lappé's now-classic book that revolutionized the American diet.
Caughlan, now 86, recalled recently how her husband John, a prominent civil rights attorney, had introduced her to some of PCC's founding members from the May Valley housing co-op. Thinking to improve her own family's health and diet, and committed to Lappé's vision of a sustainable society, she visited the Ravenna co-op.
She found "everyone's vision of a hippie store at the time," she told Seattle's Museum of History and Industry in 2004, watching long-haired, bell-bottomed women scooping mysterious goods out of barrels.
"At first, I was like, That's ridiculous. And then I thought, well, I wonder what the price difference is. But then mostly I thought, what is that stuff?" she said in a recent Sound Consumer interview.
"It was frustrating that you could have all of these things in (barrels) that you could dip out, but you had no idea exactly what they would taste like" or how to prepare them, she said. As far as education went, "there was nothing." 
Those questions—about mung beans and soy, whole-grain flours and legumes and more—led to a decades-long second career as PCC's nutrition education manager, educating shoppers on healthful eating and supporting national standards for organic foods. Through both volunteer work and staff positions, Caughlan led demonstrations where shoppers could taste new foods and share cooking ideas. She led regular "walk, talk and taste" tours around stores. She served on PCC's board of trustees and was an adjunct instructor at Bastyr University. In 1983 she founded FoodWorks, which became PCC's cooking class program. She organized educational food fairs that required enormous effort but drew crowds beyond her wildest dreams. As Caughlan put it in a 1985 Sound Consumer article, "if nobody else was going to do anything" it was the responsibility of co-ops to provide "a hand-to-mouth introduction" to natural foods.
The work caused a snowball effect, said her daughter, Mary Orozco, who joined in a recent interview (and remembered years of volunteering at PCC stores herself).  Organizations and individuals joined Caughlan's forces to teach organic gardening techniques, canning, tofu-making and so on. "People were coming out of the woodwork to participate. I think it was just really an innate sense of (Caughlan's) own, of "There's all of this talent, and I want to share it."
Cooking instructors featured diverse cultures, including those that naturally emphasized vegetarian foods or gluten-free recipes or other dietary specialties where information was scarce at the time.
And in a regular "Ask Goldie" Sound Consumer feature, Caughlan responded to endless reader questions in her brisk, thoughtful style: What's the difference between pasteurized and ultra-pasteurized dairy products? Is wax allowed on organic produce? What does "fire-roasted" really mean? Goldie always found the answer.
Her teachings were never passive. She galvanized readers to support legislation for causes the co-op supported, especially the right for consumers to know how their food is produced—and efforts to make that food whole, healthful and non-toxic.
She served on the state organics advisory board and, after federal organic standards were established, was appointed to the National Organic Standards Board as a consumer representative.
"All of a sudden, I found myself being sent to go back to the East Coast… and meeting farmers and going out to the farms," she said recently.
It benefited PCC to have one of its key staff members weighing in on national food policy. But the positives went the other way too. Caughlan could help PCC maintain forward-thinking policies and product standards (a precursor to today's rigorously researched standards), staying on the cutting educational edge of new issues like genetically modified organisms (GMOs).
When shoppers asked why a product wasn't on PCC shelves, her daughter remembered, a common reply was "Goldie says it can't come in."
Caughlan's affinity for whole foods was grounded in the meals of her early years, growing up in rural Idaho without running water or electricity until she moved to the city after her father's death on her 10th birthday. "We were poor except that I didn't know it," she told MOHAI. And she respected the hard work of farmers, because everything she ate came from what her parents could produce on their land. Growing and preserving food, she saw, could be essential for survival.
In her years with the co-op, Caughlan said she tried to serve as "a clearinghouse," collecting and sharing knowledge about nutrition and food policy.
Her daughter remembers her work as something warmer and more encompassing, about health and budget savvy—but also fuel for a community.
"It brought people (together) no matter the language or the culture, the background, any of the demographics that you could put on it," her daughter told her.
"You knew that food brought people to the table, literally."