Making the Most of Winter Kale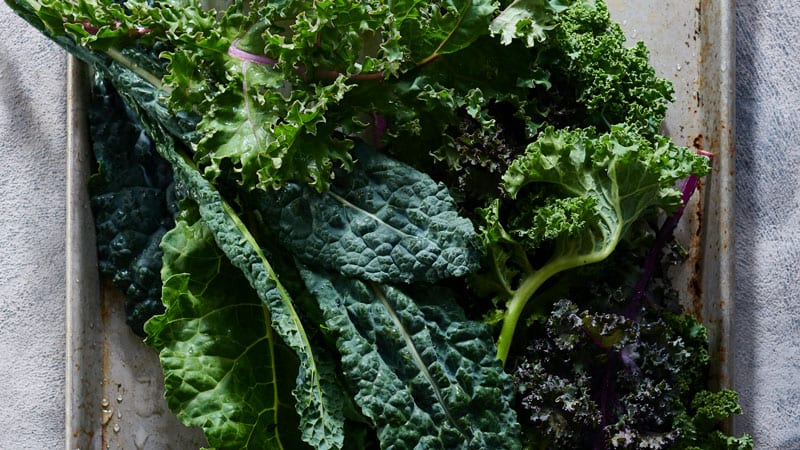 Kale chips, one of the most popular recipes on PCC's website, were developed by executive chef Lynne Vea (see "The Most Popular Pie") for one of her 200-some guest segments on Ciscoe Morris' hit "Gardening with Ciscoe" TV show. Week after week, Vea would give viewers ideas for how to eat the fruits and vegetables from their gardens and seasonal shopping trips.
"Kind of the premise of the show was, 'I've grown it, what do I do with it?'" Vea said. In the long months of rain and chill here in the Northwest, there were many times when kale was the most reliable fallback ingredient.
(PCC made an early contribution to the overall popularity of winter gardening here, supporting the 1975 Winter Garden Project that led to Binda Colebrook's classic book "Winter Gardening in the Maritime Northwest." The book was originally published in 1977 with the aid of a PCC loan.)
Vea remembered originally making kale chips when looking for "cool new garnishes" for the multi-course wine dinners she and PCC "Wine Guy" Jeff Cox would organize. "My assistants practically ate the whole pan before class even started!" she said. It was a "back pocket" recipe for years—then kale chips hit the big-time. Interest soared in early 2011, possibly due to Gwyneth Paltrow including the crispy chips in her first cookbook and preparing them on Ellen DeGeneres's TV show.
Then-PCC marketing director Laurie Albrecht asked Vea if she could make the chips for Ciscoe's show. "In my sleep," Vea said.
When the show aired, "we got so many emails and people saying 'Thank you. I had no idea how easy they were!'"
It's the rare PCC recipe that includes a dare: "Bet you can't eat just one!"
"WHY KELP?" read a 1966 Sound Consumer headline. "For Human Use Too?" As with other nutrient-rich foods from tofu to tahini, PCC shoppers were early adopters of the edible seaweed. Bulk powdered kelp was mixed into soup and spaghetti sauce, hot cakes and bread dough and beverages (extra advice: "dump the dregs"). Fast-forward to modern times, when kelp is a mainstream superfood­—and still on PCC shelves.