Cooking with PCC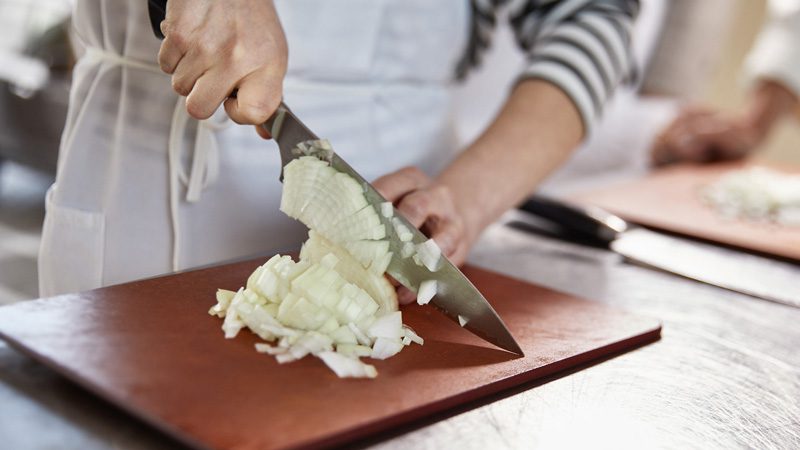 This is not your mother's PCC cooking class—
but it could have been your mother's teacher. Pranee Halvorson taught her first Thai cooking class at PCC in 2003. "Since then, I haven't stopped. I haven't paused!" she laughed.
While the PCC cooking class program has grown in many ways since Goldie Caughlan founded it in 1983 (see "Nutrition Education from 'Ask Goldie' "), it also retains deep connections to its past.
Halvorson learned cooking from her own mother and grandmother growing up in her hometown of Phuket, Thailand, and originally worked as a public health officer and then as a Montessori teacher.
In Seattle, she stayed home with her young son until he started kindergarten, cooking Thai dishes that made American friends ask her for recipes and lessons. When she took a cooking class herself one day, she realized it was the next career move she had been seeking, something engaging and fulfilling that would allow her to connect with her community here.
Over the years Halvorson has expanded her own horizons along with those of her students, leading regular tours to Thailand and learning website coding, formal recipe writing, photography and videography. She's a longtime member of the International Association of Culinary Professionals, steadily acquiring new skills and a deeper understanding of her craft.
"Knowledge is power, right?" she said.
The boy who was starting kindergarten when she began this career is now a PhD candidate, and Halvorson is a leader in her field.
In recent years Halvorson has been visiting Thailand regularly to research family meals and regional history. A dish on her most recent visit, she recalled, connected her to the way her grandmother had cooked—"so simple. So delicious." She's recreating a version for her upcoming project, a cookbook.
She tells her students to pay attention to flavors in that same way when they eat—the sweet, the sour, the salt and spice. She wants them to be aware of the memories the flavors might carry, and what they mean.
Then, if they want, they can change that in their own kitchens and make the recipes their own.
Halvorson shared her recipe for Tom Yum Goong soup, Sweet and Sour Prawns with Lemongrass and Lime Leaves.