Plant some unsung heroes of the Northwest garden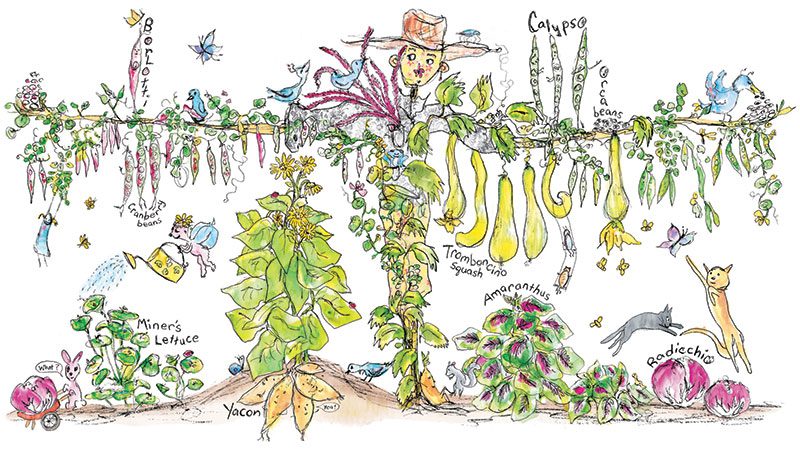 What are the best crops you might not be growing?
Every year around this time, Pacific Northwest gardeners shift into action—starting seeds and potting up plants. The annual gardening cycle is oddly repetitive for something so life-giving, and it can be easy to slip into the rut of planting the same successful crops over and over. But variety is the spice of life, and that's doubly true in the garden and on your plate. It's always worth adding something new to the old favorites. 
To that end, Sound Consumer contributor Tara Austen Weaver reached out to Seattle Urban Farm Company. Founded in 2007, the Ballard-based business provides garden installations and maintenance, from larger, commercial-sized plots for restaurants and businesses, to backyard raised beds. Its team, which currently maintains 70 different gardens, has deep experience with what thrives in our climate. Here co-owner Hilary Dahl shares her (edited, condensed) picks for under-the-radar success stories. Consider giving one or two of them a home in your garden this year and you might find a new favorite. 
Radicchio (Cichorium intybus)
I like to grow radicchio to add texture to lettuce mix. It grows really well here in the Pacific Northwest, but it's not something many people attempt—or they don't grow it well. It's a little finicky and really likes cold temperatures. If it gets above 77° F it goes into thermal dormancy and stops growing. 
You can plant it in the spring but get it in early. Start the seed in January and transplant it out to the garden as soon as the ground can be worked (early March) or look for starts in a local nursery. Or do what I recommend and grow it as a fall crop, transplanting it out in September. It will grow slowly then but it's frost tolerant and will hang out all winter. It's one of the few crops you can actually harvest when it's covered in snow—you just have to remove the outer leaves. 
My recommendation is to try to grow a few different varieties—there are so many microclimates in our Seattle backyards that we find some varieties do well and others do not. Suggested variety: Indigo or other "non-forcing" cultivars, which are known to form tight heads.
Yacon (Smallanthus sonchifolius)
We've been growing Yacon for the past six or seven years—it's from the Andes and looks like a dahlia tuber. They're really big edible roots with a jicama or apple flavor, very juicy and crisp. You plant it in spring and in one year they grow into a large plant with prickly leaves and a daisy-like flower. It's super productive and low maintenance. 
Yacon doesn't like wet soil, so we treat it like an annual and dig it up in winter and store it in the garage or somewhere like that. You want to plant it in full sun (6-8 hours) and well-draining soil. We like to pre-sprout the tubers in pots starting in April, then plant them out in May—at the same time you would plant dahlias or tomatoes. 
The tubers make great snacks, very kid-friendly. I grate them into a slaw. You can also add them to sandwiches, or include in a salad with chipotle dressing, it's really delicious. Some people use it as a sugar substitute [yacon is considered diabetic friendly] and some people juice it. And because yacon grows big, they work well in landscaping and don't need to be put in a raised bed. 
Tip: Yacon produces large storage tubers for eating and smaller propagation tubers just under the soil surface, which can be saved to plant out the next spring. 
Miner's Lettuce (Claytonia perfoliata)
Miner's lettuce is a native plant with small, edible, heart-shaped leaves. It's a succulent, cold-hardy green that grows in sweet little bunches and it readily self-seeds everywhere. So, if you have room in your garden to let something go, this is one of the crops I would recommend letting take over a little area. It's frost tolerant, super low maintenance, and comes up earlier than any other vegetable. 
Miner's lettuce should be direct sown outside, not started inside. Its roots don't like to be transplanted. We sow seeds in late summer and let it overwinter, but it can be planted in early spring as well. We like to harvest it and mix it in with our salads—it's succulent and really holds up well. A lot of our restaurant clients like to grow Miner's lettuce—it's one of the first things you can harvest each spring.
Amaranth (Amaranthus)
Most people grow amaranth for the flowers, but it has beautiful, delicious leaves as well. Its growing needs are similar to spinach—you can direct sow in the spring and harvest on a cut-and-come-again basis [harvesting leaves while they are relatively small and letting them regrow for another cutting]. It has about a 40-day life cycle, so you can get 2-3 cuttings in, then let it flower. You can save the seeds yourself, or let it reseed and it will come back the following season. This is good to plant in March-April and it won't go to seed until mid to late summer. 
I really like the red leaf amaranth, which has green leaves but red veins. It has a real wow factor. It can be added to salad and sautéed with other baby greens. You pretty much treat it like spinach, but it has an earthy, minerally flavor; it has much more personality than spinach. 
Dry Beans
This is one of my absolute favorite crops to champion—they're one of those crops that really do taste better than from the store or can. Beans are a relatively long seed crop, so they take a while, but it's so rewarding to be able to grow your own protein. We use them in soups all winter long. 
They are so tasty and so beautiful—and if you grow pole beans on a trellis they take up almost no space, so it's a good way to maximize your production. [Note: beans come in bush or pole varieties—make sure to check the seed packet.]
Favorite high-yield varieties: 
Calypso are really beautiful—they're black and white and we've renamed them "orca beans." 
Borlotti bean (also called cranberry bean) is a pole bean, so it's good if you're short on space. 
Taylor Horticulture—speckled beans with beautiful, red-streaked pods.
Tromboncino squash (also called Zucchetta) 
This is an Italian heirloom squash—it's a summer squash (like zucchini or pattypan) but you can let it grow to maturity and store it like a winter squash. The skin is soft, the seeds stay small. It's super tender, with a green, nutty taste when it's young, then later it's more like a butternut flavor. 
Tromboncino is a vining squash. You can grow it vertical on a trellis, or let it sprawl. It has very few pest issues and it's extremely prolific. Start the seeds indoors early in the year or begin with nursery starts, as Tromboncino needs 70 days to reach maturity. 
Get your garden growing
PCC sells organic seeds at all of its 16 stores and sells plant starts at all locations except the Central District and Downtown stores, though the selection varies by year and by location. If you do not see the seed variety you want on the shelves, it may be available online from our supplier, uprisingorganics.com. (Aspiring radicchio growers might also want to read Uprising's radicchio planting advice here.) Yacon cultivars are available through Raintree Nursery in Morton, Wash., raintreenursery.com.
Oxbow Farm and Conservation Center will have some plant starts and also open-pollinated, Northwest-adapted seeds at its Spring Native Plant Sale April 29, see https://www.oxbow.org/event/spring-native-plant-sale.
The Tilth Alliance sells many less-common starts at its May Edible Plant Sale May 7-8, see tilthalliance.org.
Spring gardening classes
Grow your best garden ever with PCC classes. Spring features include:
Oxbow Farm co-founder Sarah Cassidy will teach

 

"Veggie Seeds and Starts: Choose the Best for Garden Success" on March 26 at the Edmonds PCC and April 1 at the Columbia City PCC. An online class will be offered March 20, click here to see the class details.