From grape to glass
By Rebekah Denn, photos by Meryl Schenker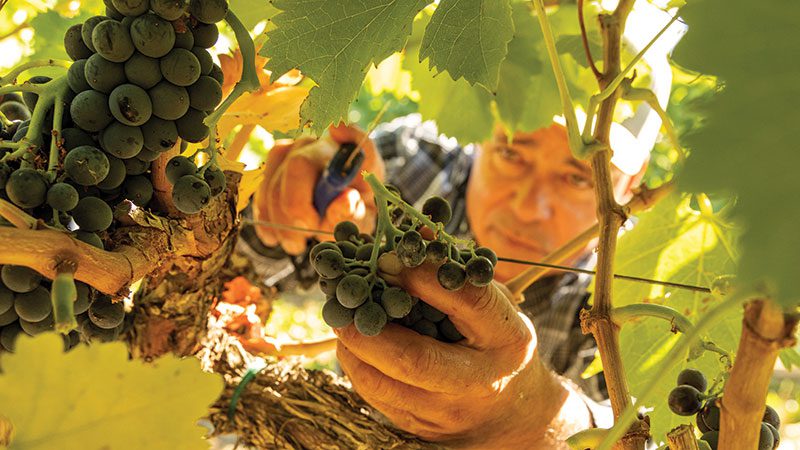 Plenty of lush Merlot grapes still hung in clusters as Jeff Cox and Peter Boeger walked the Weinbau Vineyard near Mattawa, Wash. on a hot autumn harvest day. Specific grapes that were long-since picked, though, were the focus of their trip to Block 57 and Block 61.
The 460-acre property is one of six managed by Sagemoor Vineyards, a 50-year-old company growing grapes for some of the Northwest's finest winemakers. Labels throughout the varietals—chardonnay to cabernet franc to syrah—mark rows reserved for specific companies. Blocks 57 and 61 are booked for PCC. They'll go toward the private label wines Sagemoor is blending for the co-op, designed and developed with Cox and Boeger, the "Wine Guys" who oversee PCC's wine, beer and spirits.
"The whole idea was for them to be included and do it the way they would if (PCC) were a winery," said Kent Waliser, Sagemoor's director of operations.
Private label products used to be seen as dubious generics—cheaper, but anonymously sourced. PCC has always taken a different approach, choosing exceptional producers and highlighting their participation, such as K'UL for PCC chocolates and Hollingsworth Hemp Company for PCC botanical lotions.
Adding wines was trickier. It's one thing to approve and label what someone else has produced; quite another to design your own vision. And Cox, a merchandiser with PCC since 1999 and a Seattle Magazine Retail Wine Steward of the Year, has his own philosophy to prove in a bottle:
Forget wine's reputation as "sophisticated, fancy stuff," he says.
"It's an agricultural thing, and people work their asses off (making it), and they get dirty. It's not some magical mystical luxury, it's hard work and lots of inspiration and know-how…
"You shouldn't have to spend a lot of money to drink well."
Knowing the source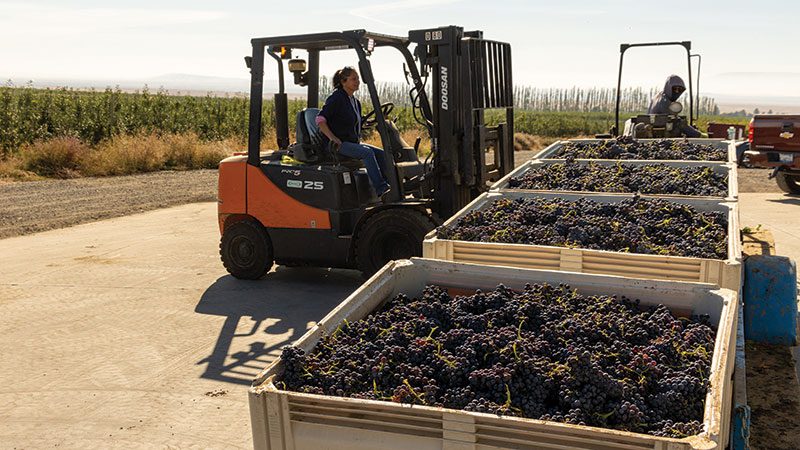 Washington produces more wine than any other state except California—a stat that would have been mind-blowing in 1962 when a group of University of Washington professors incorporated Associated Vintners, later Columbia Winery, on a bet that our climate would support European-style wines. Even now, grapes are only its ninth-largest commodity crop, according to the Washington State Department of Agriculture (WSDA)—valued at $308 million in 2020, the last year figures are available, compared with nearly $2 billion for our kingpin crop of apples.
To a farmer, apples and grapes are even harder to compare than apples and oranges. Just ask Waliser, a former board chairman of the Washington Wine Commission… and, earlier in his career, an apple grower for some 30 years.
On large farms with national distribution, "when you pick apples in the field and load the truck and the truck leaves—job done," he said. "You don't have to think about it anymore and the apples have no identity back to the farm. Nobody in New York is going to eat a Sagemoor apple and go "Wow, I want more Sagemoor apples."
With wine, buyers know the source. They can save the bottle for years, and enjoy it as it changes over time.
"The flavor doesn't go away. The wine doesn't go away. So you're going to be judged on grapes. Not just today, not just what you raise, but for years…
"You can't do that with apples and cherries. Every season is its own and then it's over."
Growing grapes properly takes intense skilled management plus hard physical labor. On this day at Weinbau in the Wahluke Slope American Viticultural Areas (AVA), crews are shearing the sides and tops of leafy canopies. Each choice about where to cut might help the vine attain the proper leaf-to-fruit ratios, avoid sunburn on the fruit or make the hanging clusters easier to pick.
Vineyard manager Miguel Rodriguez calls the Weinbau vines festooned with purple and green "my babies." At this stage he's assessing grapes with a sugar-measuring refractometer—plus his own eyes and palate—directing crews on tending the vines and advising winemakers when their chosen rows approach the target ripeness for the characteristics they seek.
It's mid-October when Cox and Boeger make this visit, but harvest is still in full swing—a month later than last year's calendar. That one had ended two weeks earlier than normal.
"I don't know what normal is now," Rodriguez said ruefully in the harsh sunlight, as the temperature climbed toward 80 degrees. What matters is keeping watch—and working with what he has.
"I spent so much time in thinking about how to get to this crop. It was a little tough for us to make it to where we are right now, and we had to work really hard, but it's worth it in the end, you know."
Heat waves have been the recent challenge: "When the plants get to 90 degrees, they shut down… they're like humans, they stress, they feel the heat."
Decades of experience inform his decisions on how to plant or design a block of grapes; how to pare down clusters to concentrate their flavors; how to prune and when to pick. Sagemoor includes some of the Northwest's oldest vines—"historic" by wine standards—and Rodriguez has practically grown up with them, working with Sagemoor since 1979 and this property since 1986. (One of Sagemoor's wines is named after him, "Miguel The Man.") The decades-old rows tend to be less productive, he said, but "with the years, they produce better flavors."
That said, "Every year changes, and you have to manage the grapes to get quality, because if you don't pay attention to details you lose the bottle."
Rodriguez was awarded Grower of the Year in 2005 by the Washington Association of Wine Grape Growers. He remembers sitting in the back of the room and the surprise of hearing his name—the first Mexican person to win the honor, he said, and a rare year when it wasn't given to a winery owner.
What he does is notable for its care and labor—and its humility, Cox said.
"You couldn't do it like Miguel does if you had this arrogance where you said, "Oh I know how to do this already.…People who think they know everything already can't learn anything."
Laying down tracks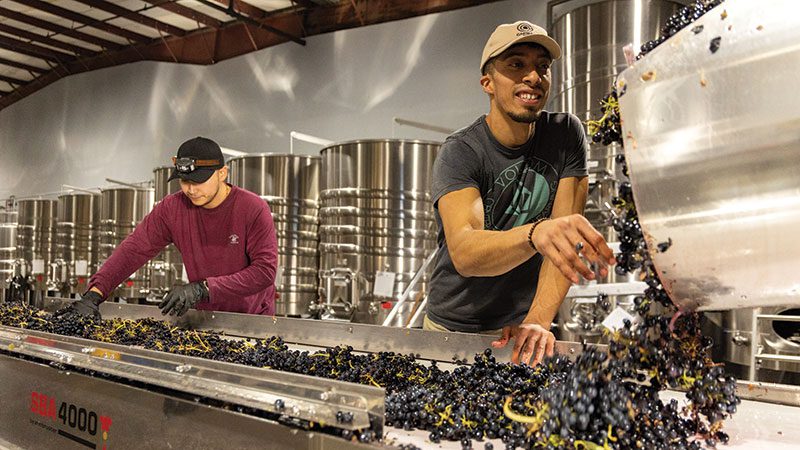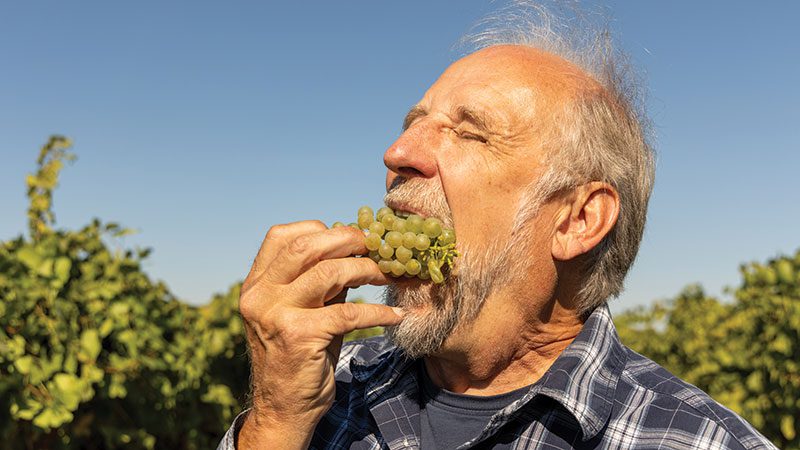 What goes into creating a wine? The answer depends on who's making it, and possibly the level of your cynicism.
Industrial releases come from "a person with a spreadsheet who's done a lot of research to show what flavors people might like," Cox said. "And then it's like, 'Well, let's make it, let's put it together like that.'" Consistency is the biggest goal: Big enterprises need the same taste, all the time.
"Authentic" wineries, to him, are different: Each year's vintage is related, with subtle but distinct differences.
At Sagemoor, for instance, "that fruit is assured (from Blocks 57 and 61). We can blend from something that isn't the same every year, but it has some continuity," he said.
"The real beauty of wine that's made authentically is that it captures a picture of a place at a moment in time."
Working with a winemaker, Boeger said, is like having someone know what's possible and guide you toward that point. "Some are better than others. And some are really, really good."
Last spring, Cox and Boeger got to taste the first pressings of the PCC grapes and other harvests at Sagemoor and shape the blend's direction, like a recipe developer—or a sound engineer. Even among the Merlot grape options, one was a little more perfumey, one a little more aromatic, another more tannic.
"You determine the hallmarks of each one of those, and then from there you think, 'This might make a super base, something to build everything around.' And then, (for instance), this has really, really, great acidity in this note. You put the puzzle together," Cox said.
"It's like if you were in the studio mixing rough tracks to do an album. Yeah, I want a little bit less of that guitar there. And could you turn that vocal up? And let's go back and dub this in till you get that sound, or you find the thing that speaks the best."
Standing in the fields, munching into a cluster of the fruit, Waliser suggested another dimension: Space. Think about the maps showing the location of taste buds on the tongue, he said. One sample might have a big aromatic frontal "attack" (the first impression), then linger in the back, but "you think back going, 'I don't remember anything in the middle.'" Reviewing all the wines in that toolbox of options, they find one to fill that hole across the palate.
"Then you put the two pieces together and you've got this seamless flavor and texture across your entire mouth—and it's still the same variety. That's what's crazy about it. Sometimes it's only that you add 4% of something, and it changes the entire thing. You can't predict it. But you know it and when you taste it and you feel it, it's there," Waliser said.
For Sagemoor, Waliser said, that's why it's fun to have the Wine Guys, as they're known at PCC, at the blending table. The collaboration is different than presenting a finished wine and hoping they like it, and they're able to see what the harvest has provided.
"You live with what that's created…We only engineer so much. We're not going to do additives or anything. It's just what we grow."
Gift in a glass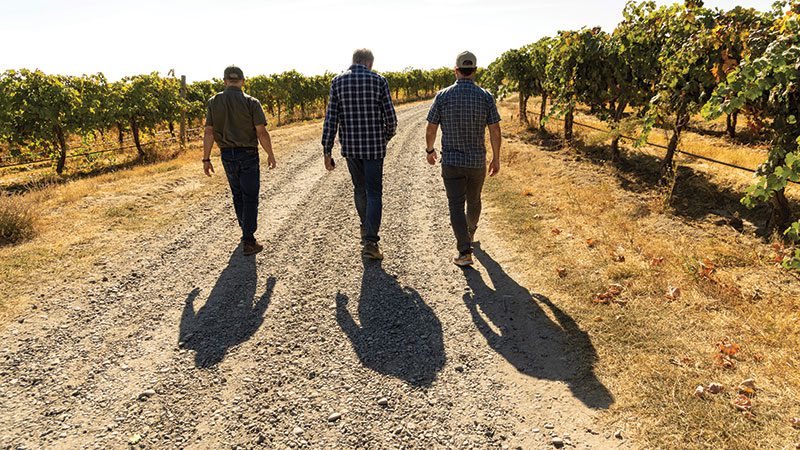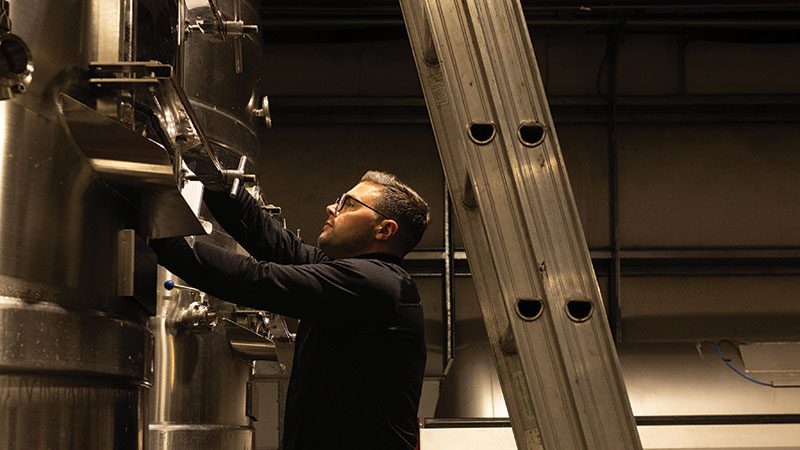 About 100 miles from the fields, on the outskirts of Washington's wine haven, Walla Walla, Aryn Morell grabbed a succession of wineglasses and set to work. The noted consultant, who created one of the top-rated Northwest wines of 2021, is director of winemaking for all the wines Sagemoor produces under its own label.
Surrounded by oak barrels at different stages of fermentation and aging, Morell pipetted out sample after sample to talk about tannins and spice, texture and longevity.
"Okay, so this is block 57," he told Cox and Boeger. The rows produced 45 barrels, he said, and PCC likely won't need more than 10 for its 500 cases. That means they could select which specific barrels will be used for their blend—which makes a difference.
"The wood has character just like the grape does," Morell said.
"Inevitably, even though they (the barrels) are all from French oak, they're not all exactly the same. They could even be from the same tree, but they're from different sections of the tree. And that wood has chemistry just like (other) agricultural products."
Tasting through Morell's selections, Cox explained some of what he was looking for:
"First of all, you want it to taste like fruit. But you know how there's brightness, that little bit of tang? That's acidity. Without that you just kind of have flabby jam…" he said of one sample. "You notice how it kind of pings all the parts of your mouth? That's resonance."
He loves Chablis, made from chardonnay in a region that's considered part of Burgundy. "The soil there is very calcareous, it's limestone, very, very chalky. And some of the vineyards there… there's so much complexity and literally resonance that when I drink a good one, I get a little shiver up my spine. It makes you resonate."
That's the sort of experience he'd like to share through the grapes around him.
"These things, when they're well grown and they're well made, in that glass of wine you can taste the place they came from. Not only can you taste the place, but just doing that opens up your senses," Cox said.
"You know how when you first started listening to music when you're a little kid and you hear very simple things? And the more you listen to music and the more you care about it, the more you get your antenna out and pay attention, you get to the point where you hear subtle things in texture, or you can tell how somebody plays piano by the tone of the piano?
"In everything in the world there are all those subtleties, and they make life richer and more diverse. It makes us smarter, and we have a better life that way. Those are all things I feel huge gratitude to have been able to discover via (wine).
"It's not something that we can preach about. If you give it to somebody in a glass they might notice it and they might not. But when they notice it, it changes their life."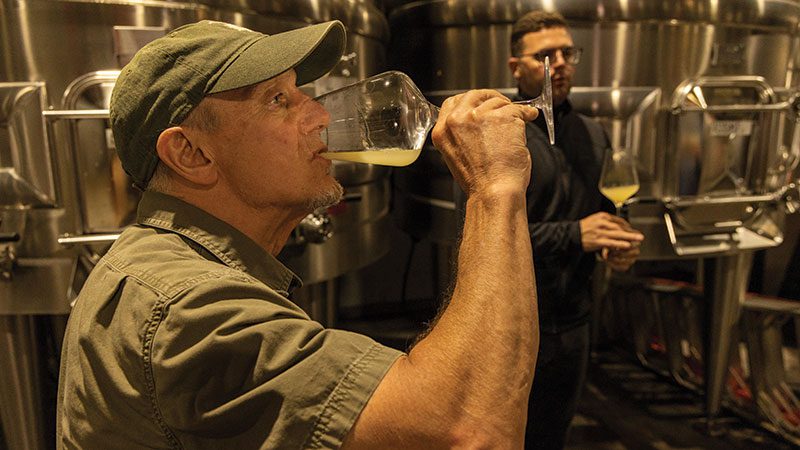 Taste the wine
Meet the Wine Guys and taste PCC's private label blends at a gathering later this year. Click here for details. 
These PCC wines are now available in all stores: PCC's Red Blend Weinbau Vineyards and Chardonnay Gamache Vineyards, both made with Sagemoor; Willamette Valley Pinot Noir made with Cooper Mountain Vineyards; and a Red Wine made with Kiona Vineyards and Winery. Other PCC private label wines planned for 2023 include a Le Rouge and Le Blanc from Castelbarry Cooperative Artisanale in Occitanie, France; Blanco and Tinto from Bodegas Pinuaga in Toledo, Spain; Bordeaux Blaye from Chateau Monconseil Gazin, and a Prosecco from Acinum in Veneto, Italy.
Also in this issue
Get discounts or other benefits from more than 30 new community partners with a PCC membership.
This culinary training program demonstrates that social impact can be sustainable — and that everybody loves good cookies.
Learn about the United Indians of All Tribes Foundation and Bernie Whitebear Garden and help replant a "shining spectacle of the natural world."