Breaking job barriers with "perfect" cookies
By Naomi Tomky, guest contributor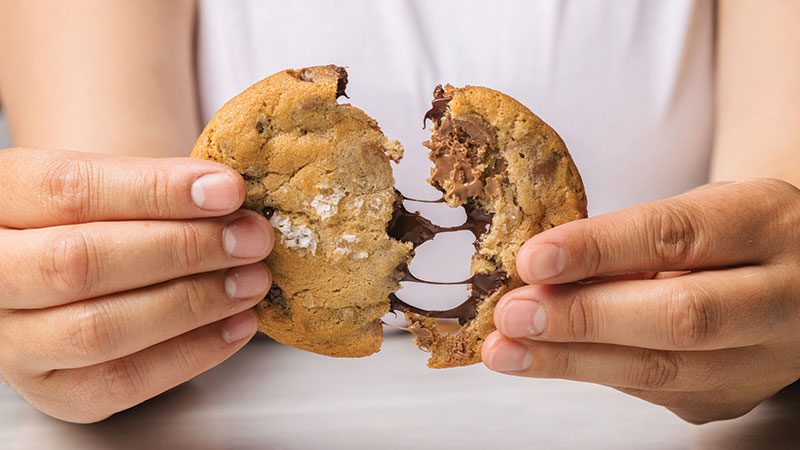 The "perfect chocolate chip cookie" is one of the earliest lessons at The Pastry Project. On the first day of the free 14-week training program, co-founder and culinary director Heather Hodge teaches the recipe and techniques to each four-person cohort. With milk and dark chocolate chips, a crispy outside and soft interior, and shards of flaky salt on top, the cookie lives up to the ambitious name. For many of the students, it's also their first big step toward a new career.
Some are single moms, practically kids themselves. Some recently came out of incarceration, others from rehab facilities. Some have never seen a kitchen scale. The only official enrollment requirement is that the applicant faced barriers to employment and education, something The Pastry Project purposefully leaves undefined. Unofficially, based on their early experiences, says Hodge's co-founder Emily Kim, they look for the main thing that their most successful candidates shared: "You do need to have a passion for baking and pastry."
As the brown sugar dough swirls in the big purple mixer at the Pioneer Square bakery, new trainees learn what it means to cream ingredients. "People are shocked at how long you're actually supposed to cream butter and sugar," says Kim. The same dough, sold ready to take-and-bake in colorful bags from PCC freezers, forms another facet of the social purpose corporation. The frozen dough, along with pastry subscriptions and fee-based cooking classes, support the central mission of the business: free training courses for people who want to work in bakeries or pastry kitchens, but lack experience or opportunity.
Hodge and Kim hatched the idea as a solution to a problem they faced at Molly Moon's Homemade Ice Cream, where they worked as, respectively, head chef and director of social impact and marketing. Kim worked with local nonprofits to hire people with barriers to employment. But she could only place most of them into front-of-house jobs like cashiering, where the company could quickly train people in the necessary skills. Kitchen jobs all required at least a baseline knowledge of pastry.
Local nonprofits, including Farestart and Project Feast, train people on the basic skills to start working on the savory side of restaurant and commercial kitchens, but no such program exists for sweets. That frustrated Kim—she didn't even have a recommendation of how applicants could gain those skills, other than costly culinary courses. "We just started talking about how that literally just didn't exist anywhere," recalls Kim. "So why not build one?"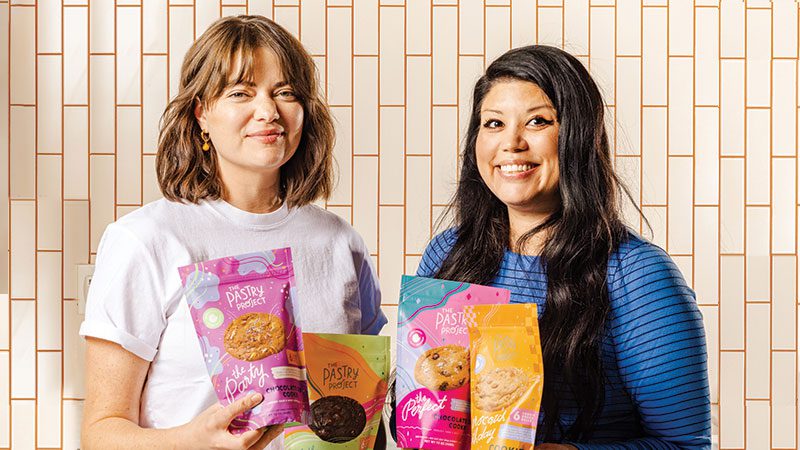 Over a year, they created a curriculum, identified partnerships to build, and started planning. Kim lived in Pioneer Square and applied for a grant from the Alliance for Pioneer Square for a pilot program, which they ran out of a back prep kitchen at London Plane restaurant. Fourteen weeks later, they graduated their first students, including Hana Yohannes, who went on to open her own Central District bakery, Shikorina Pastries. In the four cohorts graduated since, Pastry Project alumni have worked in the kitchen for Meta's local office, Macrina, Molly Moon's, Hood Famous Bakeshop, Princi, and PCC.
After the success of the pilot, Kim and Hodge received a second grant, this one from Historic South Downtown, a state agency created to invest in Pioneer Square and the Chinatown-International District. With this money, they took over the same kitchen as their own, updating it and customizing it to the unique needs of their company—and giving it a little flair, like the pastel mural that says, "I did good!" on one wall. By utilizing grants for the startup costs, the company was financially stable almost immediately and able to quickly focus funds on the training.
Each cohort meets one day a week, plus one Saturday a month, starting from that first day, when—in addition to making the perfect chocolate chip cookie—they learn safety, get their food handler's license, and learn how to read professional recipes. One week they practice quick breads, another laminated dough or pies and tarts. Guest speakers like Mi Kim of Raised Doughnuts or Jasmin Bell Smith of Bells Pastries come in, and the students take a field trip to Intrigue Chocolates or Lady Yum macarons. The course covers conversions so the students can trade ounces for sticks of butter, and teaches how to scale recipes up or down. But the day graduates say best prepared them for working in a professional environment are those Saturdays, during which they help prepare the "Goody Box" full of fresh seasonal pastries that subscribers pick up at the Pioneer Square kitchen.
Two subscription products provide ongoing funding for the program—the other is a monthly pastry kit for home bakers that ships ingredients and instructions for an original recipe, such as honey melonpan or sour cream upside down cake. Public classes (like holiday croquembouche) for pastry enthusiasts, private classes for corporate events, and a summertime soft-serve ice cream window bring in more money between cohort sessions. Sponsorships filled other holes in the budget.
The frozen dough joined the mix because Kim and Hodge hoped to avoid the unpredictability of sponsorships, grow the training program, and create a more scalable model. "We ate so many cookies," Kim says, as they translated their cookie recipes into something foolproof for people baking the dough at home. "Heather refused to half-ass it." They needed every detail on the bag and inside it to match their vision. In September, they began selling the dough, each ball hand-scooped by one of the four employees in the Pioneer Square kitchen.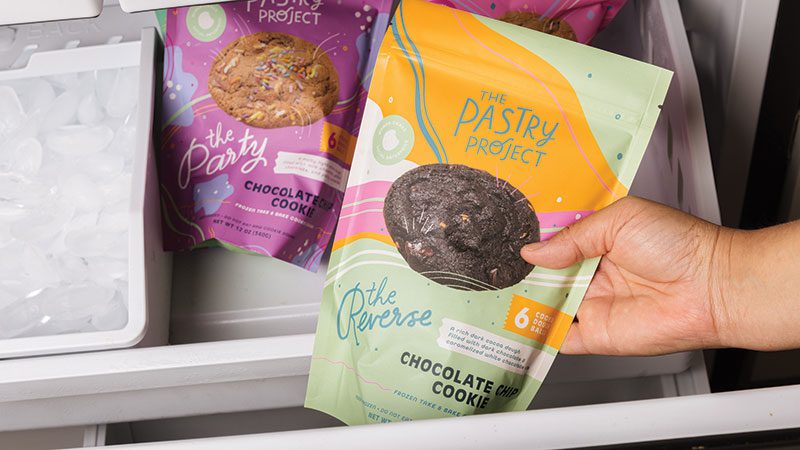 With the addition of dough sales, their 2023 budget pencils out, now without the need for sponsorship, and with a crucial new line item. The Pastry Project recruits its cohort from many nonprofit organizations, including the Elizabeth Gregory Home (for at-risk and houseless women) and the Ingersoll Gender Center, which provide some of the supports that students need outside of the kitchen, but not all of them. "We had a student that was having trouble getting to class because they needed new tires for their car," explains Kim. When a recent graduate looked to move into her first apartment from the Elizabeth Gregory Home, she says, "We would have wanted to give her some support around that." This year, they set aside money into a fund for exactly this type of issue, something they see as a necessity for working with the people they do.
It all feeds into two underlying points that The Pastry Project subtly makes: that everybody loves cookies, and that social impact can be sustainable. Their upcoming collaboration reflects both: they worked with Portland-based nut butter company Ground Up, which runs a similar training program, to develop a vegan, gluten-free cookie dough—inspired by requests from PCC customers.
Sample The Pastry Project
Learn more about The Pastry Project and sample their cookies from 3 p.m. to 7 p.m.
March 16 at the Issaquah PCC,
March 17 at the West Seattle PCC,
March 23 at the Redmond PCC,
March 30 at the Edmonds PCC
and March 31 at the Ballard PCC.

 

Find cookie dough from The Pastry Project in the freezer case at Ballard, Bellevue, Bothell, Columbia City, Downtown, Edmonds, Fremont, Greenlake Aurora, Greenlake Village, Issaquah, Kirkland and Redmond PCC stores. They can be ordered on request at other stores.
For more information on The Pastry Project and its Goody Box or Pastry Kit subscriptions see, thepastryproject.co.
Naomi Tomky (naomitomky.com), author of "The Pacific Northwest Seafood Cookbook," writes about food and travel.