Creating a Northwest "cider culture"
By Rebekah Denn, photos by Meryl Schenker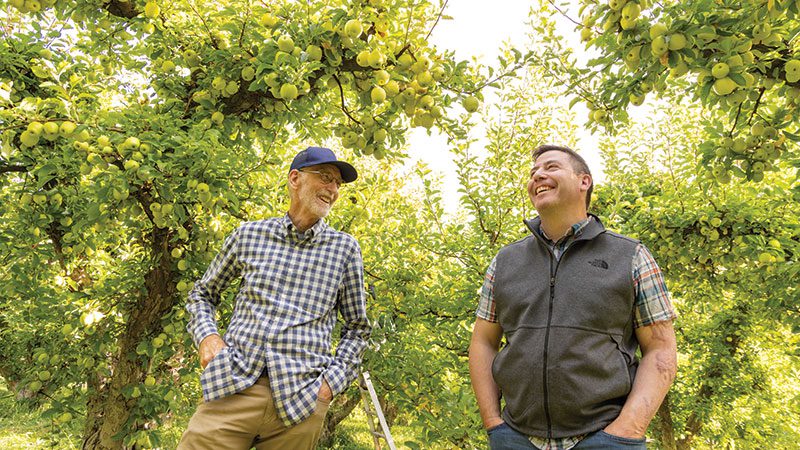 From Craig Campbell's home on a high plateau, he looks down on windswept hills and orchards and a spiral of tall Lombardy poplars.
If the pattern looks oddly familiar, it's because the distinctive spiral is the logo of Tieton Cider Works, printed on every label at the company Craig and wife Sharon founded with fruit from their third-generation farm. 
Harmony Orchards was originally planted by Campbell's grandfather in the 1920s after irrigation transformed the region into miraculously viable farmland. Adding water rights to the fertile basalt soil, plus long sunny days and cool nights, made the sagebrush steppes "the greatest and most counterintuitive apple growing region in the continent," author Rowan Jacobsen wrote in his book, "American Terroir," which featured the Campbell's 400-acre property.
The farm includes apricots and cherries, big Ambrosia apples and other varieties sold to markets or selected for brand-name baby food. In the last 15 years, it's also boasted Washington state's largest acreage of bittersharp and bittersweet apples, tannic Perry pears and other cider fruits. Tieton Cider produces more than a dozen varieties available in 34 states, from cans of dry USDA Organic hard apple cider to small-batch single-varietal bottles from heirloom trees.
A historic craft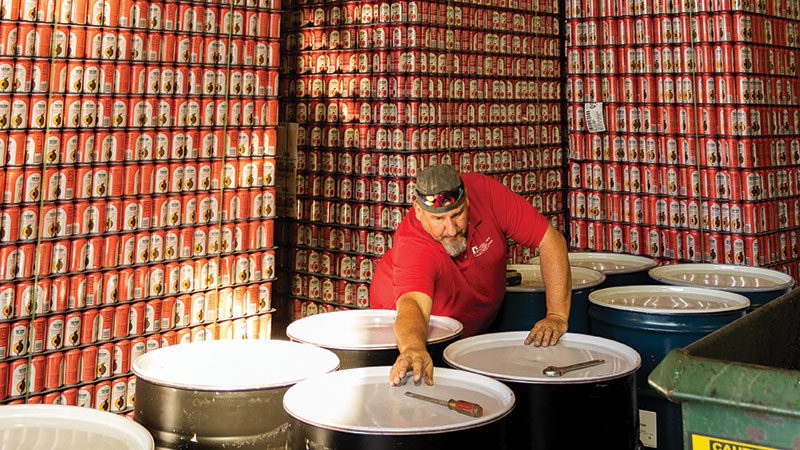 Cider was an odd outlier in the U.S., barely a blip on the alcoholic beverage scene, when the Campbells began experimenting with the small, bitter apple varieties in the early 2000s. 
"It is surprising because cider's been around since before Roman times," said Marcus Robert, head cidermaker at Tieton Cider Works. "There was a time in America where cider was the drink of the working class." 
Campbell saw the possibilities of the old-new crop when a friend took a class at Cornell University and "started grafting trees to varieties I'd never heard of." Then Peter Mitchell, a cider expert from the United Kingdom, taught classes at Washington State University's extension in Mount Vernon and became their consultant.
"We accumulated like 40 different varieties, which for us—it's hard to get your head around it. We just planted them alphabetically because it's the only way we could make sense of it," Campbell said. They've since whittled those experiments down to five main apple varieties on the 55-acre cider acreage: Golden Russett, Ashmead's Kernel, Harrison, Porter's Perfection and red-fleshed Niedzwetzkyana. The cidery originally used only fruit from Harmony; it's now so big it also sources apples from other Washington farmers.
Campbell was no stranger to tradition—or history—when he started experimenting with cider; he grew up working on the farm and his grandfather planted some of the grand trees still standing. But he appreciates new ideas, and knows farmers need to evolve and adjust with science and climate and popular demand. A big evolution came as demand for apples plummeted in 1989 with concerns about the chemical alar. Campbell embraced organic production then and became one of the first large organic farmers in Washington state. (The cider orchard became certified organic this year; he believes it's the only such one in the state.) Growing "dessert apples" that are eaten off the tree in other plots, along with apricots and cherries and pears, he planted diverse new varieties along with classics. His cider apples are densely planted on spindles that look like espaliered fences, producing fruit more efficiently that's easier to pick.
Research every day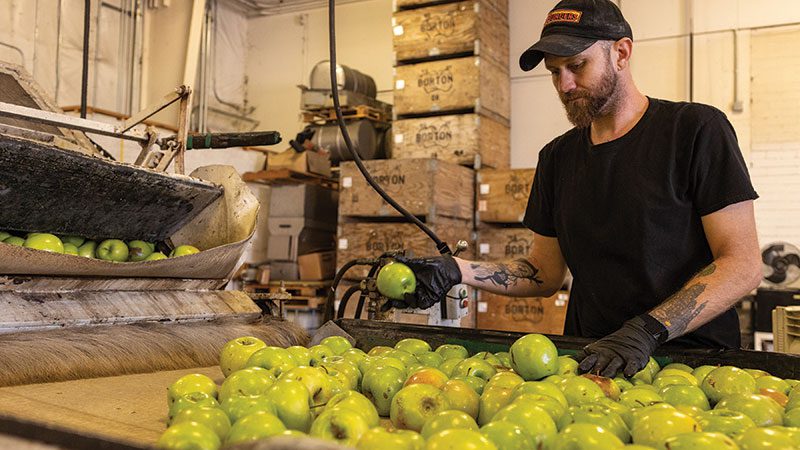 The cider bet was a win.
 When Sharon Campbell co-founded the Northwest Cider Association in 2010, there were only about 10 cider producers in the Northwest and 75 nationwide, said Emily Ritchie, the association's executive director. Now there are more than a thousand nationwide, including all 50 states, with a mind-boggling 200 in the Northwest, she said. Seattle now boasts dedicated cider tasting rooms (including Capitol Cider, billed as the nation's largest), just as it has beer pubs and wine bars. 
"People understand apples, 70% of all the apples grown in the U.S. are grown in the 100-mile radius between Yakima, Wenatchee and the Tri Cities. So it just makes sense that we're more of a cider culture here," Robert said.
Robert, a fourth-generation farmer in the region, came to cider from winemaking. He was stunned to find how few science-based resources were available on cidermaking when Tieton began—the apples, the strains of yeasts, the temperatures, the fermentation times.
"In cider you only have five different components that make its taste that you're working with. You have water, sugar, alcohol, acid and one phenol that makes apples smell like apples…" he said.
"We did a lot of research in the first five years or so. We do research every day."
In the neat, densely grown rows at Harmony Orchards, it's easy to differentiate the big, sweet eating apples destined for the grocery store from the clusters of small cider apples. Harvest crews speedily yet delicately filled bags and bins with bright, even-colored, smooth-skinned fruit.
Different priorities rule with the gnarled cider crop. "We're not looking for the most perfect apple on the outside," Robert said. The yellowish fruits they assessed that day had a sugar content around 15%. They held off harvesting for a few days when they would be slightly sweeter, aiming for a relatively high alcohol content around 8% in their destined cider. It takes "about a jillion" to fill the basket, Campbell noted, but size is not the issue. "We're more concerned about the internals, the sugars," said Robert.
Flavors are also measured with different criteria. The sweet, crisp Ambrosia apples at Harmony pack a heavenly crunch right off the tree; some of the cider fruits are not even snackable, like the Perry pear. "That'd be something that would knock you over… your mouth is just cotton. You can't even move it. They make great pear cider but it's a vicious little pear," Campbell said.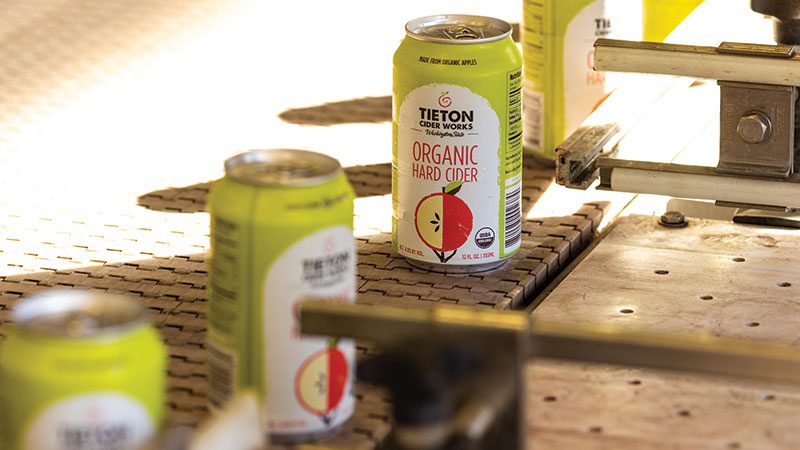 The cider was produced in tiny Tieton the first few years of business, with fruit pressed outdoors "whether it was 10 degrees out or 110 degrees out," Robert said. As the business grew, they first planned to build a larger facility in Tieton, but the town couldn't support infrastructure like the added sewage and electric power. Ultimately the cidery expanded about 20 miles east, to a renovated Yakima warehouse in 2014, with an adjacent tasting room. They don't need to heat the press pad in the morning to get it going or rush to finish the day's work before it freezes over.
Workers drove 900-pound bins of apples around the Yakima facility on one autumn day, an ongoing process where damaged fruits were picked out and the remainders metered out for cleaning, grinding and pressing in a seemingly never-ending tumble. Pomace, the solid pulp left over, is sold to a nearby cattle farm where it's mixed with silage for animal feed. The juice is stored in tanks, fermented with yeast, blended and ultimately bottled on site. Before every run of the organic cider, the entire production line is thoroughly cleaned, a time-consuming and carefully monitored process. Stacked cases of apricot and cherry cider towered high over the busy production floor as freshly filled cans of hard apple cider zig-zagged down the line.
Of the 1,000 or so Tieton batches produced each year, Robert estimates he personally tastes 95%. Formulas for each have been developed over the years, but sampling ensures that they're consistent—and the options for balancing out tannins and sugars with other apple varieties constantly vary.
"We're not making cider one time a year, we're making cider every day," Robert said.
"Each one of these warehouses around here are packing something different every week, sometimes every day. We have to go see what's available" for the end product they want. Honeycrisps, for instance, are great eating apples but poor headliners for cider. Their relatively low acid levels, when fermented alone, make for a tepid cider he likens to "alcoholic water." Ashmead's Kernel, "a high aroma, intensely flavored apple" usually gets blended with other juices, but Tieton also bottles it alone for a tart, semidry heirloom variety it describes as "a peardrop character up front followed by deep Madeira and honey qualities to finish."
Roberts' goal as a cider maker is similar to the ones he has as a winemaker: Something "very drinkable" and "not overwhelming," something people can enjoy either with food or on its own, something worthy of the fruit and time. Something, he said, where people might say, "That was good, I'll have another."
Making Mighty Tieton
Sustainability isn't just about food or soil or packaging. Sometimes it means a way of life—or a city limit. 
That's the story of tiny Tieton, population around 1,500, a former orchard town 20 miles west of Yakima. As the farming industry changed in the late 20th century and fruit-packing plants consolidated and closed, Tieton's downtown had become a relative ghost town. 
Changes were spearheaded—or, technically, pricked—in 2005 when Ed Marquand, a Seattle publisher of fine arts books, ran over a goathead thorn on a bike ride nearby. He repaired his punctured tires in Tieton and was enraptured by the old-fashioned town square. Before long he'd moved his publishing business to Tieton and invited in creative colleagues. One abandoned apple packing warehouse now hosts artist studios and other creative endeavors (including musician Trimpin's studio). Another warehouse was converted into condominiums (Marquand and his husband live in one). Looking for other opportunities to create solid work for local residents, Marquand founded a typographic mosaics studio—the only one in the country, he said. It produced mosaics for the town in the style of old apple-packing labels, and has since moved on to major commissions for Sound Transit stations in King County. He's now on the City Council, and an integral part of what he dubbed Mighty Tieton. The organization has encouraged local businesses, including Tieton Cider Works and the Tieton Farm and Creamery (see page 10), both of whose products are carried at PCC stores.
People talk about Tieton as an arts town, and it does attract artists. But "I'm interested in kind of adaptive reuse of the old buildings, because that keeps the character of the town intact. And then I'm interested in creating enterprises that create jobs for locals," Marquand said. 
It's not at all strange to him, though, that it took an artist rather than a businessman to see the strength of the town. "Artist types, they're not usually given credit for being able to solve economic problems. But in fact, if you can get by as a creative person, for a couple of decades, and support yourself, and have a life, you have to be really pretty financially nimble and resourceful."
Also in this issue
Meet Frankie Seward from the Burien PCC and Jimmie Huynh from the Redmond PCC!
Food and farming center • Using online recipes • Vashon farmland preserved • Edible winter peas • Lobster sustainability • Pesticides and arthritis • King County solar power • Meatpacking grants • Stink bug surge • Antarctic conservation • Vegan WIC foods • Washington watersheds • Vaccine for bees • Deere tractor repair • Bristol Bay preservation
Celebrate the season with a seasonal coloring contest for our youngest members.