Creating a Wunderground of coffee and wellness
By Rebekah Denn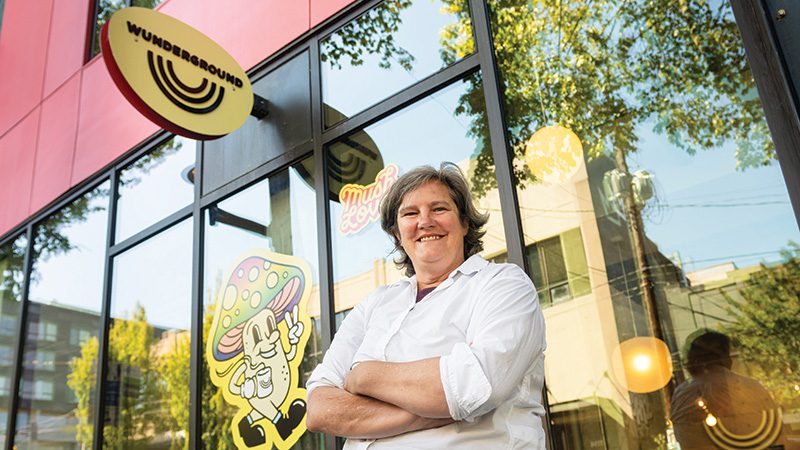 Jody Hall is a familiar name in coffee—and causes.
Early in her career, she "grew up" along with Starbucks, working as a marketing manager for the company while it expanded from around 30 stores to 3,000. As an entrepreneur, she founded Cupcake Royale/Verite Coffee and then The Goodship cannabis company, using her Northwest business platforms to back LGBTQ+ rights and health care, equity and community.
Wunderground Coffee, Hall's newest venture, blends coffee with "adaptogenic" mushroom extracts (aimed at stress management rather than sustenance), "taking the most ritualistic beverage in the world… and adding wellness to it." The ground coffee is now available at PCC stores, plus online and at Hall's flagship store on Capitol Hill. PCC delis serve a "mushroom mocha" with a Wunderground booster, which can be added to any other milk-based drink, and the co-op promoted it as a benefit for balance, restoration and boosted immunity.
Through the partnership Wunderground became a certified organic company, as required under PCC's coffee sustainability standards. As a major commodity, coffee "needs to be clean and green, right? And we can lead by example," Hall said.
Mushroom supplements like Chaga, Reishi and Lion's Mane are far better established in Eastern medicine than in the U.S. They don't have the same emotional resonance here as, say, chocolate frosting and rainbow sprinkles. But Hall sees Wunderground as another opportunity to break new ground, continuing the same throughline that connects her earlier work: "A business that inspires profound human connection."
Baked That Way
When Hall opened Cupcake Royale in Seattle in 2003, cupcake shops barely registered on the national radar. Hall took out a home equity loan to finance the store, the first such business outside New York City, aiming for an independent gathering place where coffee was chosen with care, sweets made with real ingredients, and staff focused on engaging with customers. 
Royale's employees were encouraged to make eye contact with shoppers and have genuine conversations, even if brief. The cupcakes won high marks, but Hall thinks the personal emphasis also boosted its success (there are currently five Cupcake Royale branches), especially as public engagement declined in the smartphone era. "When we connect, we feel better. Our employees feel better, customers feel better."
Over the years Hall weighed in on politics as well as recipes. She spoke with then-President Barack Obama and testified at a White House roundtable about the need for health care reform. Then she considered issues beyond business: If shoppers loved her desserts and the welcoming place she'd created, she decided, perhaps they should also know something else: "You know what, I'm gay and I'm a second class citizen. I don't have the same rights as married people."
 In 2011 Cupcake Royale's rainbow cupcake, dubbed 'The Gay," raised money for the It Gets Better Project for LGBTQ+ youth. Other sales backed causes like the initiative to legalize gay marriage in Washington state.
The business got a lot of hate mail for its advocacy, Hall said, but also incredible support. Same-sex marriage was legalized in Washington in 2012, and nationally three years later. Hall's partner is now her wife.
Sailing forward
Another change in the legal landscape led to Hall's next business, The Goodship, focused on THC-infused candies and other sweets after cannabis was legalized in Washington for recreational use. (It was acquired by Privateer Holdings, a private equity firm focused on cannabis, in 2018.)
The company's mission was to inspire "profound human connection, discovery, wonder and joy," she said. One way to express that was an educational series that brought "the smartest people in the world to talk about their big ideas," Hall said. That included the head of artificial intelligence at Google, sex columnist Dan Savage…and mycology pioneer Paul Stamets, founder of the Fungi Perfecti company and author of a viral TED talk on mushrooms' wondrous potential. (Read more about Stamets, an early PCC member, at pccmarkets.com/r/6307.)
"When I heard him speak about mushrooms and how they can save the planet…that's when the idea for Wunderground came up," Hall said. "It kind of ties together everything I'm passionate about. It ties in the connection of coffee and community, it ties in the coffeehouse environment, it ties in wellness." 
Bringing back the band
With Wunderground, Hall has the advantage of contacts from her years at Starbucks and at Verite, where she was the first Seattle account for Stumptown Coffee, the then-small premium Portland roastery.
"There are a lot of people that came on board to help us figure out sourcing, supply chain, roasting curve, formulation," she said. "We're working with the person who built R&D at Starbucks to formulate our product," a woman who fortuitously went on to years studying adaptogenic mushrooms. "A bunch of our investors and advisors come from coffee."
On its own, sourcing premium coffee for a small company is a labor-intensive job that requires building relationships and figuring out how to support farmers and maintain standards while staying financially afloat. 
Adding mushroom infusions is a whole other level of complexity, from finding the raw material (most is sourced from China, where the majority is currently produced) to figuring out how to blend the additions with the coffee. The goal was "to be the most delicious and the most potent, so it tastes good and you really feel the benefits," Hall said. 
Wunderground uses the fruiting body of organic mushrooms grown on wood, rather than the mycelium that grows underground (supplements typically use ground mycelium). The company presents the mushrooms as a balancing agent to improve focus, an antioxidant-packed "thermostat in our body to regulate stress, cortisol, anxiety and even caffeine." 
It's somewhat uncharted ground. There are few peer-reviewed medical studies in the U.S. on mushroom's benefits, though Hall notes that "the U.S. is way behind on that. These have been used for thousands of years, especially in Eastern cultures." 
The National Cancer Institute notes that certain medicinal mushrooms have been approved as an addition to standard cancer treatments in Japan and China, that they have been used to fight infections in Asia for hundreds of years, and that they are currently being studied to assess their effects on the immune system, among other possibilities. 
Wunderground has hired a medical advisor, one of the first physicians to go through a course on using adaptogenic mushrooms for healing. The company hopes she can further their research, adding more health-related data to the existing discussions on caramelization and cupping, smallholder farmers and superfoods. Hall's ready to keep figuring it out, though the basic mission was clear to her from the start.
 "We already drink coffee every day," she said. "Let's just make it better."
Tasting Wunderground
See what Wunderground Coffee is all about at in-store demos at PCC stores. They are scheduled from 10 a.m. to 2 p.m.
Jan. 5 at Columbia City PCC,
Jan. 6 at Ballard PCC,
Jan. 7 at Central District PCC,
Jan. 12 at Green Lake Village PCC,
Jan. 13 at Burien PCC and
Jan. 14 at West Seattle PCC. 
As a PCC membership benefit, PCC members can enjoy a free shot of "brain wash" mushroom booster to any espresso drink purchased at Wunderground's café, 1111 E. Pike St.