Recipes make great DIY gifts
Photos by Charity Burggraaf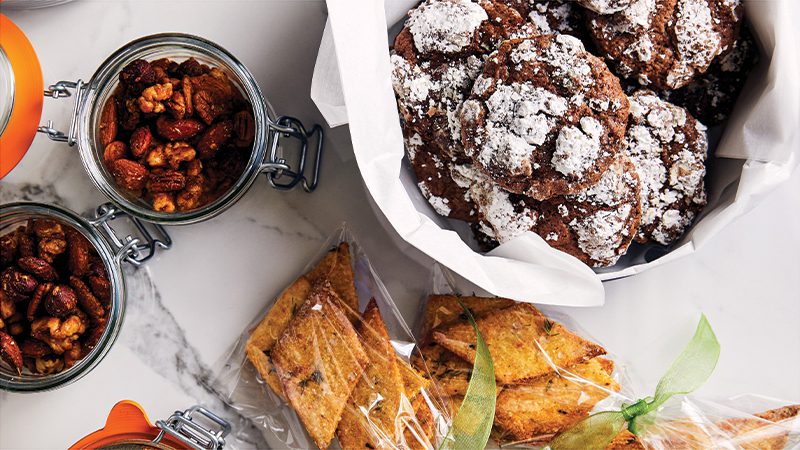 Some of our favorite holiday gifts are handmade, budget-friendly—and delicious. We've selected three recipes from PCC's "Cooking from Scratch" cookbook (Sasquatch Books, $24.95) that make thoughtful, pretty presents for everyone from family members to holiday hosts to colleagues at work. 
Best of all, they can serve double duty: You can skip the portioning and attractive packaging and serve them at your own get-togethers or for an anytime treat.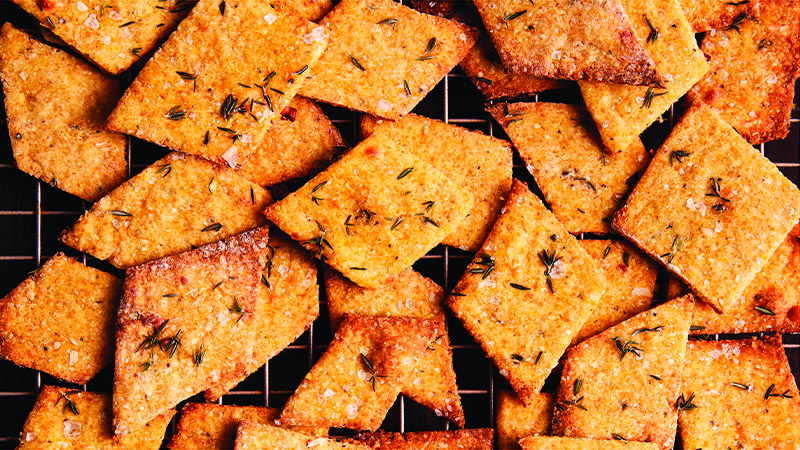 CORNMEAL, PARMESAN AND THYME CRACKERS
Tucked into a cellophane bag and tied with a ribbon, these make an excellent homemade gift for the holidays, a generally sweet time of year when savory snacks can earn extra appreciation. Note that they can be baked up to two weeks before you plan to serve them, so you can have plenty of time to make multiple batches and get them wrapped.
When you're ready to serve them, their grainy cornmeal crunch is a lovely companion for creamy fresh goat cheese, but they offer so much flavor they can hold their own served alongside nothing but cocktails.
Makes 50 to 60 small crackers
1 cup medium-grind cornmeal
1 cup all-purpose flour, plus more for dusting
¾ cup warm water
¾ ounce (¼ cup) shredded Parmesan cheese
3 tablespoons unsalted butter, at room temperature
2 teaspoons kosher salt, divided
Freshly ground black pepper
1 teaspoon fresh thyme or ½ teaspoon dried thyme, divided
In the work bowl of a food processor (or a medium bowl), combine the cornmeal, flour, water, Parmesan, butter, 1 teaspoon of the salt and pepper. Blend until the mixture forms a ball (or you can mix by hand with a pastry blender or your fingers). Remove the dough from the processor and wrap completely in plastic wrap. Let rest for 30 minutes.
Preheat the oven to 400° F. Line a rimmed baking sheet with parchment paper.
Divide the dough into 4 portions, covering the pieces you are not working with in plastic wrap.
Lightly dust a work surface with flour and roll out one piece of dough to ⅛ inch thick. Sprinkle the surface with one quarter of the thyme and 1⁄4 teaspoon of the salt. Gently roll the dough two or three more times to embed the toppings.
Cut the crackers to your desired shape and size. Try using a chef's knife, wavy-edge pastry cutter, pizza cutter or cookie cutters. Repeat with remaining balls of dough.
Put the crackers fairly close together (just so they don't actually touch) on the prepared baking sheet. Depending on the shape of your crackers, you may need to line a second baking sheet to bake all the crackers at once. Bake until the edges turn golden and crisp, 15 to 18 minutes.
Cool completely; store in an airtight container at room temperature for up to 2 weeks.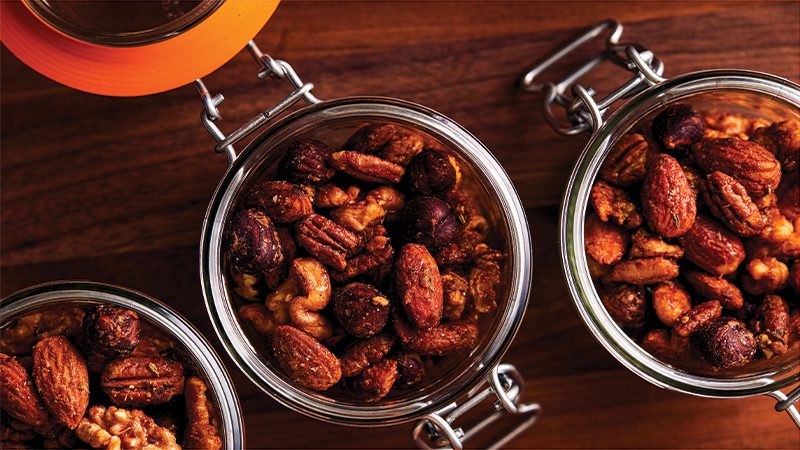 SPICY HERB-ROASTED NUTS
It boils down to just how greedy you are, or more nicely, how much you like sharing: these nuts make a lovely gift wrapped in a small cellophane bag, or a fantastically nutritious and flavorful snack just for yourself to enjoy over the course of a few weeks. Starting with raw nuts lets you determine exactly how much salt you want to add, while the maple syrup offers a sweet, earthy base for the spices to cling to. The house will smell fantastic as these bake; make sure to keep an eye on them as they approach the final cooking time—they can scorch. To avoid this, it's best to set the timer for the lesser amount of time until you know for sure just how your oven will treat them.
Makes 5 cups
½ cup maple syrup
3 tablespoons extra-virgin olive oil
¼ teaspoon cayenne pepper (for spicier nuts, use up to ½ teaspoon)
½ teaspoon dried oregano
½ teaspoon dried sage
½ teaspoon dried thyme
½ teaspoon dried rosemary
½ teaspoon dried marjoram
1 to 1 ½ teaspoons kosher salt
1 ½ cups raw almonds
1 ½ cups raw walnuts or raw unsalted cashews
1 cup raw hazelnuts
1 cup raw pecans
Preheat the oven to 325° F.
In a large bowl, stir together the syrup and oil. Add the cayenne, oregano, sage, thyme, rosemary, marjoram and salt, and blend.
Add the nuts, tossing with a broad silicone spatula or wooden spoon to coat them evenly. Spread the coated nuts in a single layer on a rimmed baking sheet.
Bake for 35 to 50 minutes, stirring every 10 to 15 minutes to break up the clumps, until all the moisture is absorbed and the nuts are fragrant and nicely toasted.
Cool completely. Store for 3 days in an airtight container at room temperature or up to 1 month in the refrigerator or freezer.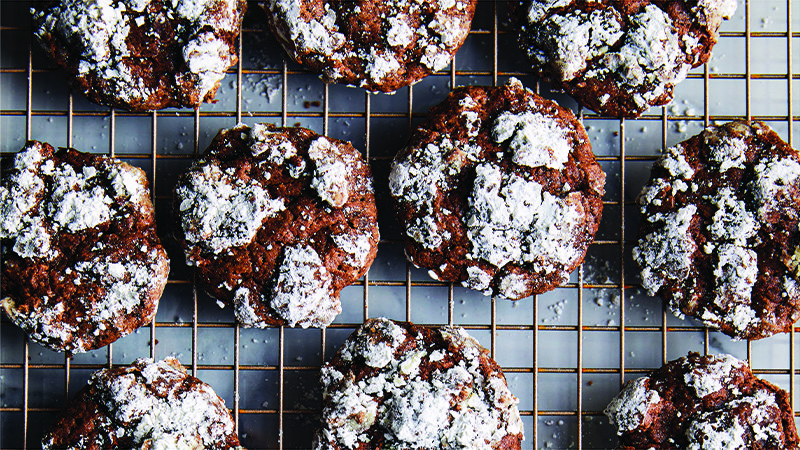 FLOURLESS CHOCOLATE CRINKLES
This gluten-free riff on a holiday cookie classic is an ideal treat for chocolate lovers. They're rich, they melt in your mouth like your favorite flourless chocolate cake, and they bring out the pure flavor of the chocolate you've used (so use good chocolate!). 
Makes 2 dozen cookies
8 ounces (1 ⅓ cup) chopped bittersweet or semisweet chocolate
3 tablespoons unsalted butter, at room temperature
2 large eggs
⅓ cup granulated sugar
¾ cup almond flour
Powdered sugar, for rolling
In the top of a double boiler over barely simmering water, melt the chocolate. (If you don't have a double boiler, make one by setting a small, heatproof glass bowl on a saucepan that has a few inches of simmering water in it. The bottom of the bowl should not reach the bottom of the pan and should sit above the water, not in it.)
Remove the chocolate from the heat. Cut butter into a few pieces and stir into the chocolate until no yellow streaks remain. Set the mixture aside at room temperature.
In a large bowl, use an electric mixer to beat the eggs on medium-high speed, gradually adding the granulated sugar until ribbons form when you lift up the beater and the mixture is thick and pale yellow, 5 to 10 minutes.
With a spatula or wooden spoon, gently fold in the chocolate-butter mixture just until no streaks of yellow remain. Gently fold in the flour. Cover the bowl and refrigerate for at least 2 hours or overnight.
Preheat the oven to 325° F. Line two baking sheets with parchment paper.
Scoop dough into 1-tablespoon balls. Roll them in powdered sugar, place on baking sheet about 2 inches apart, and immediately put in the oven. For a softer cookie, bake only until the edges are set and centers no longer wet, 13 to 15 minutes; for a crunchier cookie, bake 16 to 18 minutes. Let cool on  baking sheets for 5 minutes, then transfer to wire rack to cool completely.
Holiday cooking classes
From festive small gatherings to family feasts, PCC has cooking classes for every aspect of holiday meals. See our schedule online for the complete lineup from pierogies to pie.
Highlights include:
PCC holiday fundraiser
Generous donations from PCC members and shoppers raised $284,500 to support community food access this past year. Programs this supported included Growing for Good, allowing local farms to sell produce directly to food banks, Food Access Grants, and expanding the Friends of PCC program for our food bank partners. Thank you for making this work possible—when we come together every dollar has a huge impact!
You can contribute this holiday season at store registers or online here.