Harvesting skills, community—and crops—on a rare historic farm
By Tara Austen Weaver, guest contributor
Tucked away in the South Park neighborhood, mere blocks from two different freeways, plump squashes grow beneath prickly green leaves. On a sunny, fall day, beans vine up trellises, tomatoes blush, and corn silk waves in the breeze. In the distance, over the steady hum of bees and other pollinators, carries the voices of children. This is Marra Farm, one of the few remaining pieces of Seattle's agricultural history, now growing a new future.
The farm—and the Marra-Desimone Park in which it is located—is named after two Italian truck farming families who stewarded this land from the early 1900s to 1980, when they sold it to King County. The farm then lay fallow for nearly 20 years, until volunteer efforts began to clean up the refuse that had accumulated (12.5 tons of garbage, by one report). In the late 1990s, city and nonprofit partners came together with the hope of planting something new.
The park had been laid out with an area for a P-patch community garden, but there was enough space on the four-acre plot to experiment with growing on a larger scale.
"It was called the Seattle Farms Project," explained Julie Bryan, who coordinates community gardens for Seattle's Department of Neighborhoods. The initial plan was seeing if small-scale farming could be commercially viable in the city (the conclusion: it's hard to clear a profit on the amount of space that was available). Instead, Marra became a place to grow farmers as well as produce, to develop skills and community.
Over the last 25 years, Marra has given a number of new groups the space to get up and running. "It gives people the opportunity to ramp up and test their skills," Bryan said. "Often, in an urban setting, people don't have the skills needed for growing on a commercial scale."
Overseen by the Marra Coalition, which includes representatives from the groups involved, the farm is currently home to three nonprofit organizations, who garden their own areas but share knowledge and resources to help each other.
Solid Ground
"We grow produce for people who are struggling to afford it," said Maia McCoy, farm coordinator for Solid Ground, the anti-poverty nonprofit who currently tends a quarter of the farm space (see related Q&A here). "We distribute it to Providence Regina Food Bank, South Park Senior Center, and through the Sea Mar Health Clinic in South Park and White Center."
Nearby Concord Elementary School visits frequently and Solid Ground provides inventive farm programming for other student groups of all ages, primarily from underserved communities and schools.
"We try to think about how each sense can be engaged," said Bela Sanchez, Solid Ground's Bilingual Youth Food Educator. "With the vegetables, they're engaging their sense of taste, and we teach them about smelling with herbs and flowers. There is a creek next to Marra Farm, so we'll teach them about using their ears and listening to the wildlife. And we engage their sense of touch by digging in the dirt or touching a leaf or holding a worm from the vermicompost bin."
Cooking demos with farm food is an important part of the program. Younger students help prepare a corn and tomato salad with cucumbers and lots of herbs, while older kids make black bean and vegetable quesadillas, which allows for chopping practice and uses different types of veggies.
Sanchez feels strongly about not making kids eat things they don't like. At the same time, sometimes kids surprise themselves.
"We did a lesson with five and six-year-olds," Sanchez recalled, "where we made pesto and there was this kid who was like—'I'm not eating that, it's green and I don't want to'… And he was the kid who wanted three servings, and then took some home!"
In the past, Solid Ground's plot at Marra has yielded up to 15,000 pounds of produce a year, but recently that number has been smaller. "We rely heavily on volunteers," said McCoy, "and with COVID it's been hard to get super consistent volunteers. We always encourage people to come help." (Sign up at solid-ground.org.)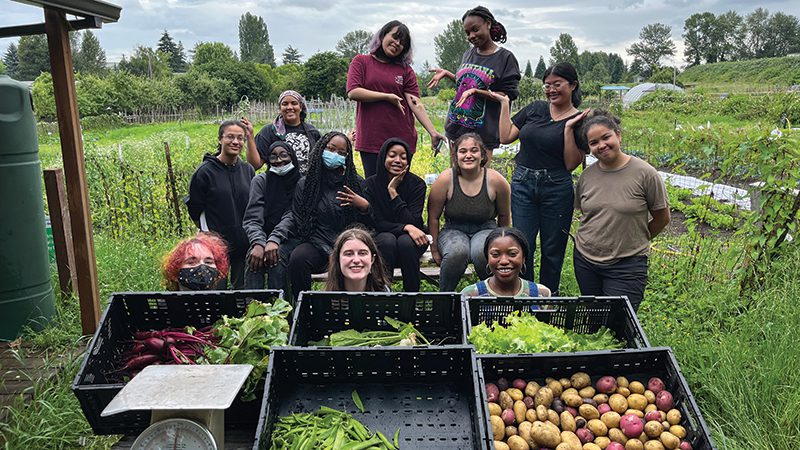 Salsa de la Vida
On the south side of Marra Farm, under a sign decorated with colorful paintings of vegetables and flowers, lies the farm plots tended by the women of Salsa de la Vida. Calling themselves Promotoras—a term used for community members with special training to help educate, particularly around health issues—Salsa de la Vida started out as a group of mothers looking to grow vegetables.
Hailing originally from Mexico and Guatemala, the Promotoras currently stand at four members (a fifth is on maternity leave). They were originally thinking of creating value-added products—like the salsa they are named after. When the pandemic hit, however, they focused instead on feeding the community. As managing member Amanda Zenteno said, through translator Diana Hernandez Machuca, "We are trying to make sure everyone has a meal."
Salsa de la Vida operates as a sponsored program of Villa Comunitaria (formerly South Park Information and Resource Center). Through grants and funding, each of the Promotoras is now paid for the gardening they do, with the resulting produce offered to the community for free—through a CSA box, given to Little Free Pantries, and gifted to friends and family.
One of the things that makes Marra so enjoyable is that "it's different communities," said Zenteno. "Not just one race—different races, and we all come together on the land to help ourselves but also to help each other."
The Promotoras are also learning. A series of visiting educators taught topics like growing mushrooms, how to set up a compost system, and how to test garden soil (and, if needed, build raised garden beds to fill with new, uncontaminated soil). At the same time, they are drawing on their own cultural knowledge to grow a medicinal garden with herbs and flowers—like the marigolds used to decorate for Día de Muertos; chamomile, which can be used for stomach and eye irritation; and culinary herbs like epazote and hierba mora, also called black nightshade.
The Promotoras bring their younger children with them to the farm, and the youngsters navigate the paths and garden beds with ease, making their own toys from bits of old garden hose while their mothers weed and harvest.
When asked what is the most rewarding part of farming on Marra, Zenteno does not hesitate. "Access to food," she says, "and to be able to give this access to people in the community who are in dire need."
Young Womens Empowered (Y-WE)
Under a stand of golden sunflowers, the raised garden beds grown by Young Women Empowered or Y-WE (pronounced Why-We) are bursting with herbs and vegetables. Fat dark-green zucchini laze in the sunshine while nearby a large "Three Sisters" bed features the traditional planting of squash, beans and corn.
"We focus on cultivating the power of diverse young women to be courageous leaders and changemakers in their communities," said Neli Jasuja, Y-WE's environmental justice program manager. "The program at Marra Farm is our GROW program—and our goal with that is to disrupt racism and injustice in the food system." (Y-WE is a former PCC grant recipient, click here to read more.)
Jasuja, who first came to Marra as an Americorps volunteer with Solid Ground, explains that another goal is helping the BIPOC—Black, Indigenous, and People of Color—communities who participate in the GROW program to heal. "Just the youth being there—and being in their bodies and connecting to the food that they grow and eat—that in itself is disrupting racism," she said.
Mutual aid is another goal. "All the food we grow goes back into the community," Jasuja says. Produce goes home with participants and is given away for free at El Mercadito, South Park's first farmers market. During the summer season,  GROW participants set up a stand every Tuesday.
"We want to prepare youth and support them in developing different skills," said Jasuja—"how to preserve food beyond the season, how to grow and make plant medicine, how to do woodworking" (the participants built the heavy-duty raised beds in their  plot). "They also learn chicken care, and fruit tree care with City Fruit, and this fall we're going to work on cultivating mushrooms. It's very much driven by the youth and what they're interested in."
GROW is as much about growing participants as produce. "At the core of everything we do is cultivating a community of belonging," Jasuja said. "The first day is always about connections and learning about each other and building community agreements—what do you need to show up as your full self—before we get to anything about gardening."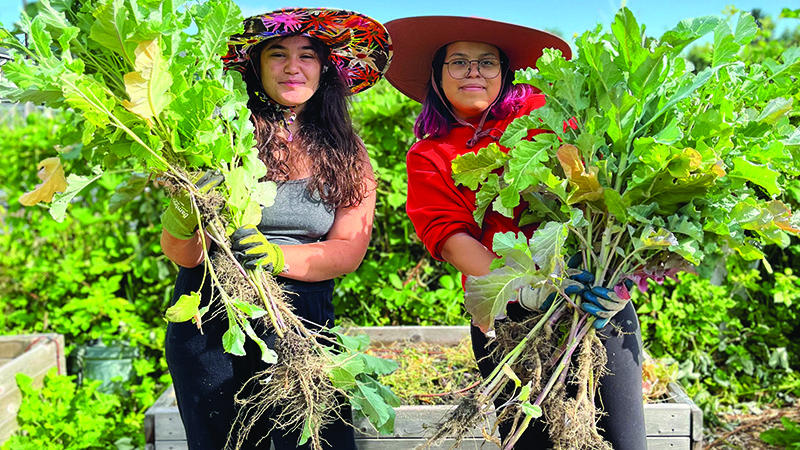 Tending to the future
As rewarding as the growing program at Marra Farm has been—for the community it feeds and the participants who tend to it—it has challenges.
"Marra Farm has had some serious issues with theft, with vandalism, with people behaving very poorly," said Bryan. "We've had someone just slashing the greenhouse. We've lost three consecutive years of beehives—at first they were just destroying the bees, but now…it's very focused on taking the bees to be used elsewhere." But, Bryan points out, the good far outweighs the bad.
Bryan is also looking to the future. "We have a really solid group now [on the Marra Coalition] and there is a lot of active interest." Considering the next chapter, she thinks back to a wish list created over the years. "There could be an amphitheater for performances, an educational structure where there can be classrooms and also storage—maybe cold storage for food—a commercial kitchen, and places where food can be distributed back to the community. We need to work together to find the funds to build that, to find the funds to help us dream about it."
For the participants, much of the dream of Marra Farm has been realized. Each fall the coalition works together to plan a festival with cider pressing and tamales to eat, live music and cooking demos, a garden scavenger hunt and children playing and learning and community roots being planted.
As Salsa de la Vida's Zenteno put it, "We are growing, the same as the plants are growing."
Seattle writer Tara Austen Weaver is author of several books, including "Orchard House: How a Neglected Garden Taught One Family to Grow," "Growing Berries and Fruit Trees in the Pacific Northwest," and "A Little Book of Flowers, Peonies and Dahlias."