The cool, creative path to great vegan ice cream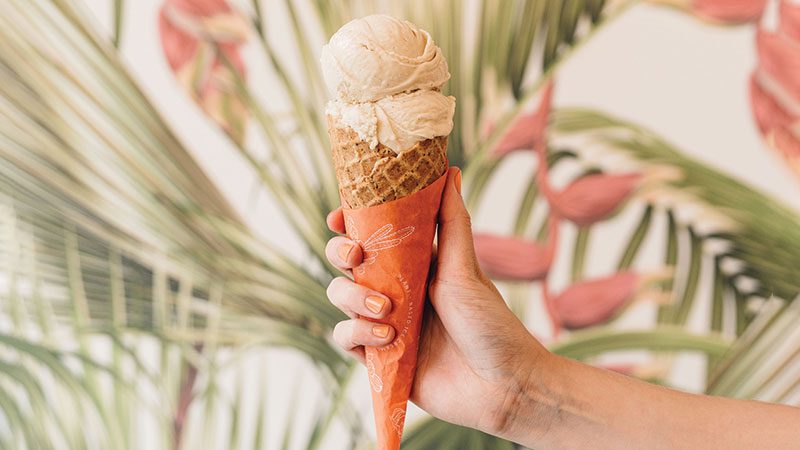 Autumn Martin and Kari Brunson have brought fabulous, creative foods to the region for years, from decadent take-and-bake molten chocolate cake (Martin founded "Hot Cakes," available in PCC freezer cases) to fresh-pressed juices and delectable salads (Brunson's former Juicebox cafe). In 2016 Martin partnered with Brunson on Frankie & Jo's, plant-based ice creams and sorbets in unique flavors like "beet strawberry rose" and "salty caramel ash," sourcing the majority of ingredients from certified organic producers. The company, a certified B-Corp, is named for Martin's late grandmothers, Frances and Joanne.
The business partners, who both were farmers market vendors in earlier ventures, now oversee three scoop shops and ship their ice cream nationwide. It's carried at all PCC stores. Sound Consumer editor Rebekah Denn spoke recently with Martin about the business while Brunson was on maternity leave. An edited, condensed version of their conversation follows:
Q:Why open Frankie & Jo's instead of incorporating the ice cream into your previous shops?
A: I wanted a company that was (entirely) vegan so that people can start to think more openly about vegan food for all of these traditional, heartfelt food moments. Ice cream is such a nostalgic treat, and I knew that for the future to be a little less dependent on animal products, we needed to start getting people to believe that it's possible to have these new plant-based foods replace animal-centered traditions.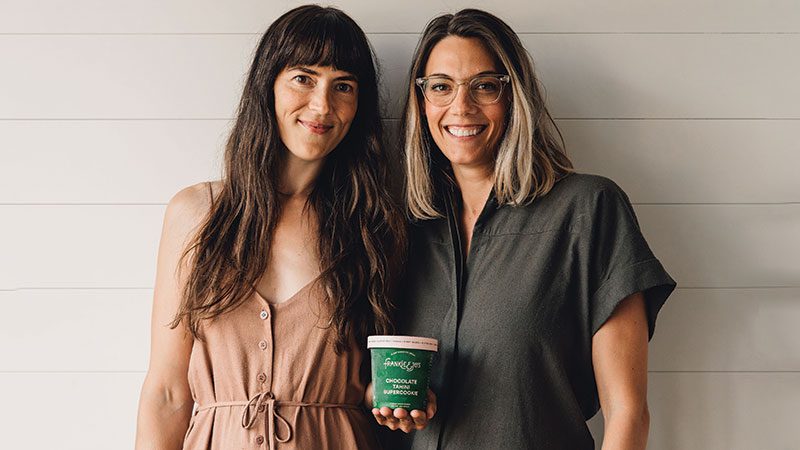 Q: For ages people thought it was impossible to make good vegan ice cream. What made it so hard and why is it possible now? 
A: I think effort is number one. People weren't putting a ton of effort into making a vegan ice cream that was going to be better than a cow ice cream. I don't know that the focus was in the right spot. It was like, "If it's good enough, then so be it," which is how a lot of vegan food has been over the years. But I have really high standards when it comes to the food that I eat. Also, for the goal of wanting to change our food system, I knew that "good enough" was not going to cut it.
It's also really, really, really hard. You have to use the right fats—fat in ice cream is huge. And you have to use the right milks.  (When) I started working on recipes in 2012, with not a ton of success, I was using store-bought milk, and then I realized, "I'm going to need to make my own nut milks in order for this to work out."
It's more expensive, so I think people try and cut corners as much as possible to be competitive with the price point of a cow ice cream. And those corners are really important.
Q: Your flavors are very distinctive. Is there one you think of as definitively Frankie & Jo's?
A: I think the California Cabin is like our signature flavor. It's a smoked vanilla bean and pine ice cream flavor with pieces of cardamom-black-pepper shortbread throughout. It is this very nuanced flavor that you can't quite (place), but it's so beautiful and deep, it's lovely to experience. We named it Cali Cabin because it really does put you in a place when you eat it. It brings up these feelings and memories, which is the beauty of ice cream—of food in general. Whether somebody is aware of it or not, they're tapping into their nervous system when they're eating ice cream, and tapping into stored memory banks.
Q: You worked at some top places early in your career (including head chocolatier at Theo Chocolate and pastry chef at fine-dining icon Canlis restaurant). What made you move quickly to owning your own businesses? 
A: For as long as I can remember, I've been like, "I want to support myself through my hands, through my creations, my ideas." When I was in junior high school, I was making jewelry and selling it, and then in high school I started making glass beads and I would use my own glass beads for my jewelry and sell it to different shops in Seattle and California. And then I went to culinary school and I had a cake-making business. I love, love, love making something with my hands or something that comes from my heart.
Q: What brought you to food as part of that?
A: I was going to go to art school right out of high school, actually, and study sculpture. My medium was glass and ceramic at the time. Before starting I took a year off and worked in Lake Tahoe and basically was a ski bum for a season. And then I was a beach bum in Hawaii after that for six months. But I worked at a fine dining restaurant in Lake Tahoe where I was the hostess, and I would find myself in the kitchen whenever there was nobody to seat, just staring at the line cooks and the chef…I just was so captivated by the work. And I will say I grew up cooking a lot with my dad…Cooking was not new to me, but being in the kitchen of high-end restaurants was new to me and I loved it. I got butterflies. It just moved me. 
And then when I came back to Seattle to start art school, I got a job at the Honey Bear Bakery, and part of their benefit package was they would pay a third of culinary school tuition for their employees. So I kind of took that as a sign, (but) I was torn. The other thing that really tipped it for me was the cake decorator at the Honey Bear. I would watch her and think "She's basically an artist right here, sculpting these big elaborate cakes, piping colors." And I was thinking "Okay, I could scratch my sculpting itch and be in food at the same time." That's why I went into pastry. 
Q: Frankie & Jo's has scaled up a lot. Do you have a plan for what's next?
A: That goal, the mission and vision, has always been to get this ice cream in as many hands as possible, because I really truly believe that our ice cream is a vehicle for change.
It's not just a tasty treat that happens to be made without cows. It is literally a vehicle to show people that they can have the same beautiful, connected traditions without relying on animals.