Delight in the world's first Little Free Bakeries
By Jill Lightner, guest contributor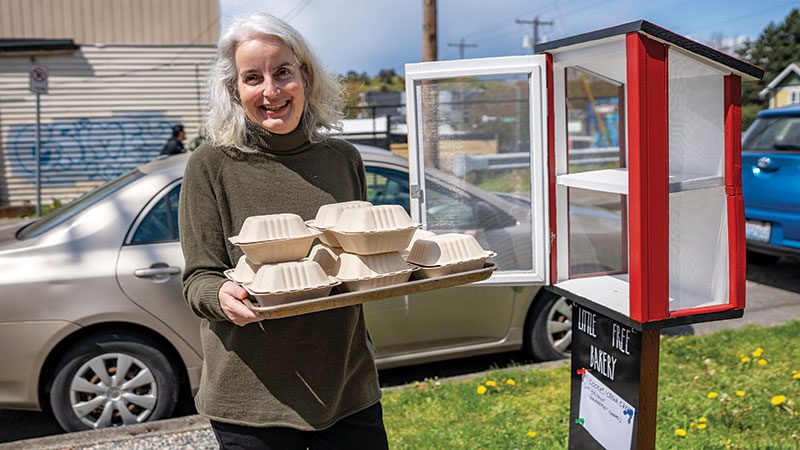 On a handful of streets around the Seattle region, including my own Columbia City sidewalk, bakers are stocking dollhouse-sized boxes with cookies, pastries, cake slices and other sweet snacks—free for any passerby.
The first Little Free Bakery in Seattle, and seemingly the world, came about from a mixture of big emotions:
Lanne Rosebrook Stauffer and her spouse used to create dessert tables for the weddings of friends and family members, and she missed that joyous creativity through the bleak months of 2020. Then in summer 2021, an unknown person nominated her to receive a bouquet from the Little Free Flowery in Magnolia. The delight from those flowers, and her love of sharing what she bakes, inspired her to set up a neighborhood bakery box that October.
The idea of the Little Free Library has been around since 2009, with more than 125,000 now devoted to books. It's spawned variations like Little Free Pantries, Little Free Seed Libraries, even a Little Free Lego Minifig exchange—and, now, baked goods—where people trade their resources in a mostly anonymous, low-key and hopefully enjoyable way.
"I think food is a beautiful thing to share," says Rosebrook Stauffer. "I would not have made it through my childhood without people sharing resources, particularly the potlucks my mom would host in UW housing where everyone would bring the small portions they could contribute and somehow it would become enough so everyone got a meal."
She baked 50 miniature apple pies to open her Little Free Bakery in Magnolia. They were gone in less than an hour.
Rosebrook Stauffer and I have been friends for 30 years, and it took her approximately 30 seconds to convince me to open a Little Free Bakery at my home. I loved the idea of sharing my baking with strangers—call it mutual aid, or call it community—but I also realized that the differences in our lives necessitated some differences in how our bakery boxes work.
She's co-owner of a business, Market Street Shoes, and needs to clear an afternoon for her favorite hobby. I'm a freelancer whose job directly leads to recipe experimentation (my spouse also claims I have "baking attacks" rather than panic attacks, and he is not wrong).
Stauffer enjoys hosting baking collaborations with friends and interested bakers; sharing kitchen space makes me cranky but I am open to neighbors dropping off their own home-baked goods.
My Little Free Bakery opened in February, and by late April, three more opened across Seattle, plus one in Redmond. Additional planned openings include the Central District, Scranton, PA, and the first mobile Little Free Bakery, in Port Orchard. Rosebrook Stauffer is delighted by the interest, saying, "I don't have any real goals for these except to build community by sharing a resource, and I don't think there can be too many."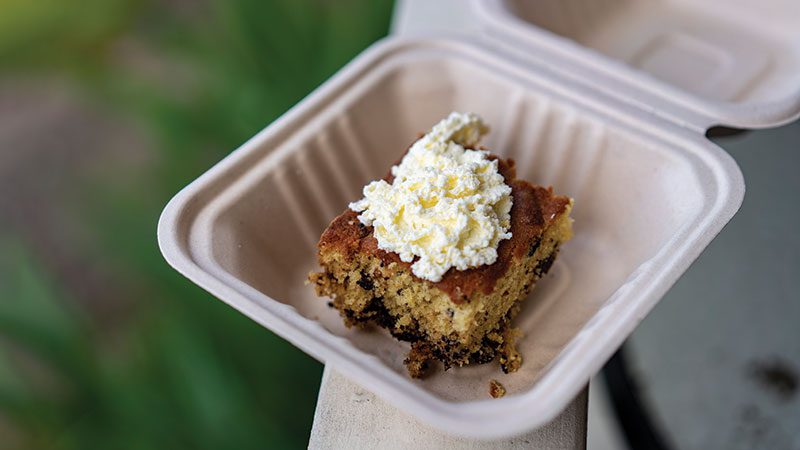 Each current participant is partially motivated by baking more often than their households can sensibly eat, but there are plenty of differences. Janey Yoo, of the West Seattle Little Free Bakery, is starting the Seattle Culinary Academy breads and specialty desserts program and passes along "practice croissants," which are more beautiful than the best croissant I will ever bake. In Maple Leaf, Beth Altman missed sharing her favorite cookies and rustic cakes with officemates after shifting to a work-from-home situation. Crescent Moegling in View Ridge says the pandemic had her "stress baking for my Buy Nothing group every day." She guest baked with Rosebrook Stauffer and plans to repurpose a Seattle Weekly newspaper box to replace her current cooler. Deborah Voll opened the first one outside of Seattle, in Redmond. An empty nester, she says she can't possibly eat all that she bakes (dark chocolate cookies and Bundt cakes are favorites), and she appreciates the chance to connect directly with neighbors, since she'll "likely be pulling weeds in the garden when they stop by for a treat!"
The idea for something like a Little Free Bakery had crossed Moegling's mind in 2020, but she talked herself out of it, thinking that it wouldn't be popular. We've all since laughed over the "what if we're throwing a party and nobody comes" feelings when we first shared treats this way, because it turns out that those fears were entirely unfounded. In every neighborhood, people have shown up since our very first offerings of sour cherry crumb cake, croissants, coffee blondies and rainbow-sprinkled sugar cookies, along with Rosebrook Stauffer's apple pies.
In fact, the responses both public and private have been entirely heartwarming. I received a heart-filled note from my mail carrier, and a neighbor brought me butter and colorful gift bags to use. Rosebrook Stauffer has received kid-art-filled notes, a flower bouquet, and some deeply personal stories that have hit home in an emotional way. Recent years have been isolating for everyone, in addition to financially stressful for many. Her response to the stories she's been told is, "Are you (expletive) kidding me, I can bake a pie and make a difference in your life? Done!"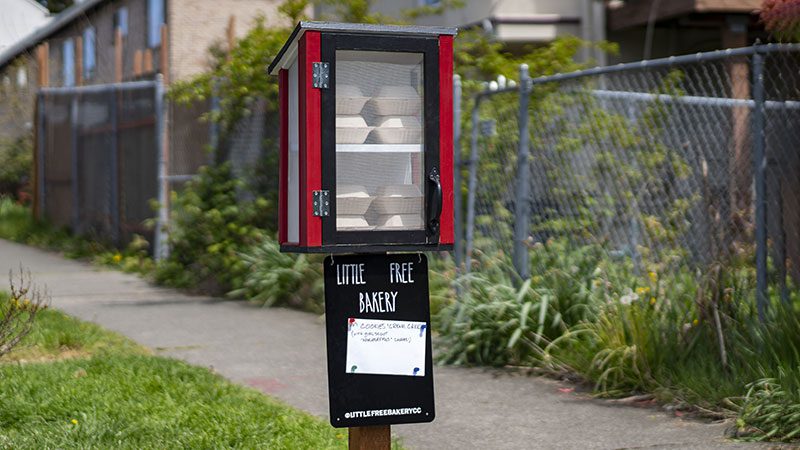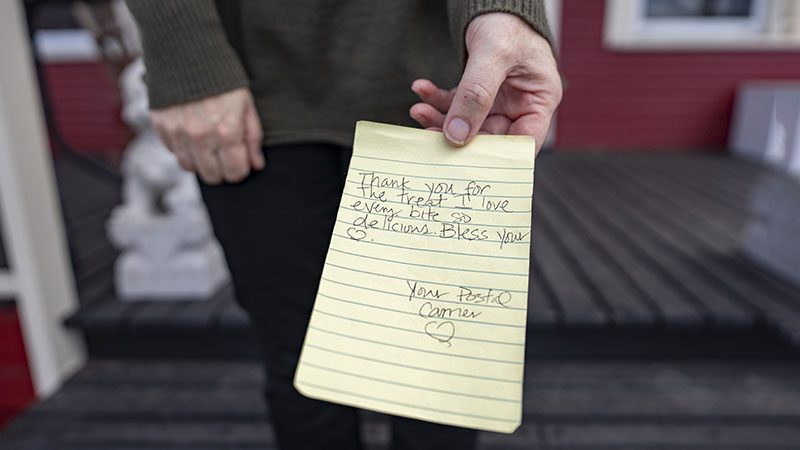 And contrary to those early concerns, there haven't been any failures in terms of offering something that nobody wanted. So far the only stresses have been an occasional driver blocking my street to snag baked goods, and the day Rosebrook Stauffer made maple bars with her friend Rashida Masakella.  She "mathed wrong" and ended up with 200 maple bars to fry instead of the intended 100. Her older sister came to the rescue to help finish, and the bakery stayed stocked past dinnertime rather than its usual 1-hour window.
I note that she made more maple bars than my favorite doughnut shop fries on most days. Then, Rosebrook Stauffer shares a story that brings it all back to kindness.
When she was very young, she and her mom were waiting for a late-night bus on a winter night by the Wallingford Winchell's. She thinks she must have looked cold and mopey, because an employee stepped outside and handed her a bag of warm doughnuts, including maple bars. It's one of the first clear memories she has of someone sharing food with her, and thinks it reflects on the generosity of many in the food industry. If any of the Little Free Bakeries gives someone a moment of connection and happiness like the nameless doughnut shop man gave her, that is something to cherish.
Tips to start your own Little Free Bakery
No license is needed, but a food handler's permit is useful to back up your common sense.
Fancy boxes are fun, but not necessary. Coolers can work just fine.
A water-resistant sign showing what's available is useful; so is a fairly rain-proof box.
Procure packaging that suits what you bake. CHEF'STORE (formerly Cash & Carry) has many choices, but compostable paper bags with a small gusset are very flexible.
Set a schedule that works for you, whether that's small, frequent batches or one big weekly bake.
Instagram and your neighborhood's Buy Nothing group on Facebook are useful in spreading the word.
A bear-proof bakery box may not be possible, but other wildlife — including bugs — haven't yet shown interest in the existing boxes.
Find Little Free Bakeries at:
Columbia City: 39th Ave S.
south of South Hudson Street
@littlefreebakeryCC
Magnolia: 24th Ave W.
south of West Dravus Street
@littlefreebakerysea
Maple Leaf: NE 98th St,
west of 15th NE
@littlefreebakerymapleleaf
Redmond: NE 106th Street
at 157th Ave NE
@littlefreebakeryredmond
View Ridge: 53rd Ave NE,
south of NE 65th
@littlefreebakeryne
West Seattle: 44th Ave SW,
north of SW Charlestown Street
@littlefreebakerywestsea
Jill Lightner writes about eating, drinking and farming. Her latest book is "Scraps, Peels, and Stems: Recipes and Tips for Rethinking Food Waste at Home."