Kid summer camps return to PCC classrooms
This article was originally published in May 2022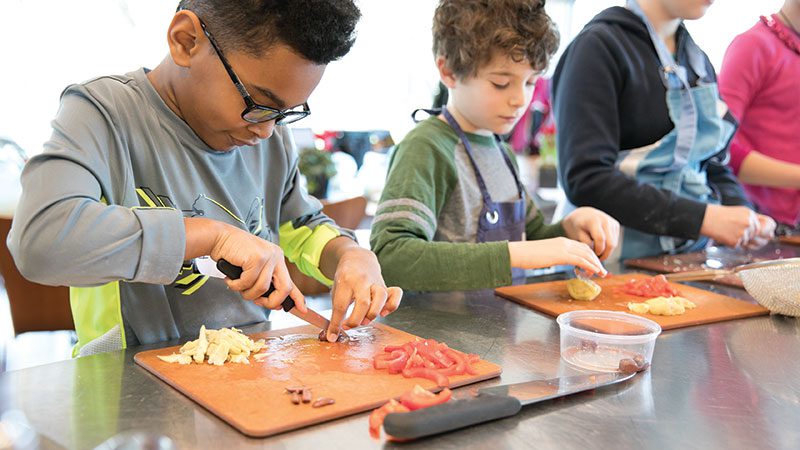 After two years online, kids are returning to PCC classrooms for summer camp. While online classes will still be available for all ages, in-person lessons and cooking camps are back. 
Parent-child classes will also resume in May. 
It's a welcome return for a camp program that began in the early 1990s. "We're probably the oldest, most established kids program in the Northwest," said Sephi Coyle, PCC's culinary school program director. Topics range from knife skills to baking to global cuisine, with a focus on teaching classic cooking techniques—the same, pretty much, as adult cooking classes. They share most of the same instructors, too.
"We really believe in empowering kids from a very early age to take control of the kitchen and have fun in the kitchen," Coyle said. "We try to keep them fun, with appealing recipes, (but) we don't dumb our recipes down."
Ideally, children's camps combat the idea that cooking is a chore or a stressful experience.
"We want to inspire a love of eating, working with food, and building skills so that they don't need recipes. We're setting them up for more intuitive cooking," Coyle said. In years past that's meant everything from handmade pasta to pizza dough to field trips to a working farm where they can harvest and cook with fresh produce.
There is a compromise or two. The very youngest students might use scissors or crinkle-cut slicers in place of knives. Coyle tries to keep in mind how her own two children might react to a proposed menu, meaning ingredients like quinoa and kale might not be headlined quite as prominently. 
"We introduce global cuisines and we introduce the fundamentals of cooking—good knife skills, measuring, sautéing and roasting, tasting and adjusting seasonings."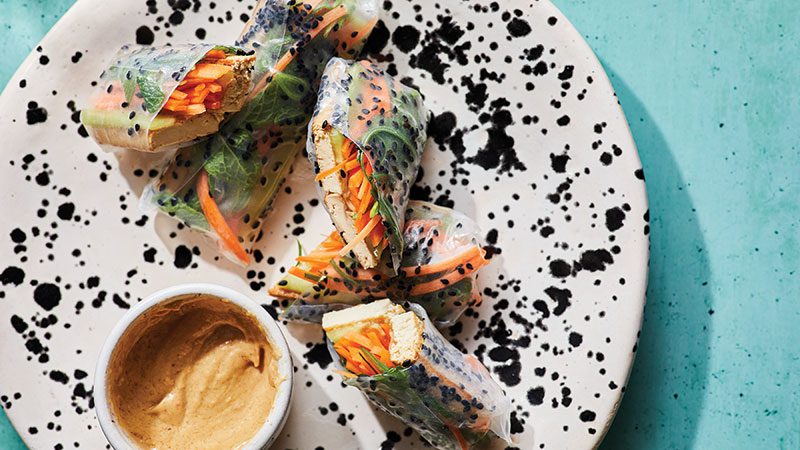 Fresh Summer Rolls
"Kids recipes" are as fresh, colorful and fun as any "adult" dish. These rolls are a summer camp favorite. They are fresh and delicious served straight away or as lunch the next day. Most of these ingredients can be swapped out for others so experiment and enjoy.
Makes: 4 to 8 servings
8 large circular rice papers (like Bahn tran Bahn or StarAnise Foods brand GF spring roll wrappers)
½ block firm tofu, marinated, cut into ½-inch strips or optional Marinated Tofu (recipe follows)
4 tablespoons sesame seeds, white or black
Choose 3 Ingredients From this list (you may choose more if you like, I recommend a carrot, basil or mint, and cabbage or cucumber as a basic three ingredients to start with).
1 medium carrot, thinly sliced or grated
1 medium cucumber, sliced into thin 4-inch-long strips
1 cup fresh mint, basil or cilantro leaves
1 small jicama
16 large cooked shrimp
2 green onions
Add warm water to a large pie plate and set aside.
Prepare all the ingredients, making sure that they are in small, thin slices. Place them into separate bowls or along a plate or platter so they are easy to reach but not mixed together.
Soak 2 to 3 wrappers at a time in a bowl of warm water for 1 minute or until they are soft and pliable. Remove one wrapper and place onto a clean work surface.
Avoiding the outer 2 inches, sprinkle one half tablespoon sesame seeds onto the wrapper. Next, arrange some of each remaining ingredient onto the wrapper. You want to have the ingredients off to one side of the center and avoid the outer 1 to 2 inches. Fold one end (lengthwise to the ingredients) over the top third. Gently squeeze the wrapper over these ingredients and roll firmly about halfway. Flip the 2 sides up to close off the ends and then firmly roll the rest of the way. If you roll too tightly the wrapper will rip, this is okay, just place it on top of a new wrapper and start with an extra layer. If you roll too loosely when you bite or slice into the rolls they will fall apart. This takes some practice, you will get better every time you roll.
Set the roll aside and start on the next roll. After completing all 8 rolls, slice each one on the diagonal and serve with dipping sauce. An alternative to serving with the dipping sauce is to place a tablespoon or two of the sauce into the roll before wrapping, a great way to serve for parties.
Creamy Dipping Sauce
Delicious as a dip for any veggie, over noodles or on these rolls. Make extra to have on hand since it's so good! Just remember to add extra water as this will thicken up as it chills in the refrigerator.
Makes: about ½ cup sauce
⅓ cup peanut, almond or sunflower butter
1 to 2 tablespoons lime juice, from 1 lime
2 tablespoons tamari or soy sauce
1 teaspoon granulated sugar 
1 teaspoon fresh gingerroot, finely grated 
¼ teaspoon black pepper, ground chile flakes or ½ teaspoon chile oil
¼ cup water, plus more as needed
Combine all ingredients except water into a bowl or large liquid measuring cup. Stir together very well. You may use a food processor or blender, especially if you are using chunky peanut butter. 
After stirring the ingredients together, drizzle in water while stirring until you reach the consistency you prefer. You may add more water if you like a thinner consistency, or less for a thicker sauce. If you plan to make the sauce ahead of time, add a little more water to account for absorption. The sauce can be made ahead of time and kept in a sealed container in the refrigerator for about 1 week.
Taste the sauce and adjust with a little more lime juice, pepper, water or soy sauce depending on what you enjoy. I often like more ginger! Set this aside until you're ready to use.
Marinated Tofu
If you like, you can make your own marinated tofu, rather than purchasing baked tofu.
1 container (14 to 16-ounce) firm or extra firm tofu
3 tablespoons tamari or soy sauce
1 tablespoon toasted sesame oil
1 teaspoon minced gingerroot
Drain and squeeze the water from the tofu. Slice into ½-inch slabs and transfer to a baking dish or container that fits the tofu, approximately 8- by 8-inch or 9- by 9-inch in size. Add the soy sauce, oil and ginger. Let sit a minimum of 15 minutes or covered overnight in the refrigerator. Bake in a 375° F oven for 15 to 20 minutes and cool before using.
Recipes developed by Ami Karnosh
PCC Cooking Classes
PCC kids camps are online here. Highlights include:
Foundation of Indian Cuisine
(ages 10-15)
with instructor Shama Joshi
Global Cookie Jar
(ages 8-12)
with instructor Cam Zarcone
The British Bakeshop
(ages 8-12)
with instructor Zola Gregory
Tour of Italy
(ages 10-15)
with instructor Paola Albanesi
A Trip to Thailand
(ages 8-15)
with instructor Pranee Halvorson
A Tour of China
(ages 10-15)
with instructor Elaine Sher
Sign Up