Community Voices: A conversation with Byrd Barr Place Food Bank
This article was originally published in May 2022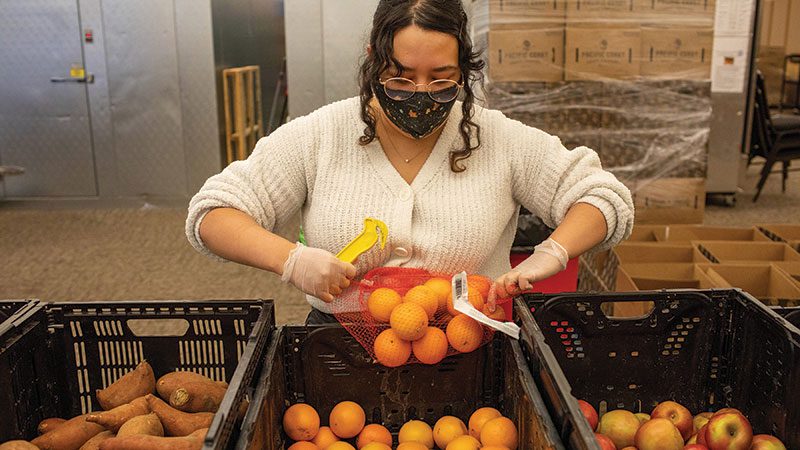 PCC's mission is to ensure that good food nourishes the communities it serves, while cultivating vibrant, local, organic food systems. We're proud to partner with organizations throughout the region and share their stories. Meredith Sibley and Brian Yeager of Byrd Barr Place (BBP) recently spoke with Sound Consumer contributor Tara Austen Weaver about their food bank program and the role it has played in the Central District community since its founding in 1964.
Q: Tell us a little about the program's history.
A: We're a community action agency—that means we're part of a larger network of community action agencies across Washington state (and) the country. We have a shared common mission of alleviating poverty. Part of our technique is finding out from the community what the needs are and how they would be most helped. So, we design our services based on community feedback. 
The food bank has been around for more than 30 years. Until very recently it was operated out of the fire station on 18th Avenue. Right now we're operating out of a church community center in Capitol Hill while our building is being renovated.
Q: What makes your program unique? 
A: The food bank is considered a point of entry for social services. People who are food insecure may have other needs as well—so when they come to the food bank, there's a community connector they can meet with and we can find out: Yes, you need food, but do you also need coats? Do you need hygiene supplies? Do you have a high energy bill you need assistance with? Are you behind on rent and have an eviction notice?
The food bank is open three days a week and that's when people can come by and shop the grocery model…we set up stalls and folks can pick the protein they want and how many vegetables they want and shop according to their dietary restrictions or what culturally appropriate food they desire. 
We also have a home grocery delivery program and have an incredible cohort of volunteers—some are on bikes and some are in cars—they drive food out to seniors and other homebound people who can't make it to the food bank. For some folks that's the only food they are getting all week, so [we] make sure they're getting balanced meals with fresh vegetables and quality proteins and other things they need like cooking oil.
There are a lot of smaller partnerships the food bank facilitates: they reach out to schools and if there are food-insecure students [we] will pack specific bags of food for those students. They drop off food at the Central District tiny house village. Right now we have a partnership with an organization called Planet Worth: we donate some of our fresh food and they prepare it in their kitchen and deliver hot meals to homeless encampments around Seattle. We also do all the Little Free Pantries around the Central District.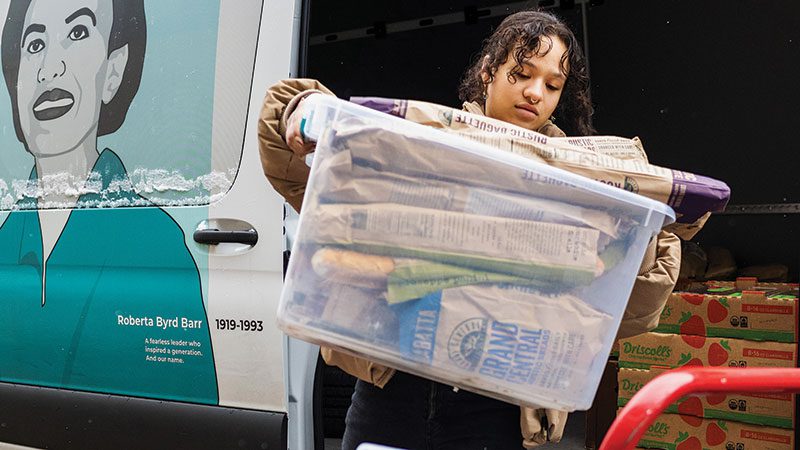 Q: What services does the program need, and what challenges do you face? 
A: Running a food bank during a pandemic has been a real challenge. The [client] numbers go up, obviously, but there are safety issues and not knowing how to navigate that and learning as we go.
Another ongoing challenge is reducing shame for accessing food through the food bank. We are here and there are no barriers to accessing food—please come and get food if you need it.
Q: Is there a favorite aspect of the program you could share?
A: In recent years, we've started fundraising and requesting private donations and now we purchase a lot of food from local farms in the area. That has really improved the quality of the food and the general satisfaction of people who come through the food bank. We're able to not only to get local, organic produce to our clients who love it, but we're also supporting small, family farms. 
Also, we have a receptionist at Byrd Barr Place—when you call us, someone answers the phone. So many times our receptionist hears: Thank you for answering, nobody ever picks up when I'm trying to find help. We are always connecting people with other resources or making sure our community connector can find an actual person they can talk with if they're having trouble applying for food stamps or getting a new social security card so they can apply to a program. We're making sure when people come to Byrd Barr Place they are greeted with a smile and they feel respected.
Q: What's next for the food bank program?
A: We're moving back into our building in August—it's been a massive, $12 million renovation, and most of that has been seismic retrofitting the building, so that it lasts for the next 50 years.
We're also exploring a further client choice model for when we move back—the idea of doing appointments in the evenings, after work hours, which we haven't done before. So that people who don't have time to wait in line—or have shame waiting in line—can still come and get food.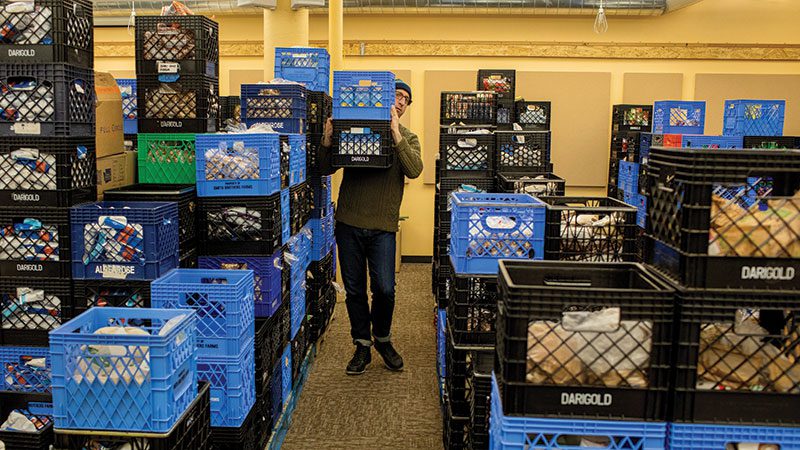 Q: Is there anything else you would like people to know?
A: Come volunteer—come see who is in the food bank line. It will change you. Whatever you think about how people end up in a food bank line you will realize it's everybody—normal people.
Also, we study qualitative and quantitative data specifically on Black Washingtonians. We have reports on health, civic engagement, education, the criminal justice system. You can support us by reading our reports—they're on our website—knowing what the social issues are and educating yourself, seeing how your vote matters, and leaning into what is inequitable now in Washington state.