How a summer camp connected food with the Earth
By Delaney Sump, guest contributor
This article was originally published in May 2022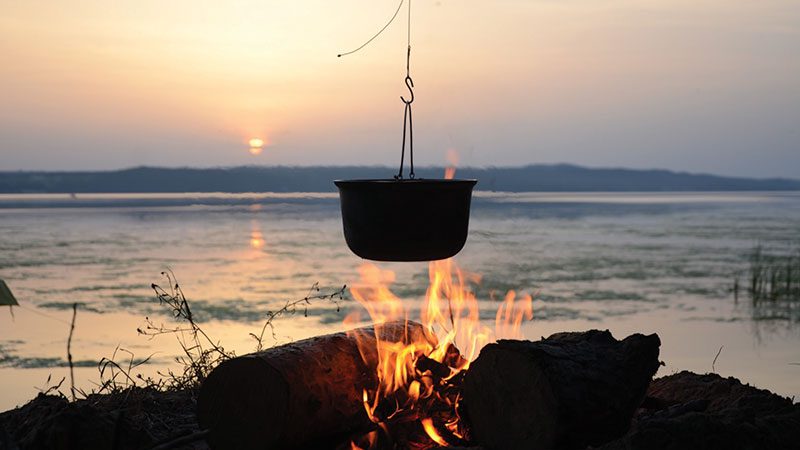 Off the coast of northwest Washington lie the beautiful San Juan Islands. This group of serene, sparsely inhabited islands draws whale watchers, kayakers and cyclists galore in the summertime when the sapphire-blue waters of Lopez Sound and the Rosario Strait sparkle with sunlight. 
Humble Johns Island in the northwest corner of the archipelago acts as home base to Camp Nor'wester. This rustic 86-year-old summer camp is one of the San Juans' greatest but lesser-known treasures; campers stay for a whole month to build community, resilience, life skills and proficiency in the outdoors. 
A good friend of mine from college spent almost every childhood summer at Nor'wester as a camper and convinced me to apply with her to work on staff after our sophomore year. The spirit of camp intoxicated me, and I returned the following summer as well as the next to lead the outdoor cooking and gardening activities. Just as campers frequently cite their sessions as the most anticipated weeks of the year, I had the experience of a lifetime guiding kids toward understanding the integral connection between food, the earth and our own sense of wellbeing. 
As the outdoor cooking instructor, I planned and led daily cooking activities with groups of campers ages 9 through 16. Our tools were far more limited than their home kitchens—or my own—including a campfire pit, a four-burner Coleman camp stove, and an Adobe-style brick oven heated with fire. Camper favorites from the open firepit included cauliflower crust pizzas cooked in mini cast iron ovens, and spiced potatoes, onions and garlic dug from the camp garden, wrapped in foil and roasted in the coals. Vegetable curries, homemade donuts and banana pancakes were crowd-pleasers from the camp stove. And in the adobe oven, our dishes included homemade pizza and Cheese-Its, roasted vegetables, and blackberry crisp made with freshly picked berries from the island.
I also worked as one of the gardeners in charge of tending Nor'wester's kitchen garden and leading regular activities. My co-gardener and I guided campers in figuring out which crops  were ready to pick and teaching methods of harvesting. Campers also helped us water, weed and spread compost made entirely of food scraps from the camp kitchen (one of Nor'wester's many inspiring methods of minimizing its environmental impact). 
I especially enjoyed weaving conversation into activities that expanded upon cooking and gardening to incorporate concepts related to sustainability, health and wellbeing. Talking to campers about whole foods, farm-to-table cooking, sustainability, how food makes us feel, and why it's so special to grow and cook our own food remain my favorite memories of those activities. Campers never failed to surprise me with their genuine interest in these deeper topics. 
I remember one particularly toasty July day, the Troubadours (one of the eldest units of campers) arrived at the garden for an activity, and we ended up sitting in the shade of the garden shed all afternoon while I read aloud from my book of human emotions. We talked about how emotions impact us, some of the emotions brought up when working with plants in the garden, and how we feel at camp compared to the rest of our lives. 
I hope those conversations and experiences have stuck with campers and informed their way of moving through the world, even just a little bit. Teaching young people about the value of growing their own food was incredibly special. I loved sharing my passion for food, health and the earth with campers, as well as the challenge of creating interesting activities and recipes that would engage a wide variety of ages. 
Another kid-friendly idea might be decorating a small compost bin to leave on the counter for food scraps
I loved initiating conversations about the joys and benefits of cooking with whole foods, how good it is for our planet to eat locally grown produce, and how good it is for our souls to connect more deeply with what we eat. As a future registered dietitian, these are the same values and themes that I anticipate guiding my nutrition work. I always knew I wanted to help people feel better through food, but my time at Nor'wester allowed me to see the deeper impact I could have as a nutrition professional. Discussing the inherent connection between food, the earth and our own wellbeing with campers helped me realize that I want to angle my nutrition practice through this same lens and have similar conversations with my future clients. I also want to contribute to sustainability initiatives in food systems and agriculture that will support the health of our planet as well as the health of the people and other creatures who call it home. 
Not everyone gets to have a Nor'wester summer. Money, logistics and other limitations can be significant barriers to this and many other sleepaway camps. And yet every child can experience a little Nor'wester magic by sharing honest, thought-provoking conversations, trying new things, and learning more about themselves and the world around them.
To start down that path with children, consider trying new gardening or cooking activities at home. If you don't already have a garden, find a gardening-for-kids book at the library and thumb through it with your little ones to gather inspiration, then try planting your own patch of vegetables. Starting small with windowsill herbs can be an affordable, accessible way to begin growing ingredients you would otherwise buy from the store. Another kid-friendly idea might be decorating a small compost bin to leave on the counter for food scraps, or go bigger by creating your own Nor'wester-style compost pile outside. Start with old leaves or yard clippings, dig up some worms to add, then toss in grass trimmings, food scraps and coffee grounds year-round. Come springtime, use your compost to enhance the health of the soil in your garden or yard. On the cooking end, get your kids involved with planning meals for the week, let them browse through your recipe books, take them grocery shopping, or simply share conversations about how food makes them feel—in the shade or the sun, your choice. 
Starting discussions about where food comes from and the benefits of growing our own food encourages children to be mindful when eating and to think about what they're putting into their bodies. Beyond this, it helps them grow into environmentally conscious adults who harbor an awareness and appreciation of the connection between food and the earth. That's a value Nor'wester instilled in me, and one I wish for us all to hold closely as we move through the world.
Delaney Sump is a student in the Master of Science in Nutrition/Didactic Program in Dietetics program at Bastyr University.