Tips on choosing cheese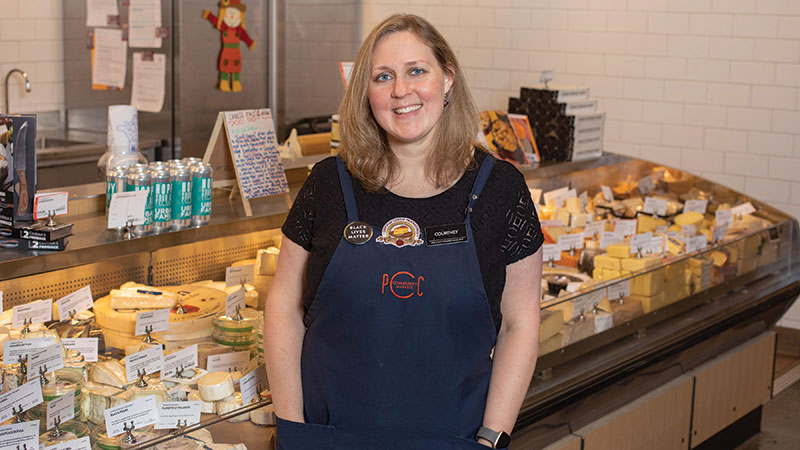 ---
Courtney Johnson is executive director of the Washington State Cheesemakers Association. She's also earned a CCP title—Certified Cheese Professional—through a rigorous American Cheese Society exam. And the other letters after her name really are PhD, through her studies in German literature.
Put it all together and it's the PhCheese, as Johnson calls her educational cheese blog. Shoppers long benefited from her expertise and advice at PCC, where she was cheese specialist at the Burien store, a position she leaves in January as the director's job expands to full-time.
How did she turn from an academic career to a business one? Well, some of it is obvious to anyone who's enjoyed a pungent blue cheese or creamy Brie or the hundreds of options beyond.
"First of all, I enjoyed eating cheese," Johnson said in a recent chat at the generously stocked Burien case. "But also, it's something that you can learn your whole life and never know everything about it. You know, there's language, there's culture, there's history, there's science, chemistry and biology."
It has a similar depth and capacity for study as wine does, though there are fewer formal acknowledgements of that knowledge.
Originally from Arizona, Johnson came to Washington for graduate school, working in the produce department of a grocery store. She became friends with their cheese specialist and started apprenticing with her, but the woman soon quit.
"I was by myself, so I had to learn everything about cheese on my own. And in doing that, I just kind of realized that it was something that I could be passionate about…And that felt fulfilling and involved teaching and everything that I was interested in doing in academia, but without the environment of academia."
The cheese professional certification is a three-hour, closed-book exam that covers everything from history, science, food safety, importing, name protections, merchandising and pairings. At least 4,000 hours working in the industry are required before taking the exam (some hours can be satisfied through education), and recertification is required every three years.
That may sound technical, but the knowledge leads to lines like this description of a paprika-rubbed Queso Ibores cheese from Johnson's blog:
"The cheese's texture is dry and firm by the time it meets the US' 90-day minimum aging rule for raw-milk cheeses. While it is friable, it is also smooth—melting on your tongue.
"Ibores smells tangy and barnyardy, with notes of mustard and pepper. Its flavor is fruity, reminiscent of orange peel, with a raw-almond nuttiness, characteristics of lightly salted butter and damp wool, and a pronounced, earthy barnyard funk. It is goaty, but in a good way."
Her work behind the counter led to her involvement in the state cheesemakers association.
"A lot of people have no idea there are so many local creameries, and that there's a lot of support they could use to help them be successful.
"We have over 50 licensed cheesemakers in the state, and there's a huge variety of different types of cheeses and milk types. You've got cow, sheep and goat…all different styles. And it's a really diverse community. We have clusters along the I-5 corridor, but there are cheesemakers in every corner of the state, everything from the smallest little (business) to huge creameries that are turning out thousands of pounds of cheese."
The board of directors is primarily cheesemakers, she said, and it's useful to have a director who knows the industry but doesn't have its same time pressures. As director, she helps provide educational opportunities for cheesemakers "to keep learning," works toward bulk buying discounts where different cheesemakers can join together to save money, plus works with committees across all areas—grants, funding, membership, marketing.
Looking to try some local cheeses?
While it's hard to single out favorites, Johnson did give us three PCC picks: Tieton Farm and Creamery, a small and highly seasonal solar-powered creamery that makes cheese from its own goats and sheep. Cascadia Creamery, with raw milk cheeses aged in a lava tube cave (its Glacier Blue was just a finalist in the Good Food Awards), and Lost Peacock Creamery, an Olympia-based goat dairy (their halloumi is one of Johnson's top picks), owned by a small family "trying hard to create a blueprint for a sustainable small dairy."
Dairies often get vilified for their effects on climate change, and yet "there are so many people who are actually doing things the right way. I think it's possible for dairy farmers and creameries to actually be leading the charge on a better future for the planet."
She knows cheese can be seen as a luxury item. It can be costly, she notes, because so much work goes into making it. And local cheeses might be more expensive because it's pricey to live in Washington. It's possible to buy cheese on a budget, though: "I would tell them to only buy what they're going to eat. Buy small amounts of cheese more often…you usually don't need as much as you think." Additionally, "the cheesemonger can always cut it down for you." Shoppers should feel free, she said, to ask for a smaller piece of any cheese that has a scale code on the wrapper.
When people ask for advice on picking a cheese, she asks questions like whether they like stronger or milder flavors, if there are textures they like, if there's any other cheese they've really loved.
"There are hundreds and thousands of different types of cheese. So if they haven't found one they love yet, that doesn't mean there isn't one out there for them."
---
Cheese expertise
Other Certified Cheese Professionals at PCC include Elle Gaardner (West Seattle), Sylvie Koster (Issaquah), Suzanne Paterson (Redmond), Ed Spangenberg (Ballard), and Fresh Director Tracy Marik.
---
Choosing a cheese board
Courtney Johnson's advice for creating your own cheese board includes:
Start with three cheeses. Try a soft cheese, a hard cheese and a blue cheese, and try to get different milk types—cow, sheep and goat.
Work with a cheesemonger to pick cheeses that fit your tastes.
Pair cheese with seasonal fruits. In the winter, that might mean persimmons or pomegranate, apples and pears.
Add nuts—hazelnuts are grown locally and pair well with some local cheeses. "There's the saying, what grows together goes together."