New chapter for landmark organic farm
By Rebekah Denn, photos by Meryl Schenker
This article was originally published in January 2022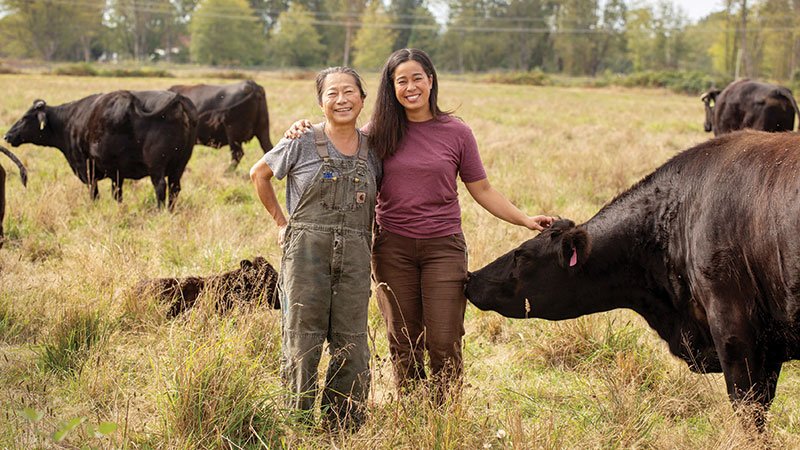 Surveying a field of grazing cows at Skagit River Ranch, Nicole Vojkovitch identified the different greens scattered underfoot: Patches of red and green clover, leaves of yellow dock and broadleaf plantain, clumps of drought-tolerant fescue.
"I look down, I don't see grass," she said. "(Cows are) like humans, we don't eat just one thing."
At one level it's no surprise that Vojkovitch thinks hard about soil health and balanced ecosystems, about keeping animals content and healthy. Parents George and Eiko Vojkovich, founders of the pioneering organic farm, always said their guiding principle was only selling food they would gladly feed their only child. Beef from Skagit River Ranch (sold at Edmonds, Redmond and Bellevue PCC stores and by special order at others), along with the farm's pork and chicken, were prized by the region's first and finest farm-to-table restaurants and highlighted in documentaries on sustainable food.
At another level, this new chapter as a full-time farmer isn't what Nicole once expected. "I had no plans to do farming. I grew up in a small town and was done with small-town life very quickly," she said. But now, as a second-generation partner on the farm, she's making an impact that's both very broad and very personal.
"These customers, some of them are our family," she said.
For the region, continuing the legacy of Skagit River Ranch means maintaining a beloved resource and landmark and sense of connection. It also maintains a foundational local and organic food source—a significant benefit in an age of global supply chain delays and concerns about food security.
Preserving farms is a longtime priority in the county. The "Skagitonians to Preserve Farmland" organization began back in 1989 to fight plans for an amusement park and development on a large plot of land. A Skagit County Farmland Legacy Program founded in 1996, funded through a conservation futures tax, has since protected more than 13,500 acres from development.
Nationally, too, any young farmer joining the field is a bright note in a graying industry. The age of the average farmer is 57.5 and rising, according to the latest figures available from the U.S. Department of Agriculture (USDA). Complicated barriers for new farmers include the uncertain profits, the relentless hard labor, and, most pressingly, the high price of acquiring new land.
"I feel so privileged to have this opportunity (on an existing farm)," Nicole said.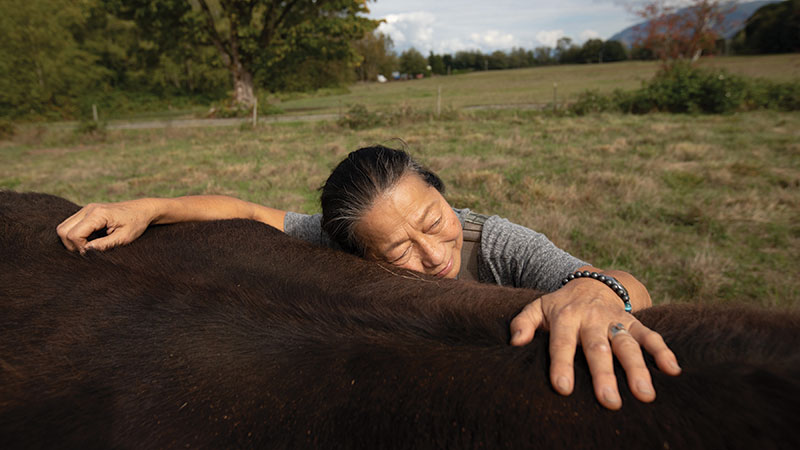 Farm to table pioneers
Eiko Vojkovich earned an MBA from the University of Washington and jokes that she never would have gone into farming had she run the numbers first. But working in Alaska, the Tokyo-born sales executive for a seafood company had met George, a commercial fisherman originally from Catalina Island. He encouraged the move to the land.
"Then it's too late and your heart and soul is in it," she said.
George had developed heart problems he believed were linked to chemicals and processed foods, and became committed wholeheartedly to sustainable farming. Skagit River Ranch became certified organic in 1998, when it was believed to be the state's only certified organic beef producer. George was known for talking to his animals—he swore they understood each other—and for obsessively checking on soil mineral content and other factors that went beyond organic requirements, calling himself "a grass farmer" as well as an animal farmer.
While there are arguments about the benefits and drawbacks of meat consumption in any form, Skagit River's approach won widespread fans, Michael Pollan included. When nutrition cookbook author Cynthia Lair was culinary curriculum director at Bastyr University, George and Eiko were regular guest-lecturers.
"Each time they speak to the students I see eyes light up, students finally putting together the government subsidies, the cheap corn fed to animals that are ill and how it can all be so different," Lair wrote in a testimonial on the ranch website.
Shoppers at farmers markets and the Sedro-Woolley farm store first met Nicole in the 1990s as a child swinging between her parents' arms. They watched her grow up, saying hello as she staffed the market booth and cheering her on as she graduated high school and then the University of Washington.
As the years passed and health issues took George away from day-to-day farm operations, though, Eiko wondered how the business would continue long-term.
But as her daughter followed her own career over the years, she ultimately found it led straight back to Skagit River.
She had studied political science and human rights at the University of Washington, leaning toward a career in national security and interning at police departments.
To her surprise, every time she visited home, she realized "I didn't like the city as much as I'd thought."
She decided to became a nutritional therapy practitioner, "still helping people, but in a different way."
Yet a lot of what she learned in those classes was about "people I'd heard about my whole life"—like Pollan and Virginia farmer Joel Salatin.
The lessons weren't a new agricultural movement to her, "It was just what we'd always done."
When Eiko decided to take a seminar at Salatin's farm in the Shenandoah Valley in 2019, possibly "my pilgrimage trip before I quit" or scaled down, Nicole went with her.
At conference's end, she decided she was in.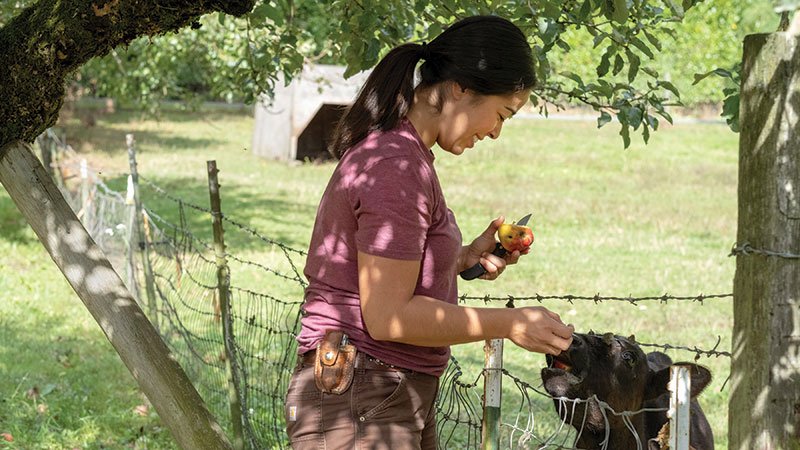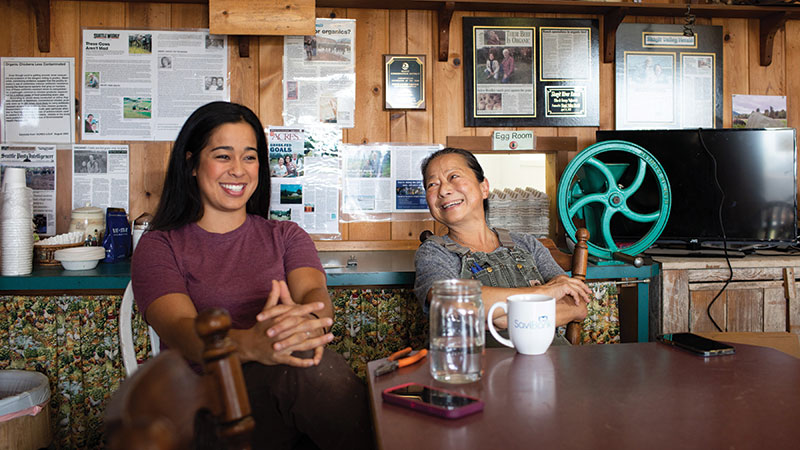 Planning a new path
The pair sat down and put Eiko's MBA to use, tracking project hours, figuring out which endeavors made money and which did not (and which, like chickens, aren't notably profitable but are so popular they keep their place anyway.)
"I learned more about Excel than I ever learned in my life," Nicole said.
They created pasture maps for their small crew to know where the animals are at all times. "Before it was "Go look!" Eiko said.
And they made adjustments, both in herd size and how they operated.
"I am not my six-foot-two father. These 1,000 pound animals have to be able to respect me, but do what I want because they want to," Nicole said.
Gentleness, said Eiko, is of prime importance.
The farm now has 350 head of cattle, down from 600 when George ran daily livestock operations. They allow roughly an acre of land per animal, owning 300 acres for the farm and leasing another 200 acres to grow hay. Most of the cows are now Wagyu breed, rare for an organic farm, descended from a breeding project that George began some 20 years ago.
"This is not a quantity kind of farm," Nicole said, scratching the ears of a particularly calm cow who extended the same mood to the calves around her in the field.
"It's about how can we make sure our cows are having a better day."
Their resolve could have been tested when the COVID-19 epidemic hit, shutting down the farmers markets that are their main retail outlet and the restaurants that are the other. But they kept the businesses going, setting up a weekly mailing list and finding pickup spots where shoppers could find them each week.
Wouldn't shutting down have been the easier option?
"If you're a farmer you don't take the easy choice," Nicole said.
What would customers have done, Eiko asked?
"They depend on us. They keep us in business, but we keep them fed. Shutting down was not an option. They believe in what we believe in."
As the frantic pace of the pandemic subsided somewhat, every season still brings its own long daily checklist of daily chores and new challenges, from floods to fence repairs, baling hay to processing animals, driving to farmers markets or collecting eggs or tending calves.
All worth it, they both said.
"You can work with Mother Nature instead of against her," Eiko said. And there's something to be said for working with daughters, too.
"I want to be a good steward of this land and I think Nicole has the same principles, and that's why it's worth working hard."