PCC takes lead in new reusable container rules
This article was originally published in November 2021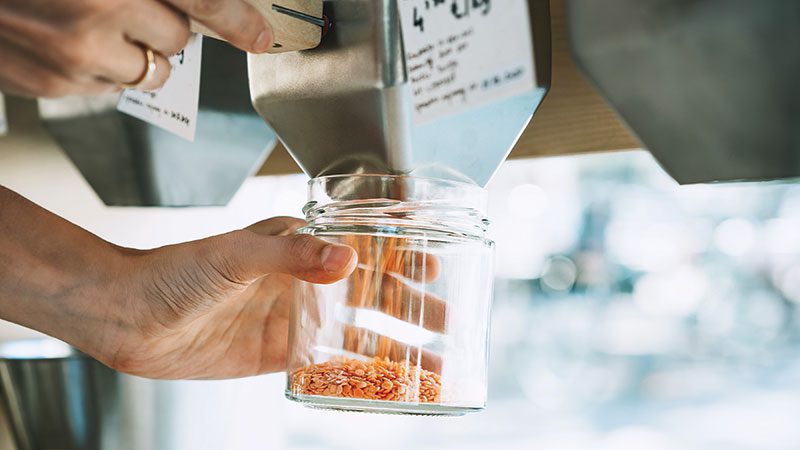 A hard-won change in state regulations and a collaboration with local health departments means PCC shoppers can soon use more of their own reusable containers in stores.
It's "a big win for less waste," said Jennifer Beus, PCC's vice president of operations. It also culminates years of work on what's been a confounding issue nationwide, with rules that have been hard to interpret or regulate.
Reusable containers used to be a common feature in co-ops and coffee shops and other businesses with a general interest in reducing waste. But they've become restricted in recent years, as federal guidelines become more standardized and as regulators try to balance the environmental benefits of reusable containers against any potential health risks from cross-contamination.
The new revisions are a welcome and forward-thinking move for Washington state, said Aimee Simpson, PCC's director of advocacy and product sustainability. They're also an encouraging reminder that seeking regulatory changes, often a slow-moving process of incremental steps, can ultimately provide real and meaningful results.
Look for signs in stores for details on how to use more of your own containers. Changes include:
Shoppers can soon use their own clean reusable cups and mugs for drip coffee and espresso drinks.
Shoppers can soon use their own clean reusable containers for many bulk foods, with some exceptions (see below).
The changes do not yet apply to staff-served deli foods, though potential changes are underway there, too.
PCC is getting an early start on those changes under variances recently approved by county health departments for PCC stores in King and Snohomish counties. However, under recent statewide changes to the retail food code, starting in March 2022 these practices will also be allowed (but not required) for any retail food stores in Washington that choose to develop a plan and can obtain approvals.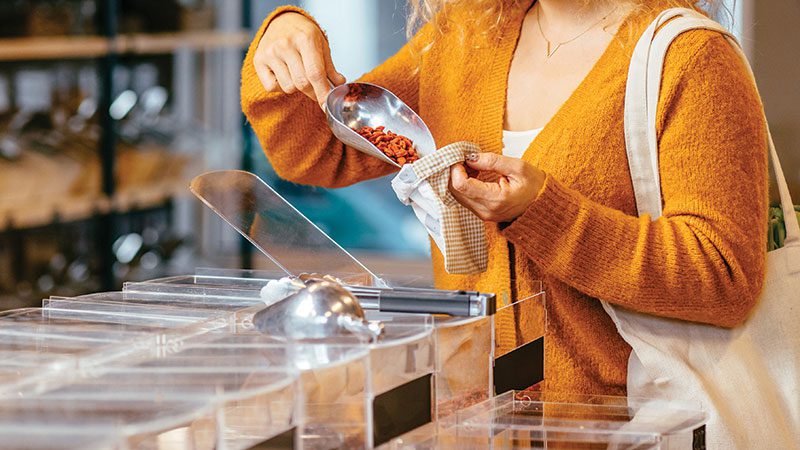 "It's exciting because we're lessening our footprint," said Bridget Milligan, PCC's food safety manager, who has been working with state and local authorities on how to turn the ideas into reality.
When the state Board of Health asked for public input on updating its food safety rules, allowing reusable containers was by far the most common request, a state food safety specialist told Sound Consumer when the process began in 2019 (see "New State Laws Allow More Reusable Containers. Is Washington Next?"). It's been a top priority for PCC members and shoppers as well.
The review came about because states rely on the federal Food and Drug Administration code to guide their food safety laws, a code that was first published in 1993 and is now updated every four years. Washington law requires consideration of the latest version when adopting new food safety rules.
PCC has been involved throughout the long process, pushing for changes, encouraging revisions to initial recommendations, and working with staff, suppliers and regulators to move forward. It also took a significant investment of time and work to revise store supplies and procedures, and to educate staff and shoppers on the new rules.
It would be a lot easier for retailers to stick with the status quo instead, Simpson said—but moves like this go to the heart of PCC's mission. "It's one of the examples of PCC pushing through and being different, and really trying to make the change that we want to see." Advocates with similar goals also invested time and energy, such as the nonprofit group Zero Waste Washington, and individual PCC members submitted letters and spoke out as well.
Washington regulators also took the initiative for the thorough review, Milligan noted, considering how to best balance out the different priorities rather than just sticking with the standardized but less environmentally conscious framework that was harder to interpret and regulate.
Now, "it's no longer a gray area," Milligan said.
For bulk foods, shoppers can use clean reusable containers for most items. Exceptions still exist, though, depending on how the food is dispensed as well as the type of food. The main exceptions are "ready to eat" foods scooped out of jars or bins, meaning that reusable containers can't yet be used for PCC's herbs and spices, sugar and oats. This includes hot bar and salad bar items. (Most other bulk "ready to eat" foods can be used with reusable containers because they are stocked in "gravity bins" where containers can be filled without anyone reaching into the bin.)
New signs in stores will clearly identify what's permitted, and bins are being reorganized to make the distinctions clear and maximize the number of foods that qualify for the reusable containers. (Note that the containers have to be clean, and that reused "single-use" plastic bags are not considered acceptable under state rules.) PCC is also researching new dispensers that would allow more foods to qualify.
Shoppers can bring reusable mugs to the espresso bars, and staff members will fill them without handling the cup. (Signs will direct shoppers how to use their own mugs at the self-serve drip coffee stations.) Allowing reusable cups again has been particularly gratifying.
"It's part of our culture in the Northwest too," Milligan said. "You know, we're coffee drinkers. We like our travel mugs."
See revisions to the state Retail Food Code here. To stay informed on such issues, sign up for the PCC Advocates email here.