Nutritious and more affordable holiday meals
By Delaney Sump, guest contributor
This article was originally published in November 2021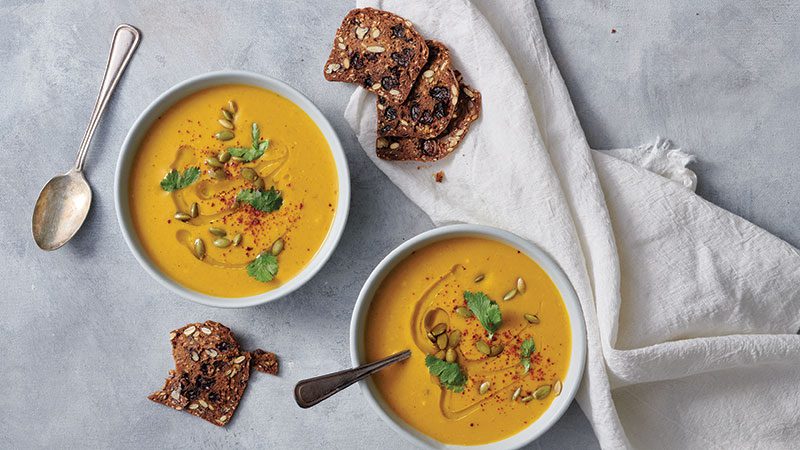 The holiday season is rarely associated with healthful foods or budget-friendly shopping lists, but there are still plenty of ways to save big, nourish your family and friends and serve up delicious holiday-themed dishes.
Holiday meals call for something special, but that can mean a balanced, nutrient-dense plate made with whole ingredients just as easily and attractively (and often more cheaply) as menus with more culinary bells and whistles. For instance, a balanced Thanksgiving meal might look like roasted turkey, smashed sweet potatoes and a salad of baby spinach, pomegranates, avocado and slivered almonds. Finish off the evening with dark chocolate-dipped satsumas using a mere two teaspoons of pistachios. (PCC recipe below.) It won't replace pumpkin pie, but it could be a fresh and festive substitution for the secondary pecan pie, or a pretty potluck contribution.
For other main dishes on "special" nights, fresh fish is undeniably expensive but unbeatably nutritious (canned is cheaper), and smaller servings of such proteins can be balanced out with abundant wallet-friendly vegetables on the side. For instance, try an impressive but unfussy sheet pan dinner with roasted salmon, cubed acorn squash drizzled with olive oil and balsamic vinegar, and lemon-garlic broccoli all roasted on the same pan.
Here are six tips for nutritious budget-friendlier cooking that work for special events as well as year-round.
Start with a meal plan
Think through the whole week's meals. Around the holidays, most active planning is focused on those celebratory company meals, but there's the rest of the day and week to account for, too. Jot down which evenings you need to make dinner and plan out simple meals. Consider the breakfast, lunch and snack staples you and your family like to have in the house. Although meal planning takes time and effort, it saves on extra trips and impulse purchases.
Rather than starting fresh with each meal, which may require adding new ingredients to the grocery list with every recipe, begin your planning process with ingredients you already have in your cupboards, assuming you're fortunate enough to have a stocked pantry or access to such basics. Build meal plans around those existing building blocks. Don't be afraid to substitute ingredients rather than purchasing new supplies if you have a similar ingredient already on hand—many online lists provide easy references for swaps—and consider omitting nonessential ingredients that you don't already own. The trick, of course, is determining which ones qualify as nonessential, but an "optional" note in recipes makes some clear.
Bring a grocery list
Creating a shopping list before entering the store takes some time and planning, but it makes shopping more efficient and helps you stick to your budget. At this time of the year, when stores put out lots of fun, holiday-themed specialty foods, it's OK to leave a little leeway for "extras" if you can afford it and would feel otherwise deprived. Make that part of your plan too, though, specifying a limited number of these optional treats. And plan ahead for predictable seasonal sales if you can budget for that, like buying a post-Thanksgiving turkey breast for discount December dinners.
Focus on whole food ingredients
Cooking primarily with whole foods instead of buying premade meals and processed foods is a double-win: it's more nutritious and also (fast food and junk food aside) frequently cheaper. Many heavily processed foods contain added sodium, preservatives and other additives as well as being more expensive. Since they require more upfront work and often more packaging to be store-ready, they tend to be more expensive than the same materials in whole-food form. Buying steel-cut oats from the bulk section, for instance, is a fraction of the price of a box of individually wrapped oatmeal packets, plus the plain oats don't contain the added sugars, calories and flavorings of the packets.
Some such decisions require judgment calls about balancing time, money and your own choices. For instance, pre-chopped vegetables tend to be more expensive and less fresh than buying the vegetable in its whole form, such as a bag of broccoli florets versus a head of broccoli. However, if you know you would compost the heavy stems in that head of broccoli rather than peeling and eating them, the bag of florets might pencil out in your favor. Recipes that call for small amounts of vegetables can also skew the equation: grocery store salad bars are usually an expensive convenience when buying chopped vegetables. But they can be both quicker and cost-effective if you just need, say, a tablespoon of chopped onion or half of a red pepper and know that the rest would go to waste in the hectic holiday week.
Increase plant proteins
To cut down on saturated fat and also trim costs, think about replacing or augmenting some of your meat dishes with plant-based proteins. Replacing a few meat-centric meals each week with a cheaper alternative protein like beans, lentils or eggs is good for your health, your wallet and the environment!. Dishes like eggplant parmesan, curried butternut squash soup (PCC recipe below), quinoa-mushroom-stuffed squash, or pasta with pumpkin sauce and toasted hazelnuts can offer an impressive presentation while providing a delightful array of seasonal flavors.
Make meals ahead
To save time on busy nights, meals like soups, stews, chili and casseroles often rely on inexpensive ingredients that can be purchased in bulk, e.g., beans and pasta. They are easy to make ahead and reheat for a hot, comforting dinner that's ready in minutes. These dishes also make it easy to toss in extra high-fiber, nutrient-rich vegetables, legumes, herbs and warming spices. For example, pair a sweet potato-lentil stew with a 100% whole wheat dinner roll and a side salad with baby spinach and pomegranate seeds to nourish the body and soul on a chilly winter night.
Frozen and seasonal produce
Including more fruits and vegetables is an excellent way to raise your nutrition to the next level and include more healthy phytonutrients and antioxidants to counter some of the excess of holiday treats. However, the price tags can turn people away. To save money, take a look in the freezer section for plain unadulterated products; many frozen fruits and vegetables are picked at the peak of ripeness and flash frozen, which means they're still incredibly nutrient-dense despite being cheaper than their produce-section counterparts. Try thawing frozen peas to mix with steamed new potatoes for a fresh, healthy side dish at Christmas dinner. Frozen green beans can be tossed right into a simmering pot of hearty soup. Frozen berries can be stirred into hot oatmeal or thawed in the microwave and added to a bowl of Greek yogurt and granola for breakfast. Also remember that seasonal produce can often be found for lower prices than imported out-of-season alternates. Look for locally grown apples, pears, pumpkins, potatoes, yams, winter squash, parsnips, leeks, kale and Brussels sprouts this time of year.
Happy cooking!
---
Curried Butternut Squash Soup
Serves 4
1 tablespoon coconut oil
1 onion, chopped
6 cups cubed butternut squash (about 20 ounces)
1 apple, peeled and diced
3 cloves garlic
2 teaspoons minced ginger
2 to 3 teaspoons curry powder
1 (14-ounce) can coconut milk
3 to 4 cups vegetable broth
Salt and pepper, to taste
Fresh cilantro, to garnish
Toasted pumpkin seeds, to garnish
Heat oil in a large pot over medium heat. Cook onions until soft and golden, about 10 minutes. Add squash and apples and cook for an additional 10 minutes. Stir in garlic, ginger and curry powder and cook until fragrant, 2 to 3 minutes.
Cover with coconut milk and broth and bring to a boil. Reduce to a simmer and cook until squash is tender, about 15 minutes.
Let soup cool slightly, then carefully puree. Reheat and season with salt and pepper. Serve hot sprinkled with cilantro and pumpkin seeds.
Chocolate-Dipped Satsumas
Serves 4
1/2 cup chopped dark chocolate
1 tablespoon coconut oil
4 satsumas, peeled and segmented
2 teaspoons chopped, toasted pistachios
Melt chocolate and coconut oil in a double boiler over simmering water until just melted. Line a baking sheet with parchment paper.
Dip half of a satsuma segment in the chocolate and allow the excess to drip back in the bowl. Place on the parchment-lined baking sheet. Repeat with remaining segments. Refrigerate for 5 minutes to allow the chocolate to set.
Dip each segment in chocolate again, and immediately sprinkle with chopped pistachios. Return to the refrigerator until chocolate is completely set, 10 to 15 minutes. Can be made up to 6 hours in advance.
---
Recipes from pccmarkets.com
Look for regular Sound Consumer articles from Delaney Sump, a student in the Master of Science in Nutrition / Didactic Program in Dietetics program at Bastyr University. Maribeth Evezich, MS, RDN, CD is an adjunct professor in the Department of Nutrition and Exercise Science.
A pioneer in natural medicine, Bastyr University is a nonprofit, private university that is at the forefront of developing leaders in natural health arts and sciences for the 21st century. Bastyr offers graduate and undergraduate degrees in science-based natural medicine that integrates mind, body, spirit and nature. The University is also a leader in conducting cutting-edge research in complementary and alternative medicine and in offering affordable natural healthcare services in its local communities.