Sustainability Report: PCC expands ban on single-use plastic water bottles
This article was originally published in July 2021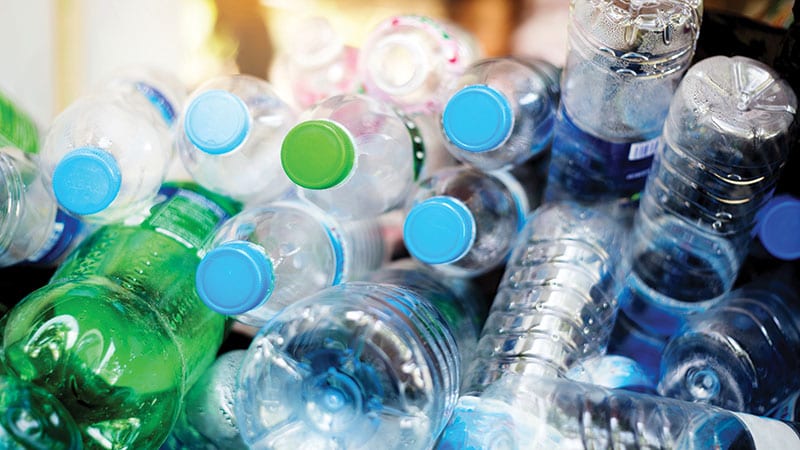 PCC has expanded its existing ban on plastic water bottles as part of an ongoing mission to reduce use of petroleum-based plastics.
The change will eliminate the sale of roughly 100,000 single-use plastic bottles across PCC's 15 stores each year, while providing shoppers with more sustainable options.
The move—discontinuing the sale of plastic bottled water containers in sizes below 1 gallon—broadens an earlier PCC ban on single-serving plastic water bottles of 500 ml or less. It's a priority because plastic pollution is a pressing environmental concern, with single-use plastics making up roughly half the 300 million tons produced annually, according to the National Resources Defense Council (NRDC), potentially remaining in the environment hundreds of years. Concerns about plastics include land and water pollution, human exposure to chemicals, and even contributions to climate change through plastic production.
This ban is the latest step in years of work to reduce single-use plastics in PCC stores wherever possible, including eliminating plastic grocery bags from all stores in 2007 (five years before the City of Seattle's plastic bag ban) and replacing plastic straws and utensils with compostable alternatives in 2015 (three years before Seattle's ban), while adding sustainable packaging options to our bulk health and body care departments. PCC also switched its deli round containers to plant-based compostables in 2019, eliminating more than 8 million pieces of petroleum-based plastic per year and contributing toward our goal of eliminating all petroleum-based plastics from deli packaging by 2022.
To provide options for drinking water that don't involve plastic use, PCC's selections continue to include:
Bulk water dispensing.
Boxed water (in packaging similar to recyclable milk cartons), which is 92% plant-based, recyclable in our region, and made from Forest Stewardship Council (FSC)-certified paper.
Water in glass bottles, which are reusable and recyclable.
PCC has also newly introduced water sold in refillable and reusable aluminum bottles. Rather than single-use cans, these bottles are sturdy enough to be reused many times. If the bottle gets damaged or punctured, it can be easily recycled.
The ban does not apply to sparkling water or enhanced waters such as high-PH drinks. However, those items have been relocated from the prominent "grab and go" cases at stores if packaged in plastic. PCC will continue to sell bottled water in quantities of one gallon or more, where there are fewer feasible alternatives on the market. For more information click here.