Diverse Entrepreneur Grants help businesses thrive
by Rebekah Denn
This article was originally published in July 2021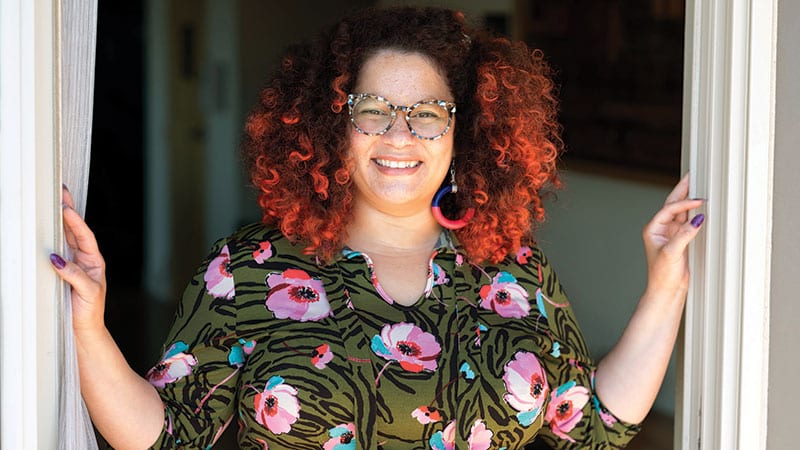 ---
From homemade barbecue sauce to handmade soap, creative greeting cards to crunchy kale chips, local business owners are moving forward with new "Diverse Entrepreneur Grants" from PCC.
The nine microgrants of up to $2,000 apiece are part of PCC's Diverse Entrepreneur Incubation Program in partnership with Ventures, a local nonprofit helping entrepreneurs from underrepresented groups to start and grow businesses. They are aimed at local, small and mid-sized businesses that are Black, Indigenous, people of color, women or LGBTQIA+ owned, and intended for projects that would help companies achieve the next level of success. PCC's incubation program includes a "Scaling for Success" class, mentorship with PCC merchandisers and the opportunity to sell their products in PCC over the winter holidays. Many vendors in the program end up earning a permanent spot on PCC's shelves. Recipients of the grants had to have graduated from "Scaling for Success" (see our Sound Consumer article).
PCC has been building our Diverse Vendor Incubation program over the last three years, adding more program elements as we go. We are continually working with Ventures to identify the barriers facing underrepresented entrepreneurs and then collaborating to break them down, said Brenna Davis, PCC's vice president of social and environmental responsibility. "This Diverse Entrepreneur Grant adds free capital to the mix, which is often a significant barrier for diverse entrepreneurs. We are pleased to support these innovative local businesses that share our passion for high standards."
After the Scaling for Success classes are over, and business owners have heard advice on what to do next, some think, "Well that's great, but where do I get the money to even start?" said Erin Williamson, capital products manager for Ventures. Sometimes even a small amount of cash can make all the difference. One grant recipient, for instance, had gotten feedback that her labels should be redone; the grant allowed her to print a test run with a new design. Another needed $1,000 to reach the minimum order for working with a co-packing company. A third wanted to stock up on raw materials for a large advance order. Another needed to purchase non-acetate boxes to meet PCC's environmental standards, costing more than the packaging she had been using. For bigger projects, in some cases Ventures was able to combine the grant with a loan, "so that they had the capital that they needed but it wasn't all debt," Williamson said.
One bonus of the small grants was that the applications could be completed fast: the goal was just 20 minutes, something even the most time-stressed business owner could spare.
A bigger boon was that the money was not restricted to a specific area. Most grants narrowly specify how money can be spent, requiring bookkeeping time for compliance and little flexibility for changing needs.
"Entrepreneurs who are—especially at this time—needing to pivot don't have a lot of access to unrestricted funds. That was very, very cool to be able to say, 'put this money to use in your business however it is needed to help your business grow." Williamson said.
As the years go on, opportunities for the longtime partnership are growing even stronger. Ventures now serves roughly 700 entrepreneurs per year, with six series of English classes and three in Spanish each year.
"There are about 25 to 30 people in each course. and everybody who graduates from that course becomes part of our community," Williamson said. "So each year, we get a little bigger."
Some grant recipients are currently on PCC's shelves, while others are at other stages of their product development. No matter where they are, it's exciting to contribute to their success.
Here are stories of three of the Diverse Entrepreneur Grant recipients:
Studio Eleven Papers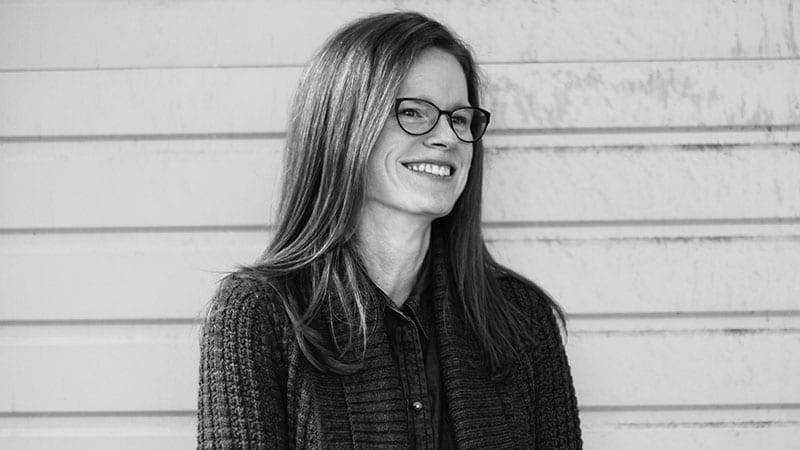 ---
Greeting cards are practically magical for Kelsey Callahan. They're a source of joy, refuge and imagination—a tactile connection to others. And at their heart, they're also "small, practical and affordable works of art."
Still, Callahan took a leap of faith founding Studio Eleven after the shutdown of the greeting card company where she previously worked as an art director.
Owning a business was "not my personality or instinct," she said, but she wanted to fill the void in the industry and continue the work she loved. Health issues also meant she valued the autonomy and independence to set her own schedule.
The lunar eclipse of 2017 came during her old company's messy closure, making it feel oddly "like the stars were sort of aligning and I needed to give it a shot…" she said.
She realized "If I could do it for them then I should be able to do it for myself."
While Callahan knew how to make beautiful products, departments like sales and bookkeeping were completely new to her. Between classes and coaching, "I feel like my relationship with Ventures has been what has made me a success, truly."
She started out as a distributor for Linnea Designs, a well-known calendar company, making cards out of calendar art. That helped her build capital to invest in other artists, including Jane Newland, one of the centerpieces of her line, who "creates these pictures, these scenes that you just want to jump into."
Blank greeting cards dominate the industry, but Callahan specializes in cards with carefully considered messages printed inside.
"It's really important to me to get it right…" she said.
"I feel like our sympathy cards in particular stand out. They're authentic and genuine, and they're not overly fluffy. They're just something you might really want to say to somebody."
Callahan grew up in the Seattle area and attended the University of Washington. "I just love the Pacific Northwest. I love the blues and the greens and the mild temperatures… I just can't see myself anywhere else…I need to see the water and the trees and the mountains."
While her cards are carried in small independent stores nationwide, she's proud to have them at PCC stores in her hometown.
She plans to use her grant money toward new packaging for holiday cards and for a label printer for UPC codes that meet PCC requirements.
JT's Barbecue Sauce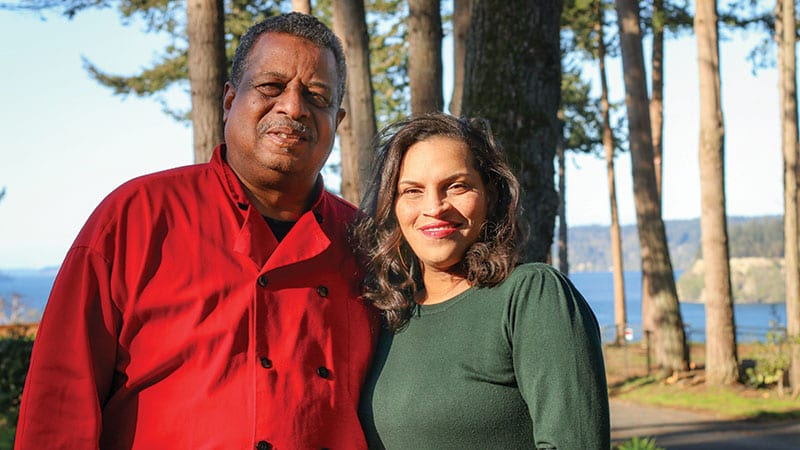 ---
James Turner knows that firefighters have a reputation as great cooks. And barbecue, in particular, relies on knowing your way around heat and smoke.
But for Turner, a retired Port of Seattle firefighter, food is all about family.
Turner's mother was "an excellent cook," working on a wealthy plantation in Shreveport, Louisiana, where he was raised. Turner's wife, Elsie, who graduated Louisiana Tech with him in 1975, is a wonderful cook as well, he said. "Her family's French Creole. And so we blended our cooking styles together."
Turner studied business management and sociology in college but kept cooking as a hobby for many years. The couple fell in love with Seattle and moved here in 1985 with their five children (soon moving to Gig Harbor, where they still live), where James first worked in construction management for the City of Seattle. One fateful day, a friend asked if he'd ever thought about being a firefighter, leading to a second career with the Port of Seattle.
The couple's signature JT's Original Barbecue Sauce has its roots in James' relationship with his brother Dan. His brother, a Vietnam veteran, couldn't find work after the war and fell into harder and harder times. But he could cook, and he loved barbecue. James and Elsie decided to open a restaurant where he could work.
"I asked him for his recipe, so I can write it down so we can make it all the same all the time. And he said, 'No, I can't give you my sauce recipe!'" So they developed their own. Tragedy changed their plans: Dan was killed in a car accident while traveling with another sibling. The couple stayed in the food business, though, with Elsie running the restaurant, even including an East Coast expansion when their daughter moved to Newark, New Jersey, working for then-mayor Cory Booker.
They've since pared back to the West Coast, focusing on the sauce business, with daughter Jonte Turner Izurieta helping manage the business and a son working for its distribution. Focusing on the Northwest and the barbecue sauce is how they connected with Ventures; the nonprofit "helped us a lot to get our business structure together" and introduced them to PCC. It was a natural fit for the co-op's shelves.
"We had no gluten, no added preservatives, no high-fructose corn syrup," he said.
He's proud of the company's origins—"when you think about Louisiana you think about good food," he said. Barbecue fans are legendary for heated fights about different styles of sauce, but the diplomatic firefighter thinks JT's can appeal to all.
"One of my sayings is that it crosses regional boundaries."
The company is using the microgrant to stock up on more inventory, anticipating added demand as restrictions on tastings and food shows are lifted in the area.
Brown Angel Skin and Hair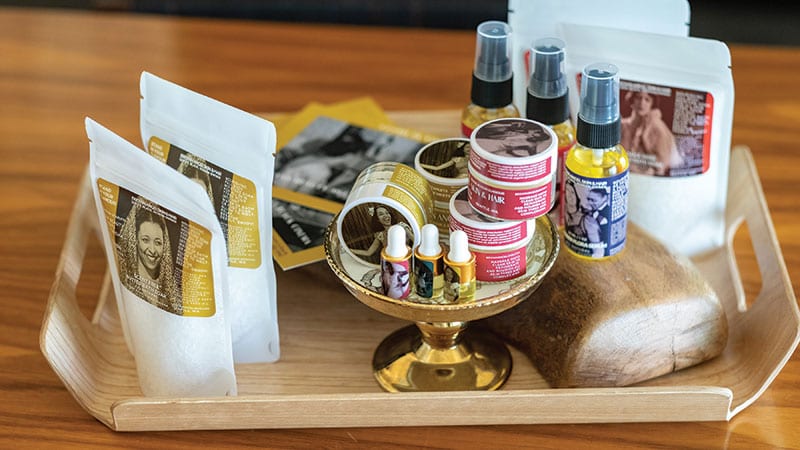 ---
Beauty can sometimes seem like a surface concept. "I'm trying to make it a lot deeper," said Angela Brown.
The serums, balms, butters and other luxuries of her product lines are fundamentally meant for body care. But they also draw in art, history, inspiration and education.
While centered on Black women, she said, the products are meant for anyone to use.
"I like the idea of being able to meet the different needs for different people."
Brown started playing with beauty products as a child, when her mother sold Avon cosmetics. As she grew up and researched the "toxic" ingredients prevalent in the industry, she learned more about natural products and making her own.
Body care started as a sideline hobby but ultimately combined multiple passions. Brown moved to Seattle eight years ago from Chicago, where she worked for a nonprofit focused on farmers, local food and sustainability. When she went on to graduate studies in cinema, she wound up working on a documentary on local foods. A crossover between plant-based foods and her interest in hair and skin care seemed natural.
"I started making my products as a healing practice for myself, both literally and also spiritually, making things," she said. Enough people asked about buying them that she realized it could become a business on its own.
Brown still works in the nonprofit arts world, currently as marketing director at the Pratt Fine Arts Center, where her studies and interests helped further differentiate her work. "I was at Pratt taking classes in glass and printmaking, and I started pulling out these old archival images from films," she recalled. Images from what are known as "race films" caught her attention; "a short era of filmmaking between the '20s and the '30s where black filmmakers were making films, black people were starring in films… it was a rare time in that history," she said.
"There are a lot of parallels between what was going on in these films and society then and today, especially when it comes to Black women and Black lives."
She began using images from films on her labels, being especially conscious of the prevalence of colorism, where lighter-skinned actors were seen as preferable to darker-skinned ones, "trying to create a sense of healing and belonging around this issue for Black folks, but also shared with people outside the Black community as well." As a light-skinned, mixed-race Black person, she said, she wants to use some of her own privilege to share that history and perspective.
She stresses ethical sourcing, "a big deal in the clean beauty world," with her supplier for shea butter knowing "which village in West Africa it's coming from," and buying organic lavender oil from Sequim. She also offers scent-free options, somewhat unusual in the field, and is working on an "all-in-one product" good for a range of users.
Brown is using the microgrant to help her buy more items in bulk and create new branded boxes with an eye to sustainability. "To get custom printing on an environmentally (sound) packaging, that is very expensive."
While still a "microbusiness," her approach is a logical outreach for a person born in 1981, "the same summer as MTV," who graduated college just as social media was coming into popular use.
"It really goes back to that, being a TV and film kid."
---
For more information about Ventures see venturesnonprofit.org.
Other recipients of the DEI microgrants are:
Junebug's Sauce
Deschampsia nature-based self care
Herban Farm NW
Ready, Set, Grow
Living Proof Foods
Infinitely Well holistic wellness