Kids illustrate need to reduce global plastics—and take local action
This article was originally published in May 2021
Elementary school teacher Jennie Warmouth knows that her students are "the decision makers of the future." When it comes to reducing plastics and preserving the environment, they've taken on that role even in second grade.
Warmouth is a National Geographic Grosvenor Teacher, recipient of a two-year fellowship that sent her on an Arctic expedition researching and teaching local students about issues facing that ecosystem. Children saw broadcasts of polar bears and blue whales from her 2019 research site in Svalbard, a Norwegian archipelago. But they also saw disturbing quantities of plastic garbage washed up on the remote shore.
When Warmouth returned, her students at Spruce Elementary School in Lynnwood noted how the plastic single-use silverware used in their own lunchroom was part of the problem. They designed and received approval for a "Silverware Patrol" program where the school would switch from disposable "sporks" to reusable metal forks and spoons. The students conducted an education campaign and organized a patrol to keep silverware out of the trash. When school is in session, the program saves more than 70,000 sporks annually from the landfill.
This year, Warmouth's class moved on to a community design project, encouraging students ages 5-17 to create an Arctic-inspired work of art. The idea came from their earlier conversations about how powerful and convincing images could be when working toward change. Warmouth's students helped develop scoring guides for the contest, and a panel of National Geographic Explorers and local artists chose winners. (Among the debates: Students specified that there should be no penguins in the art, because penguins live only in Antarctica, but judges ruled that one winning entry with penguins should qualify because it depicted both the High Arctic and Antarctica, with penguins on the scientifically correct side.)
To Warmouth, the contest is a way to teach lessons that last far longer than a single school year.
"I believe that when kids understand and care about the impact of their own choices and behaviors on others, they begin to make changes…" she wrote in a description of her work.
"In terms of learning theory and child development, they're at a pivotal time when they're with me and I'm helping create a lens for them in how they see the world. I take it to heart. I want them to make balanced and far-reaching decisions that are informed. Empathy, compassion and agency are important, and I want them to know how to stand up for themselves and how to advocate for what they need as individuals.
"Empathy for the earth helps develop my students' universal focus that we all are part of this place together—we are interconnected with animals, each other and our environment."
The contest judging panel included artists Zaria Forman and Nicholas Nyland, artist and Tacoma Art Museum collections manager Ellen Ito, National Geographic Explorers Kiliii Yuyan and Mike Libecki, and underwater cinematographer Hayes Baxley.
Warmouth said judges were particularly moved by the grand prize winner's "upcycling use of found plastic trash from his neighborhood to create his iceberg—so powerfully illustrating the connection between our local waste and the impact on the Arctic."
---
We are pleased to share a selection of winning entries from the Ar(c)t(ic) Art Project in Sound Consumer. PCC has a longtime commitment to reducing plastic waste, including eliminating plastic grocery bags from all stores in 2007, five years before the City of Seattle's plastic bag ban in 2012, and replacing plastic straws and utensils with compostable alternatives in 2015. A switch to compostable deli containers in 2019 removes an estimated 8 million pieces of petroleum-based plastic from the waste stream each year, a major step toward PCC's goal of a deli that is free of petroleum-based plastics by 2022.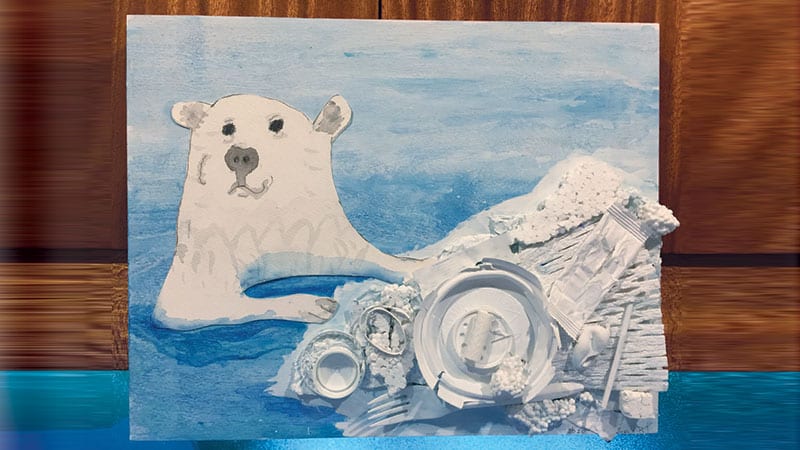 Grand Prize Winner: "Polar Bear, Polar Bear"
Artist: Henry Jones, age 5, Seattle
I think my picture is about polar bears needing ice. So people should stop making factories and start making things out of wood and stop driving cars and start riding horses. That would probably help stop melting ice. And, people should stop littering so the garbage doesn't go into the ocean. I just walked around on my street and found a ton of garbage and that's what I used to make my iceberg. That garbage could have washed down the drain to the ocean. I did a lot of steps to make my picture. I looked at a photograph of a polar bear so that I could draw it. I used watercolor, tempera paint, hot glue and acrylic paint to make my project. I burned my finger when I was gluing the garbage on to the iceberg. I learned about making shadows from the polar bear.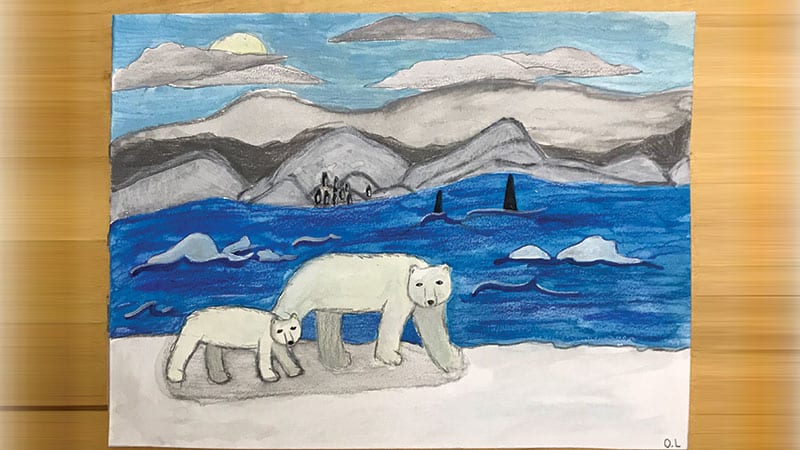 2nd Place: "Don't Trash Our Home"
Artist: Olivia Lahrson, age 12, Lynnwood
I made it with watercolors and colored pencils. I hope it tells people and inspires people NOT to litter and to save our animals and the Arctic.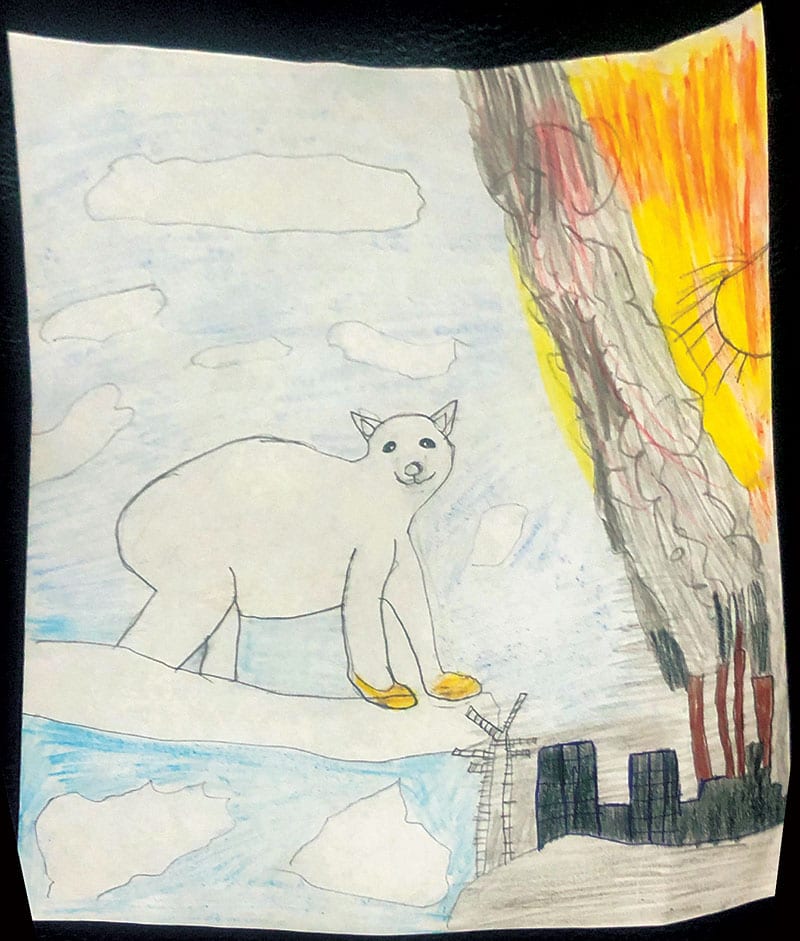 Honorable Mention: "Let's Protect the Animals"
Artist: Joselin Morocho, age 10, Brooklyn, NY
I hope that the people stop making too many factories because the factories make air with bad chemicals in them and those bad chemicals are bad for the world us and the animals the ice breaks into pieces and then the polar bear does not have enough ice also the other animals that live in the snow. so I hope that people stop making factories they are hurting the world.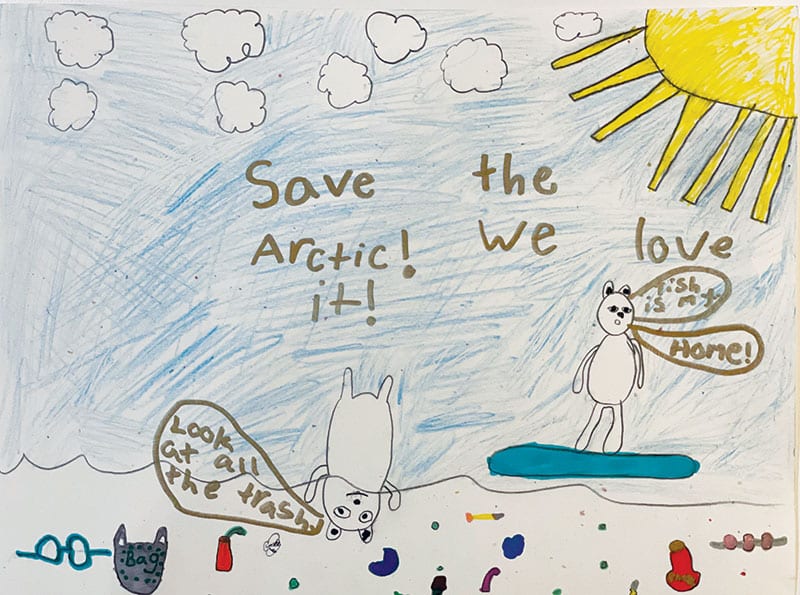 Honorable Mention: "Save the Arctic! We love it!"
Artist: Bianca Jackson, age 9, Sandy, UT
I used white card stock paper, pencils and sharpies. I drew a picture of Polar Bears thinking "Look at all this trash! It's my home!" We need to share the earth with the animals!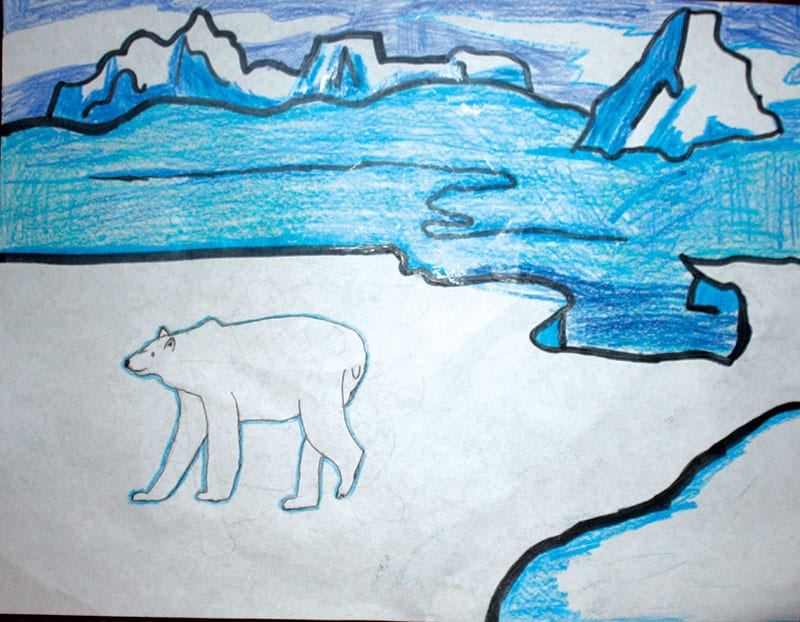 Honorable Mention: "Polar Bear in the Arctic"
Artist: Anvita Kavi, age 7, Lynnwood
I wanted to show how polar bears live on the arctic ice, and how important it is to stop the melting of the ice to help polar bears live happily in their home.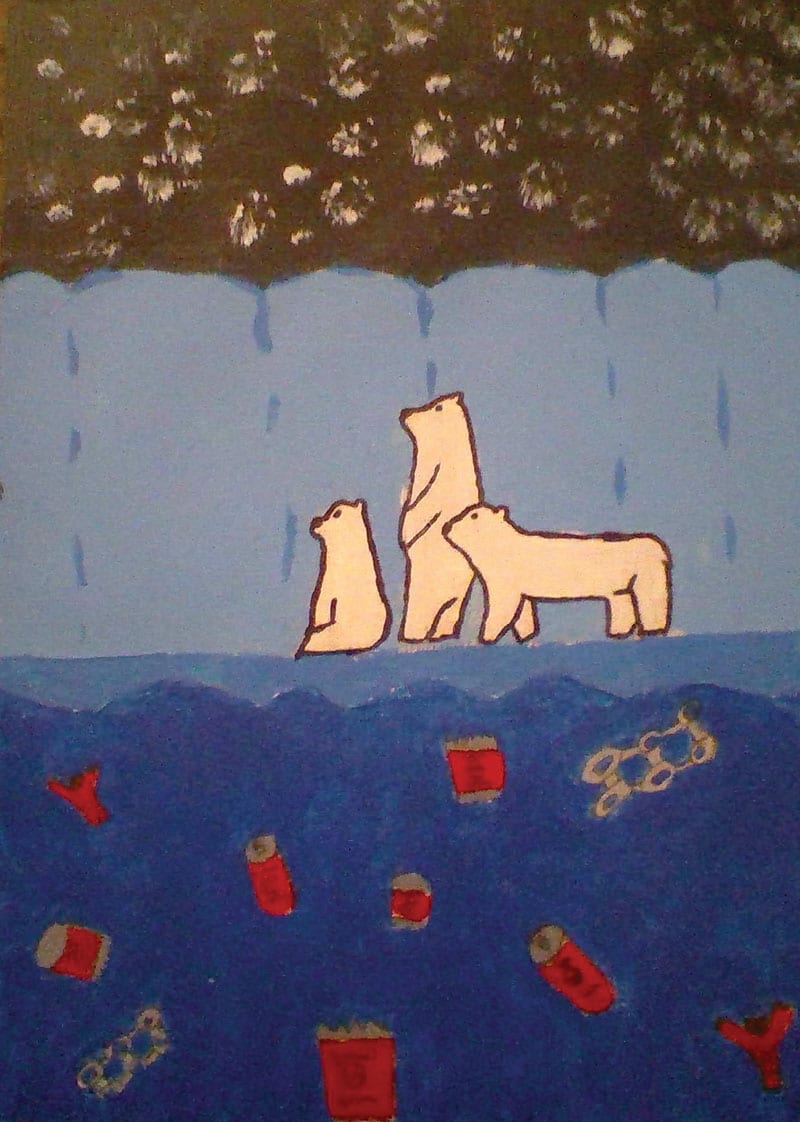 Honorable Mention: "Arctic Night"
Artist: Ketta Harrison, age 11, Edmonds
I made my art with acrylic paint. I wanted to show that the Arctic is a beautiful place with life in it. But even with every dream, you have to wake up and face reality.