A future for farming on the Buckley Plateau
By Molly Goren, Washington Farmland Trust
This article was originally published in May 2021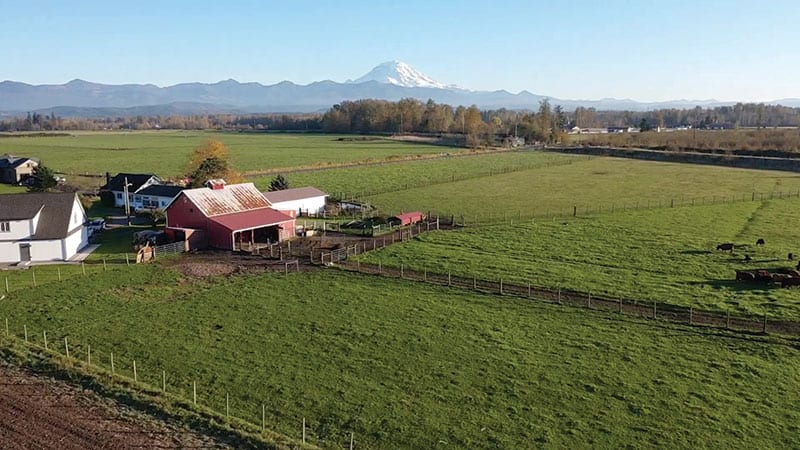 ---
For more than seven years, Washington Farmland Trust has worked with landowners and partners in the Buckley Plateau to lay the groundwork for conservation in this rapidly developing agricultural community. We are proud to share that we have conserved Dionas Farm, 21 acres of prime farmland and our first conservation project in the area.
The Buckley Plateau in eastern Pierce County historically supported many mid-scale dairy and livestock farms in the prairies between the White and Carbon rivers. With its proximity to the urban centers of Seattle and Tacoma and its unobstructed views of Mount Rainier, however, the Plateau has become an attractive location for development, putting continued pressure on local farms and fragmenting the landscape.
Dan and Kim Dionas purchased these 21 acres in 2015 and have since worked hard to convert the land from a horse farm to a small-scale, sustainable cattle operation. After working for decades in agribusiness internationally and throughout the Pacific Northwest, and having grown up in Buckley himself, Dan was drawn to the farming profession as a second career.
While Dionas Farm is small in terms of acreage, protection of the land will have a significant impact on the surrounding community. By putting their land in conservation and serving as champions for farmland protection, the Dionas' are helping sustain a future for farming on the Buckley Plateau. Their efforts have even inspired neighboring landowners to work with the Trust to protect nearby farmland, including the last remaining dairy in the area.
"The Buckley Plateau is an irreplaceable landscape with farming at its core," said Dan Dionas. "We hope that by conserving our land, we can motivate our neighbors to leave a similar legacy and protect the character of this community. We hope our farm is the first of many to be protected forever."
Since purchasing the land in 2015, Dan and Kim have made significant investments in infrastructure and natural resources. From new fencing to support rotational grazing to creating a farm plan with the Pierce Conservation District to support improved manure management practices, the couple is deeply invested in the long-term viability of the farm operation and stewardship of the land.
Currently, Dionas Farm is a Registered Red Angus cow and calf operation. The cows are bred, raised and sold locally.
Washington Farmland Trust, previously PCC Farmland Trust, protects and stewards threatened farmland across the state. For more information visit wafarmlandtrust.org.