The evolution of Seattle's food banks
By Rebekah Denn | Photos By Meryl Schenker
This article was originally published in November 2020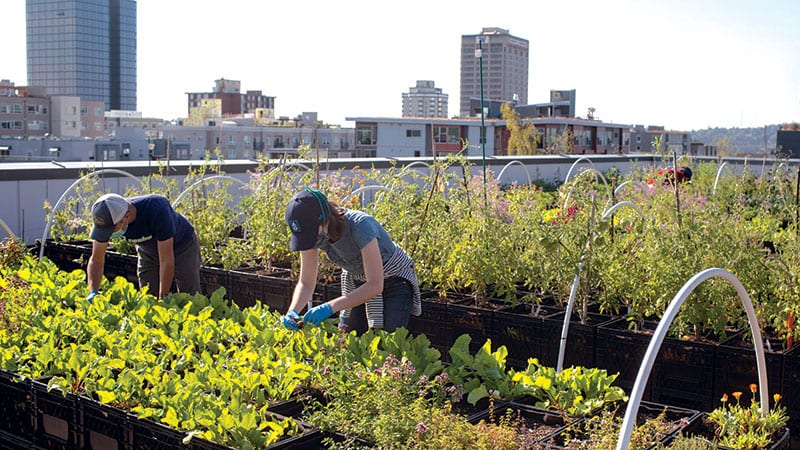 ---
Founders of Seattle's first food banks thought they had a short-term solution to a short-term emergency. When a "new organization designed as a 'food bank'" was announced in The Seattle Times in 1970, leaders figured their work distributing boxes of canned and packaged food would be obsolete in three to 12 months.
Fifty years later—through unending work hours, meals, volunteer efforts, fundraising, philosophic debates, economic booms and busts, and now a pandemic— acute need is about the only thing that hasn't changed. Food banks have grown into essential services, evolving to serve their communities as best they can.
Their latest evolutions have been the most abrupt; today's food banks faced unprecedented challenges caused by COVID-19: One in three families with children in the U.S. recently reported not having enough to eat, with needs soaring even as volunteers were sidelined and distributions disrupted. Even before the pandemic, 60% of food bank respondents in a 2019 King County study reported an increased demand for services, with many food banks too short on space, equipment or funding to completely compensate.
"Currently there are 27 food banks in Seattle," said Trish Twomey, executive director of the Washington Food Coalition, who founded the University District Food Bank back in 1983.
"It seems like a lot, but my gosh, all of them are so busy and see so many people."
They have provided endlessly creative ways to meet people's needs. Just a few examples include:
The University District Food Bank, where standards like peanut butter and cereal are accompanied by a bumper crop of hearty chard and kale, heads of fresh garlic, ruby-red beets complete with greens, just-picked berries, delicate fresh herbs, and even hives of sweet honey harvested from a rooftop garden.
A food bank that originated in an art gallery and expanded to a farm plot, specializing in organic food for Black, Indigenous and People of Color.
At the Rainier Valley Food Bank (RVFB), the city's busiest—and smallest—staff members didn't skip a beat when requests for assistance soared even as their usual distribution system shut down. With the help of an air traffic controller (who better to figure out complex geographical routes?), the food bank switched from a pickup system to deliveries, driving throughout the region on specially designed, super-efficient routes.
"I really want to sing the praises of our community. Folks have really stepped up," said RVFB executive director Gloria Hatcher-Mays.
For all its disruptions to the emergency food system, COVID did raise awareness of food insecurity, bringing in new levels of community support to help counterbalance the losses.
"We are never a sexy topic, and hunger has been with us so long," Twomey said.
In the beginning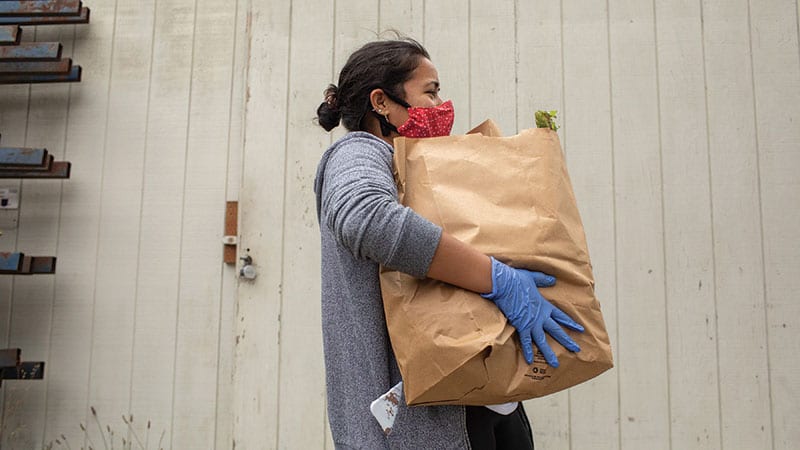 ---
That first "emergency" food program in Seattle, titled "Neighbors in Need," was covered on the religion pages of the newspaper. It grew from the work of the Ecumenical Metropolitan Ministry, founded in 1967 by church leaders who focused on fighting hunger as a way to ease Seattle's civic unrest. (The first food bank in the nation is generally accepted to be St. Mary's Food Bank, founded in Phoenix, also in 1967.) The ministry's work was further fueled by the Boeing Bust, when massive layoffs by the area's chief employer caused an unemployment crisis.
Hunger existed long before those events, of course. The change was that after these events hunger became seen as a middle-class problem—or at least a problem of the formerly middle-class—and one that required intervention.
And hunger continued to exist long after the strains of those years passed, even as the specific people experiencing it changed with employment rates, waves of immigration from different regions, cost of living, the economy and other factors.
Perceptions changed, too. Slowly, institutional issues like poverty and racism and a lack of a social safety net became seen as entrenched causes of hunger, rather than seeing hunger as an individual's failing.
In 1981, for instance, the Sound Consumer encouraged PCC shoppers to participate in a food bank drive, noting "That extra pound of beans or quart of juice can literally mean the difference between a kid going to school hungry and tired or starting the day with much more energy." The paper added that "Keeping the food banks adequately supplied, however, is not enough…it is necessary to debunk a number of pervasive myths about hunger and to identify the real underlying social causes." (In 1989, PCC started a formal program supporting food banks, which continues today with regular fundraisers and with each store paired with a partner food bank.)
As food banks became better established, they were also backed with funding from the city, state and federal governments. City funding became essential for many in the 1980s, for stability, Twomey said. "They wanted that funding to go to staffing. A lot of those programs were volunteer-run, and it just wasn't sustainable."
The network has become hugely complex. Last year, the nonprofit Northwest Harvest organization alone distributed nearly 28 million pounds of food statewide to its 375 member food banks and related programs. Food Lifeline, whose work includes partnering food banks with grocery stores, distributes to some 300 food banks and other partners in western Washington.
Rather than insisting on a one-size-fits-all approach, food bank organizers have learned they provide the most useful support by offering food that's appropriate to people's specific needs and cultures. They've learned to consider factors from mobility to dietary restrictions to kitchen access. Raw ingredients won't help a client who doesn't have a kitchen or equipment to cook, for instance, and heavy boxes of cans aren't the best resupply for a person riding a bicycle or transferring buses. Clients may choose sliced sandwich bread over bulky artisan boules that stale quickly and require a serrated knife to cut—or they may have celiac disease and not be able to eat loaves made with wheat. They may not want or know how to prepare unfamiliar vegetables.
"One summer we had corn on the cob and were offering it to our Eastern European clients, and they were horrified. To them the corn was pig food. We had to educate ourselves," Twomey recalled.
The type of food and methods of distribution have also changed from the original standards of identical prepacked bags handed to each client. Those bags might have included, as one 1970s account detailed, canned green beans, canned mushrooms and canned bean soup.
By the 1980s, Twomey recalled, it was "very basic. Potatoes. Onions. Rice. Pasta." Government commodity programs added cheese and butter.
By the 1990s, Washington state provided grants to add refrigeration units and freezers to food banks that had the space, to help store more healthful and unprocessed foods. In recent years, the push has been toward more local and fresh ingredients.
Tim Bernthal, who founded PCC's original food bank program more than 30 years ago, recalled earlier this year how regular "packaging parties" of bulk foods began. In that program, food banks could choose which items best fit their clients' needs, with volunteers bagging large orders into family-size bags.
"That control element is important," said Bernthal, now volunteering with Harvest Against Hunger. Providing clients with ways to choose the food that fits their needs has been a major focus in recent years, one that ultimately results in greater help and less food waste. An innovative model, for those with space that allows it, has been a food bank "market" where visitors can select foods that fit their own tastes and needs, just as they would in a grocery store. As space allows, some food banks have also become hubs for "community connectors" helping clients with other services besides food, such as links to mental health services or SNAP benefits (formerly known as food stamps).
COVID-19 has interfered with many of those improvements, too. In the early months of the pandemic, food banks lost many volunteers, who skewed heavily toward older, higher-risk people. Building capacities were slashed by 6-foot distancing rules. Even as demand spiked, long-established systems became unworkable overnight. PCC's monthly bulk "packaging parties," for instance, switched over to a new system where food banks used funds from the program to purchase fresh produce from local farmers.
Despite those roadblocks, food banks have persevered with as much determination as ever—just as they expect to persist no matter what the next half-century holds. Here are stories from three agencies serving our communities—one completely new, one on the brink of a major move, and another that just completed a years-long project.
The Seattle BIPOC Organic Food Bank
---
Where some people see impossible utopias, John Wesley sees a good day's work.
The Seattle BIPOC (Black, Indigenous and People of Color) Organic (SBO) Food Bank he founded grew from idea to reality in record time when COVID-19 shut down the art gallery he was launching with business partner Kymani Thomas.
Originally envisioned as a way to provide people with gift cards to markets, the nonprofit's range now also includes farming crops on a small plot of land, distributing organic produce boxes from partner farms, cooking pop-up free meals, and supporting weekly meal deliveries of plant-based organic food. By the time you read this, it will probably include more; Wesley's been working on finding more farmland as well as more space for a storage facility where food could be refrigerated.
"Why do we assume things take a certain amount of time? Sometimes they do and sometimes they don't," said Wesley, whose background also includes gala management for the Intiman Theater.
He had thought earlier about opening a restaurant, but his attention was primarily on the gallery when the pandemic's logistical barriers hit. He still sells art, but his focus shifted to providing food. It didn't matter that he didn't have all the logistics arranged up front.
"I would not call myself an expert in the food industry, I would call myself an expert as a creative director and producer. The way I got to be an expert at that is by doing and researching at the same time…
"In times of crisis, if we don't see other people providing the solution that we imagine, not having 100% of the knowledge is not an excuse to me as a reason not to do it."
The mix of inspirational ideas, hard work, and faith in the community's support bore fruit.
When Sargent wrote on Instagram, for instance, that the organization needed 3 to 6 acres of donated land for the farming and greenhouse production, Seattle city representatives wrote back. They didn't have that kind of acreage available, but they had some land the food bank could use.
A GoFundMe campaign has raised more than $60,000 for the food bank. Volunteers joined up and colleagues joined in.
"Every stage of this process has been about partnership," he said.
Landscape architect Lizzy Chong, farm manager at Danny Woo Community Garden, designed their farm plots. Hannah Wilson, farm manager at Yes Farm, supplied collard green seedlings and advice. The organization is working with chef Ariel Bangs, who provides weekly vegan meal deliveries to the BIPOC community. And they're open to more ideas.
"I think as we plan to do this, it's not about sticking to one model. It's about what provides the greatest amount of value to the public, what works the best, and continuing to learn."
What won't change is the commitment to organic food, a rare focus for a food bank. If he eats organic food and is passionate about its benefits himself, he said, that's what he has to bring to the public.
"I don't really believe in charity in the traditional sense," he said. It's more the idea of sharing an existing abundance, applying the same care to others that we do to ourselves. He does not restrict the "organic" name to certified organic food, noting that the USDA certified label doesn't emphasize other important issues like farmworker labor. He stresses the need to avoid harmful pesticides.
Part of the work now is figuring out where to invest time and what the organization needs to scale up. The idea of taking on a building lease is intimidating but on the table.
"If we gave away free food to the public for a year and then could no longer afford the lease I'd still say we did a good thing. The goal is to do the service."
There's a multitude of ways people can continue to support the effort, from money to volunteer labor to building space or land to…who knows?
"What I encourage people to do is use your imagination," Wesley said. "When you really want someone to grow, you'll find a way to help them."
To support Seattle BIPOC Organic Food Bank visit this link.
University District Food Bank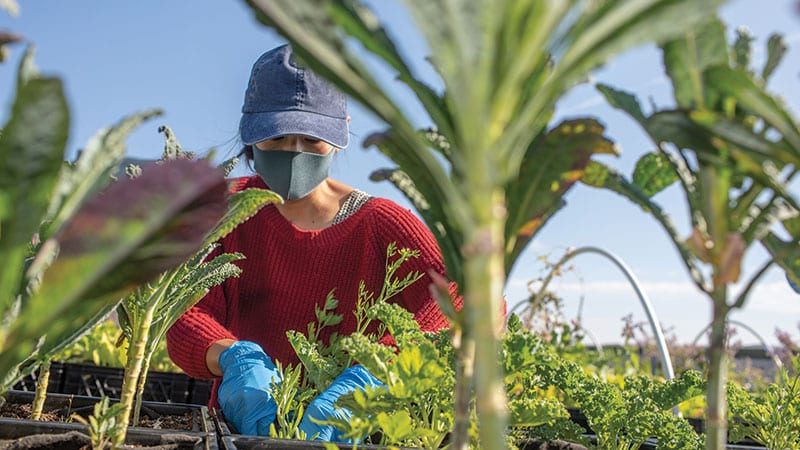 ---
For the University District Food Bank, there was a silver lining to the coronavirus pandemic: "This would have been unimaginable in our old space," said longtime director Joe Gruber.
For decades, the 37-year-old food bank operated out of an 800-square-foot leased church basement with limited room for perishable foods, storage, or space for clients to get out of the rain. An ambitious fundraising campaign led to a new home in 2018, occupying 5,800 square feet of space in the University Commons development, with nonprofit partners managing low-income housing on the site, operating job training programs and other services.
The new version operated like a supermarket, with clients selecting their own foods. Its generous space included industrial-size refrigerators and freezers to store more fresh foods on site, room for large deliveries and for volunteers to sort food, a kitchen meant for cooking classes and nutrition services, a private counseling room—and, in a breathtaking cap, a thriving 6,000 square foot rooftop garden where volunteers tend and harvest fresh vegetables, fruits and herbs with a staff farmer.
The garden provides fresh, culturally appropriate foods that don't reliably show up in donations, aren't available elsewhere, or would get spoiled or squished in the normal distribution system. Even items like heads of fresh garlic—some 500 were pulled from the garden this year—are rarely donated to food banks and yet essential to many different cuisines.
Many new volunteers stepped up even as more vulnerable people had to step away, with some fitting it into new work-from-home schedules or adding volunteer hours if they were furloughed.
The willingness to step forward and work together has caused some breakdown of the pervasive Seattle Freeze, Gruber said. "The community has really embraced this idea of supporting one another and looking for opportunities to participate and give back."
It was painful to see the market-style food bank sidelined after all the effort developing it. But distancing protocols and size meant "we can have volunteers or customers on the floor, but not both." There's no room for drive-up customers either. After trying a few different models, Gruber expects the food bank will offer "some form of facilitated shopping" for customers for the foreseeable future.
The current "personal shopper" system isn't as fast or personalized as having people shop for themselves, but it's a patch that works: providing some customization and choice while serving large numbers of people. A one-page checklist lets customers select items they'd like to receive, including common items usually in stock, and lets them indicate whether they have cooking facilities and how much food they can take home. Skilled volunteer helpers get familiar with distancing practices, where to find items, and get to know repeat clients.
The rooftop garden has been a bright part of the daunting workload, for volunteerism as well as food production. "That experience has a lot of social distancing built into it naturally…it's easy to put a team up there," Gruber said. They've even managed a swarm of bees in the space. "It's been a great growing year. The herbs have been huge."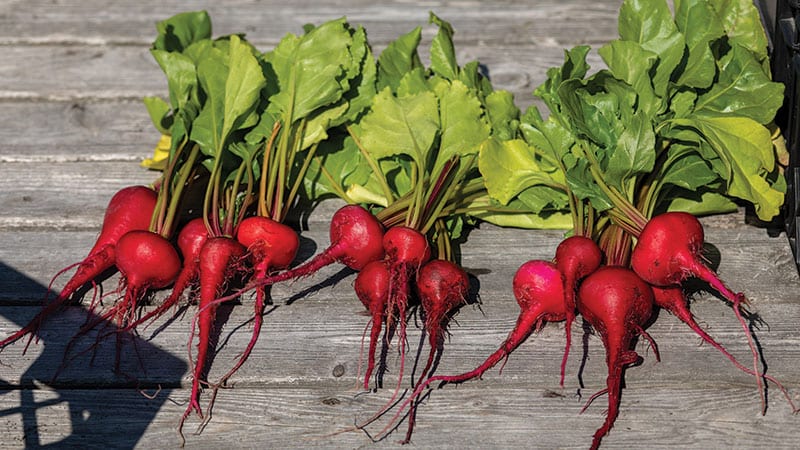 ---
Further stresses remain to be resolved. Gruber wondered what would happen when eviction moratoriums expired, as the economy became more bifurcated, as the organization continued to move forward with social justice work. Additional responsibilities remained to be navigated, including off-site programs like student backpack programs and a food bank at North Seattle College, where students are working remotely but just as hungry as before.
They're making progress despite it all, even on planned environmental improvements. An electric delivery van is replacing the organization's 12-year-old Sprinter. Permits are in progress for a biodigester to handle food waste.
The experience has reaffirmed to supporters that hunger is more than just a seasonal issue.
Gruber hopes they can sustain their welcome level of support while not burning themselves out as the crisis continues. Beyond money and time, he hopes people can talk with government representatives about ensuring people's needs are met.
He's thought back on the recession of 2008, which also had a huge impact on food banks. It's harder this time to predict what a recovery might look like.
"I feel like our recovery is also so intrinsically tied to our overall public health and our health care system, which is one of the drivers as to why people need to get support from food banks."
To support the organization visit udistrictfoodbank.org/donate.
Rainier Valley Food Bank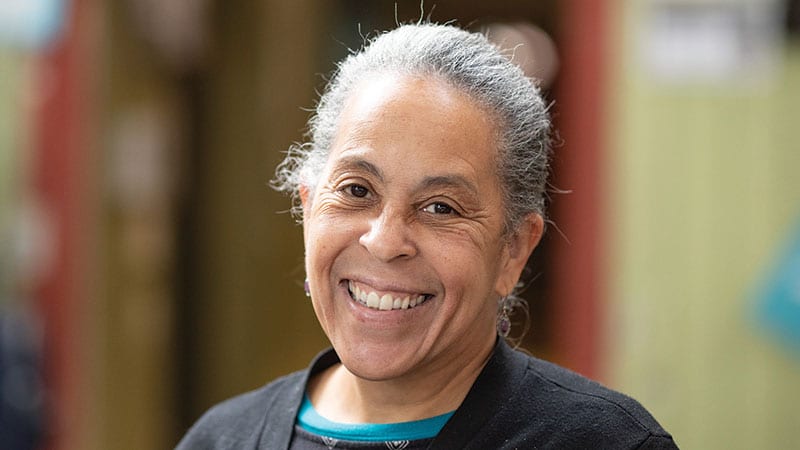 ---
There are no neighborhood boundaries for clients at the Rainier Valley Food Bank.
"If people are hungry and they show up on our doorstep needing food, we're going to feed them," said executive director Gloria Hatcher-Mays. "That's the goal. To make sure if you're hungry you have food."
The food bank is tiny, at 1,200 square feet, for the demands on its services.
"I jokingly call our space Tetris because we have to move things in and out and rearrange things to make the space usable and workable," Hatcher-Mays said. Before COVID, a volunteer from vendor Kaiser Permanente did a "flow exercise" for improvements. He moved racks, put tape on the floor to show how people should come in and out, and eased a bottleneck at the produce section. It paid dividends immediately, with people feeling less stressed. "Those kinds of partnerships are what make us so successful…We have so many volunteer groups who make the work we do at the food bank possible—that and the passion of the staff. They just do miraculous things every day to make our service to community possible," she said.
That was dramatically true when COVID-19 quadrupled requests for its services, and required it to shift from having clients pick up food to having the food bank deliver it. The task was hugely complicated, but a volunteer—and retired air traffic controller—used software to help them develop efficient daily driving routes.
One thing COVID didn't do was derail their determination to expand the food bank into a bigger and broader community hub. They've been working with Mount Baker Housing to create a new mixed-use facility they hope will redefine the role a food bank plays in the community. Plans include "a commercial kitchen and a true grocery-store-style area, as well as a flexible gathering space for workshops and community-led organizing. In addition, ample storage and staging space will allow RVFB to expand both home delivery and backpack programs," according to fundraising materials.
"Really what we want to do is create a magnet organization that is not tied to a socioeconomic base," Hatcher-Mays said. "We want to use food as the attraction that brings people together and we want neighbors to feel like they are all in partnership around making food a ubiquitous resource in our community—which basically means no one should ever feel they are stressed out around where their next meal is coming from. No one."
The new program, based on a Canadian program called The Stop, will focus on "the three things that make us the Rainier Valley Food Bank: We want to empower people with education around where food is sourced, how they can grow their own food, how they can create food by doing things like cooking or canning and baking, how they can share food with neighbors by taking food they grow and making it available in a food bank type environment. We're even thinking in terms of being more of a hub."
Current plans are to break ground early in 2021.
However, "We are not waiting for our new space to try to grow our programs," she said. As requirements changed, they leased an adjacent facility and used it for packaging to keep volunteers safe and socially distant. They're partners with the Rainier Beach Action Coalition, supporting its produce stand and benefiting from it. "We like to think in terms of partnerships and love the community that surrounds us."
Hatcher-Mays ran the Pike Market downtown food bank and senior center, then worked for the city of Seattle before joining the Rainier Valley Food Bank. She fell in love after visiting and meeting the board and staff, she said.
"This is an amazing place. They do really incredible things. It is the smallest space, but we are small and mighty. I love that."
And if all goes well, they won't be the smallest space for long.
To support the organization visit the Rainier Valley Food Bank Website.
---
To support PCC's food bank program visit the PCC Food Bank Program page.