Our co-op community
This article was originally published in November 2020
PCC has strong Pacific Northwest roots. We have been giving to our community for decades—supporting neighborhoods, ensuring a sustainable and accessible food system and protecting the environment. Read on to learn about some of the latest projects we've assisted and connect with us online so we can support your efforts to build a more healthy and sustainable community.
---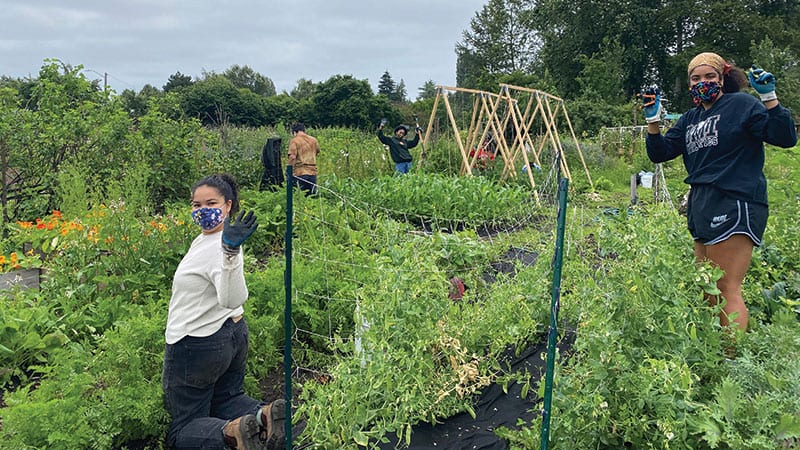 ---
PCC grants support social action and environmental stewardship
Kenyan meals from Monique's Hot Kitchen. Kurdish dishes from Soozveen Mediterranean Catering. Mexican cuisine from Mama Tila Catering and Events. Those are just three of the tempting options piloted last year through the Food Innovation Network, a Tukwila-based nonprofit. Now the organization has opened Spice Hall, a commissary kitchen and food hall, to help even more immigrant and refugee-owned businesses succeed.
The Food Innovation Network is one of the latest recipients of PCC's community grants, which are distributed annually in two categories. Through our Social Action grants, we aim to provide funding for programs and projects that are advancing our communities with diversity, equity and inclusion through the lens of food and community building. Through our Environmental Stewardship grants, we aim to provide funding for programs and projects stewarding the health of our local environment.
The 2020 recipients are focused on food justice, training and opportunities, green environmental infrastructure, keeping young people out of the criminal legal system, and supporting those who have already been part of it.
They are:
The Food Innovation Network: Earlier this year the Tukwila-based organization opened Spice Bridge, a commissary kitchen and food hall. A $2,000 PCC grant helped purchase kitchen equipment such as industrial-grade pots, pans and shelving. The organization's application noted that many immigrants and refugees possess culinary skills that could help them start businesses, but "Navigating the permitting process, lack of affordable commercial kitchen space, difficulties in getting food products to market, & low English skills are major obstacles to success." Spice Bridge is meant to bridge those gaps through a "comprehensive approach to fostering business ownership." Spice Bridge is located in Tukwila Village, a mixed-use development. One of the first businesses launched in the network's pilot program was Najia Buka (see related story).
Young Women Empowered: This mentorship-based empowerment program serves diverse young women and adult women mentors in the greater Seattle area, supporting more than 700 girls and women each year (those who identify as women or girls or who were assigned female at birth) with a curriculum that includes food justice, nutrition, cooking and gardening. The majority of participants are first- or second-generation immigrants, people of color and people from low-income backgrounds.
"Young women of color have a major role to play as environmental leaders and changemakers," the grant application said. Goals for participants include increased knowledge about healthy eating, knowledge and skills for food production and land access, environmental stewardship commitment and an interest in green careers.
Overall, the application noted, "Environmental and food injustice are inseparable from systemic racism. They increase numerous disparities. Our communities of color have told us of their need for food-growing skills and environmental advocacy skills. They have identified obstacles to gaining these skills such as transportation and lack of land access. In response, we will provide free, responsive and equitable programming led by educators, farmers and activists from the communities of color we center." A $2,000 PCC grant will assist that work.
Project 2030: Advancing Greenbridges for All is a project where nonprofit agencies develop green infrastructure for bridges that span water bodies critical to human health and salmon migration. PCC's $3,000 grant will be used in the Duwamish Valley to expand community outreach and water quality testing from the First Avenue South and South Park bridges affected by the closure of the West Seattle Bridge.
"The Lower Duwamish River is one of the most industrialized waterways in Washington State," the grant application said. "From habitat restoration to pollution source control, addressing environmental health is essential to the long-term success of the cleanup of the river and the health of the communities. The Duwamish Valley can firmly be characterized as an area with disproportionate health impacts and environmental injustices where more actions, projects and investment are needed to address health inequities." It is part of the Seattle 2030 district, in which some 140 members are working together toward a more sustainable and livable region.
Grant reviewers particularly appreciated that the organization is training the Duwamish Valley Youth Corps to participate.
CHOOSE 180: This organization connects young adults with institutional leaders and community members and teaches skills needed to avoid engaging with the criminal legal system. A $3,000 PCC grant helped support a paid summer program meant to help participants identify potential career interests, build resumes, meet community leaders and entrepreneurs, and work in a professional setting. "Our goal is for this program to build tomorrow's leaders and help close the wealth gap for people of color," the application said.
CHOOSE 180's summer program provides youth at risk of legal system involvement with an eight-week paid learning opportunity, connecting them with local business and community leaders and teaching soft and hard skills as they develop a business plan to fit their individual passions and goals.
Grant reviewers appreciated the program's mentorships, encouragement of entrepreneurship, and its track record of helping young people "stay out of the prison industrial complex." Members discussed the responsibility food retailers have to do the same, and how those accomplishments are a prerequisite to PCC's own goals of helping people access their own food.