Local flours bake up a better food system
By Rebekah Denn
This article was originally published in November 2020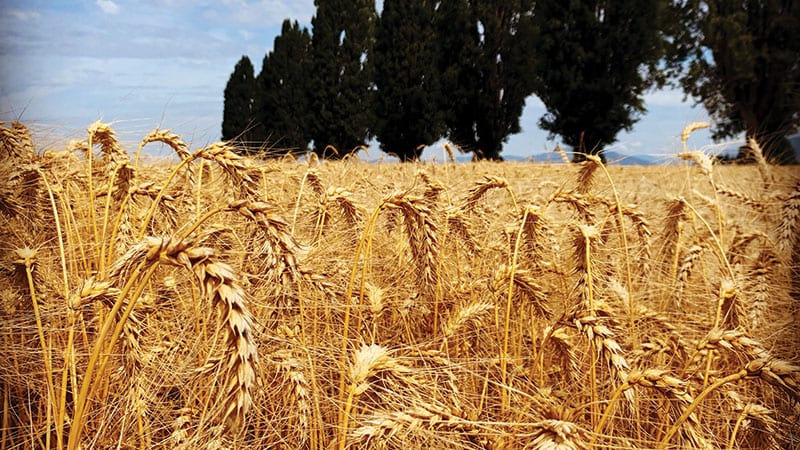 ---
Commercial bakers loved Cairnspring Mills flour for good reasons when the mill first opened in 2016. Commercial customers praised the flour's freshness, baking qualities and nuanced flavors.
"What that flour brings to the loaf is this remarkable flavor and a beautiful caramelization…It's a significant change," said Leslie Mackie, founder of Macrina Bakery, which uses Cairnspring's organic Edison and Expresso flours for the "field to table" baguette it produces for PCC.
Milling great flour was a major goal for Cairnspring CEO Kevin Morse. But the Skagit County mill was also founded for deeper societal benefits: building resilience into the region's food system. Shortening the food supply chain. Supporting local farmers and farmland.
Cairnspring's flour, now available in 1-kg retail bags at PCC Community Markets, put those ideals into action this year. While national and global systems faced serious disruptions during the coronavirus pandemic, local shoppers found 50-pound sacks of flour at Cairnspring, with as many as 300 customers stopping by the mill on Fridays, the designated day for remote pickups. Shoppers supplied their homes with bakery-sized bags and shared the surplus with friends and neighbors. Before long the mill, which had produced only limited quantities for retail sales, expanded its line of small packages designed for home bakers.
The experience marked a solid step toward a "regional grain economy"—a national objective that's been virtually headquartered in our region for a decade. Washington State University's Bread Lab, founded by Dr. Steve Jones in 2011, has focused on breeding varieties of wheat and other grains tailored to thrive in specific regions. Growing the wheat isn't enough on its own; the lab has also emphasized rebuilding the processing and distribution systems that once existed in virtually every American community (see the Sound Consumer article "Going with the Grain").
A century ago, Jones often notes, there were some 25,000 flour mills in the U.S. Today there are 163. Twenty of them produce 95% of the nation's flour. Wheat has been seen as a commodity crop that's trucked to Midwestern silos for storage, not as a local harvest possessing as much character and significance as a locally grown carrot or a Dungeness crab. Slowly, grains have been added to that farm-to-table system, seen as an essential part of the food system rather than an artisanal extra.
Cairnspring is far from the only participant in this movement, even in western Washington, though no one here fills its particular niche of local grains and significant size. There are many small setups, such as Nash's Organic, which offers grains both grown and ground in the Sequim-Dungeness Valley, and Bluebird Grain Farms, based in Winthrop. There are some larger mills as well, such as Fairhaven Mill north of Burlington, founded in 1974, which sources organic grains from across the country.
The organic Cairnspring flours carried by PCC are grown "by the Williams brothers in Walla Walla," Morse said, on land conserved by the Washington Farmland Trust. ("PCC Farmland Trust Saves Ninth Farm"). One of the Cairnspring goals is "good stewardship of the land," he noted, and even its nonorganic flour is made with grains grown without neonicotinoids or glyphosate.
"On average about 60% of all our grain comes from the Skagit Valley, and the rest comes from (elsewhere in) Washington and Oregon," Morse said. That allows the mill to manage its risk, allowing for variations in weather or harvests, while still producing a flour consistent and predictable enough for commercial use. Smaller-scale flours often behave less predictably than industrial productions; different batches might have different percentages of protein or absorb different amounts of liquid. While more nutritious than refined flours, retaining the wheat's bran and germ, whole grain flours can also be challenging because the bran in the flour cuts through the strands of gluten that provide structure to loaves of bread. Cairnspring's flour has a predictable composition and the flour has a small percentage of the bran removed, making it easier to use in standard recipes.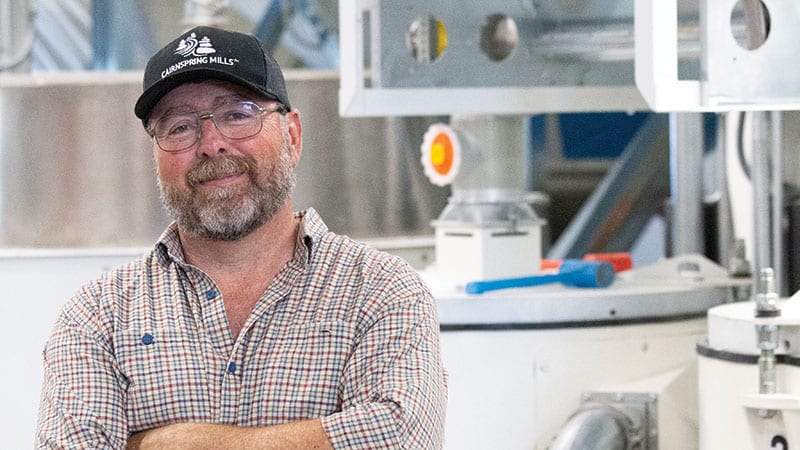 By last fall, Cairnspring was milling at its capacity of about 300,000 pounds of flour per month, supplying customers such as the renowned San Francisco-based Tartine bakery and Seattle's Canlis restaurant. A remodel nearly doubled its potential production, along with other improvements. That work finished three days before Washington's shelter in place order went into effect.
"We're still small potatoes compared to the big guys. We can make 7 to 8 million pounds of flour a year. The big guys can still make that much in a day or two," Morse said.
For a local community, it was enough.
Cairnspring had intended a slow, steady move toward increasing retail sales. Suddenly they were transitioning to more retail as fast as they could.
And, while the mill provided a safety net for home bakers, the reverse was also true. Retail sales helped the mill through the shutdown when their regular outlets were shut down.
"By PCC and customers supporting the mill, that gives us the ability to go out and support more farmers," Morse said.
"I hope they understand the impact they're having, the positive impact, is tremendous."
One unanticipated twist is that more of Cairnspring's home bakers proved interested in organic flours than its commercial accounts. Commercial customers were more price-sensitive than retail customers; Cairnspring's standards for farmers, along with its still relatively small size, made it hard to compete.
In the past few years, Morse noted, as demand for organics has increased, more farmers have converted land to organic production that had previously been part of the federal Conservation Reserve Program, which paid farmers to keep highly erodible land out of production for 10 or 15 years.
Land taken out of that program can be certified as organic without waiting the traditional three-year "transitional" period when farmers are using organic practices but not generally receiving the price premiums. Cairnspring doesn't contract with those companies, but that also means their costs are higher.
For dedicated fans, the quality is worth the price.
"In bread baking, you can manipulate your flours through fermentation and get all sorts of flavors, but bringing in flavorful wheat is just a game changer to me," said Mackie of Macrina.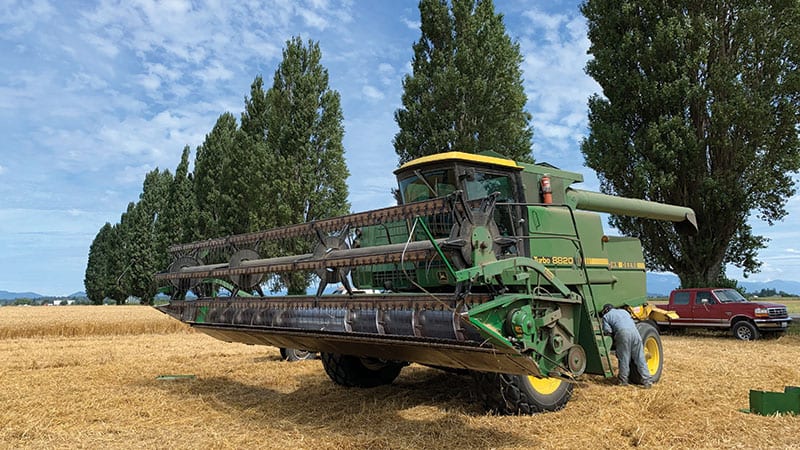 The bakery uses Cairnspring organic wheat for selected breads. Mackie has been experimenting with other blends and uses, like using the mill's Cara Cara pastry flour for scones and muffins and cakes. There's an extra sweetness to the flour itself, so she dials back sweeteners in those recipes, she said.
"It's really exciting to be using these flours. I started the bakery in 1993 and this access was not available. And from a baker's standpoint it's really so much fun to work with these flours and create these breads that are so flavorful. I think the customer is equally thrilled at the results."
She feels lucky for the confluence of benefits the Northwest offers: The Bread Lab to support research, the climate and agricultural land to grow the grains, a system to mill and distribute it, enough customers to support it.
That was true before the pandemic, but more people recognize the value now.
"If you have regional processing it makes our community more resilient in times like these," Morse said.
"It's sad it took a pandemic for a broader population of people to understand the importance, but now I think we're seeing (this) food go from a luxury, something people thought was nice to have, to something necessary. I'm hoping this will stick after the pandemic and into the good times as well."
Cairnspring Mills flour is now available at PCC's Ballard, Bellevue, Bothell, Central District, Edmonds, Green Lake, Green Lake Village, Issaquah, Kirkland, Redmond, View Ridge and West Seattle stores. It can be ordered at other PCC stores.
Interested in baking with Cairnspring's flours? Look for recipes at Cairnspring.com.