Sourcing a fish: Another look at Chinook
By Aimee Simpson
This article was originally published in September 2020
Two iconic species, prey and predator, are facing devastating declines in our region: Chinook salmon and the Southern Resident killer whales who rely on those salmon as a food source. When PCC announced its moratorium on selling Pacific Northwest-sourced Chinook salmon in 2018, we knew it was just our first step in discovering how a food co-op could address this crisis. In the two years that followed, we have been relentless in listening, learning and partnering with community leaders and experts to answer a key question: how do you truly source a Chinook salmon for humans to eat without depriving the Southern Residents of needed sustenance? In this article, we share our story of developing our new Chinook Standard and why we will begin to stock carefully screened Chinook salmon from the Pacific Northwest in our stores starting on September 1.
17 days
Two years have barely dimmed public memories of the 17-day vigil of mother orca, Tahlequah, mournfully carrying her lost calf—the first live birth in her pod in three years—across her brow. The 400-pound calf died shortly after its birth, but Tahlequah kept its body with her for 17 days while swimming nearly 1,000 miles. For PCC—a longtime leader in sustainably caught seafood and conservation efforts for marine environments—the loss was not just a headline, it was personal. "Many of our members reached out to voice their deep concern with the continuing plight of the Southern Residents," recalls Brenna Davis, VP of social and environmental responsibility. "They were demanding action."
The demands were valid. Even before the 17-day vigil the number of Southern Residents had reached near all-time lows of 75 whales. The previous low of 71—noted in 1976, the year that scientists began tracking the Southern Residents—had been the product of years of hunting and capture. When those practices were finally prohibited, there was an encouraging bump over the next couple decades, but the shift was only temporary. Southern Resident populations began another decline interspersed with brief periods of increase through the early 2000s, giving way to a steep fall over the last decade.
A call to action had been building across the region before 2018 and had already led to the formation of a Governor's Orca Task Force to investigate policy recommendations for the myriad of issues facing the Southern Resident orcas: toxic pollution, sound disturbance, destruction of habitat, and lack of food. But it was this last issue—lack of food—that had people reaching out to PCC during Tahlequah's vigil.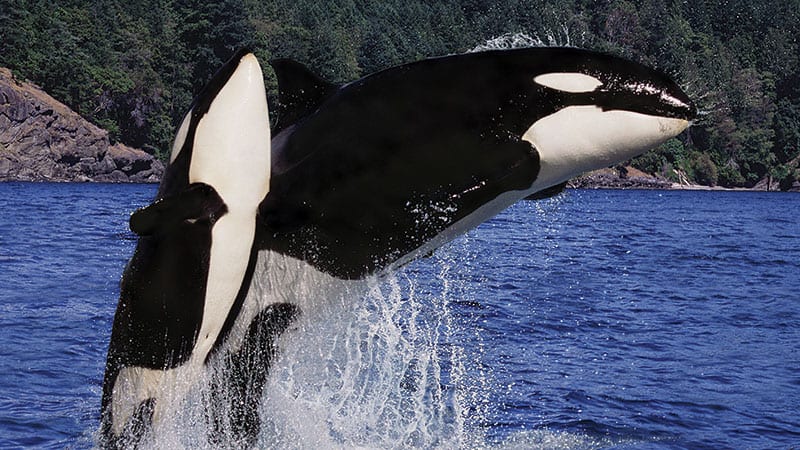 Meet the Southern Residents
More commonly known as orcas, Southern Resident killer whales comprise three orca populations that share similar migratory and feeding patterns. The three pods (J, K and L) of Southern Residents inhabit a territory stretching from British Columbia to California. In summer, Southern Residents usually can be found swimming and feeding in the Puget Sound and the nearby interior waters of BC, in what's considered the core of their summer range.
But it is not only their migration route that sets the Southern Residents apart. Unlike other populations of orcas that eat mammals (such as seals), Southern Residents only eat fish, mostly salmon, and a large majority of that is Chinook salmon. Chinook (also known as King) salmon comprise almost 80% of the Southern Residents' diet, according to the Center for Whale Research, a local partner of PCC and a science-based nonprofit dedicated to studying the Southern Resident orcas in the Salish Sea since 1976. Much like the Southern Residents, naturally spawning Chinook salmon populations are also declining, with nine populations listed as threatened or endangered, mainly due to habitat degradation and, increasingly, climate change. Their plight aggravates the struggle for Southern Residents to stay nourished.
A step in the right direction
Because PCC is a Puget Sound-grown grocery co-op that prides itself on setting strong environmental and social standards, it was easy to see why members and shoppers wanted PCC to take a stand for the Southern Residents. The most logical step forward seemed to be ensuring that our most direct connection to the Southern Residents—Chinook salmon—wasn't adding to the problem. Then, the logical solution seemed to be stop selling Chinook caught in the general area where Southern Residents reside, which is exactly what PCC did in announcing its moratorium on September 10, 2018.
PCC received a lot of positive support for this initiative. "It was absolutely the right step to take at the time, based on the information we had available to us," said Davis. "Most importantly, it let people know we were serious about finding solutions and started some important conversations."
Those conversations provided some important feedback from local marine conservation organizations, fishermen, tribal leaders and scientists that called attention to many of the complexities underlying the Southern Resident and Chinook issues and the moratorium we had put in place.
For example, we learned that many Chinook salmon are born and return to spawn in streams and tributaries of the Pacific Northwest, but for the years between those events they might spend significant portions of their lives feeding in the "mixed-stock" open waters of the Pacific Ocean near Alaska. In other words, where a fish was caught wasn't the whole story—we also needed to take into account the time of year it was caught, where it had come from, and where the salmon was headed.
We also learned that in the Pacific Northwest, local fisherman and tribes working to conserve and restore Chinooks and Southern Residents—people whose livelihoods and cultures depended on sustaining orca and salmon—were shut out by our moratorium.
Yet, neither the larger existing seafood standards and certifiers, such as PCC's sustainable seafood partner Monterey Bay Aquarium Seafood Watch, nor smaller place-based programs seemed to evaluate different sources of Chinook with all of these important details in mind.
Nothing standard about it
With the pile of questions building, one answer became clear: our moratorium, although a good step forward, was not enough. PCC would need to go into uncharted territory and create its own Chinook sourcing standard. To do it right, we were going to need the help of someone with extensive experience in ocean conservation issues, as well as good relationships with a diverse set of fishery experts. PCC knew that Brad Warren, Executive Director of the National Fisheries Conservation Center (home of the Global Ocean Health program), was up to the task.
Starting in the spring of 2019, Warren and his team of researchers combed through fishery data and studies and reached out to government and tribal officials, fishermen, hatchery experts, and other marine conservation experts to piece together a carefully crafted draft standard. Then, PCC and Warren met with these leaders again to have them review the draft concepts and analysis and provide feedback. "We wanted to make sure we were looking at this from all the important angles, and then looking at it again," Warren noted.
The end result: A Chinook sourcing standard that helps to ensure we aren't taking food away from the Southern Residents. And much like the issues the standard is trying to address, this required attention to detail.
"The Chinook sourcing standard is designed to enable PCC seafood buyers to avoid (or reduce to near zero) two risks that are subjects of passionate concerns: intercepting prey needed by Southern Residents, and harming struggling Chinook salmon stocks," says Warren. "These standards also address a third risk, identified as knowledge risk, that affects nearly all conservation work: potential for errors arising from incomplete or uncertain scientific information about the fishery or its impacts."
For each of the three main areas of risk, Warren and team developed indicators (assessment points) to evaluate Chinook salmon caught in a particular region or location (known as a fishery). Depending on the data and how a fishery satisfies an indicator, a fishery then receives a rating: A, B, or C. Under PCC's new Chinook sourcing standard, for the interception risk category, a fishery must earn an A rating to make the grade. For stock and knowledge risk, an A or B will satisfy the standard.
A good example is to look at the stock risk category and the sub-category of hatcheries.
"These standards are designed for the world we have today," said Warren. "Modern civilization has completely altered so much spawning and nursery habitat in the Northwest that our rivers don't make salmon the way they once did. We've crowded these fish out of their homes. We've diked and filled their nursery grounds, filled the side channels with suburbs. We've made cities and farms out of the immense estuaries where young Chinook used to shelter and feed before going to sea."
One result is that these days, around three out of four salmon caught in Puget Sound were spawned and reared in hatcheries during their early life stages.
"They still swim out to pasture at sea for most of their lives, but these fish wouldn't exist if tribes and agencies weren't stepping in to do the job that rivers used to do," Warren said. "It's a pretty radical intervention, and hasn't always been skillful. But a lot has been learned about how to operate hatcheries so that they complement restoration efforts and minimize potential harm to nearby populations of naturally-spawning salmon. The Chinook standards we built for PCC require use of recognized best practices in any hatcheries that support the catch."
Going beyond the source
Upgrading the moratorium is a definite step forward in reaching our intended goals, but PCC can see there is still a lot of work ahead. Evaluating fisheries to assess whether they are continuing to meet the standard, as well as identifying new fisheries that receive high enough ratings, will be an ongoing process. Even more importantly, the work invested in creating this standard showed us sourcing is a small piece of the problem. Retailers as a whole need to think beyond their purchase orders and seafood labels if they truly want to be part of the solution.
"This standard is by no means the final word. It is a measure that offers a 'no-harm' choice to worried consumers while we all roll up our sleeves to tackle the systemic forces—especially pollution, habitat degradation and climate change—that are increasingly emerging as the dominant drivers of decline for Chinook salmon and the Southern Residents that depend on them," emphasized Warren.
PCC agrees. We have more work to do and are looking forward to continuing the journey (and story) on this important issue. Look for updates on this journey in future editions of Sound Consumer.
Aimee Simpson, J.D., is PCC's director of advocacy and product sustainability.
---
Want to understand more about PCC's new Chinook sourcing standard? Visit our Honest Products page at pccmarkets.com/chinook.