PCC opens new Bellevue store
This article was originally published in September 2020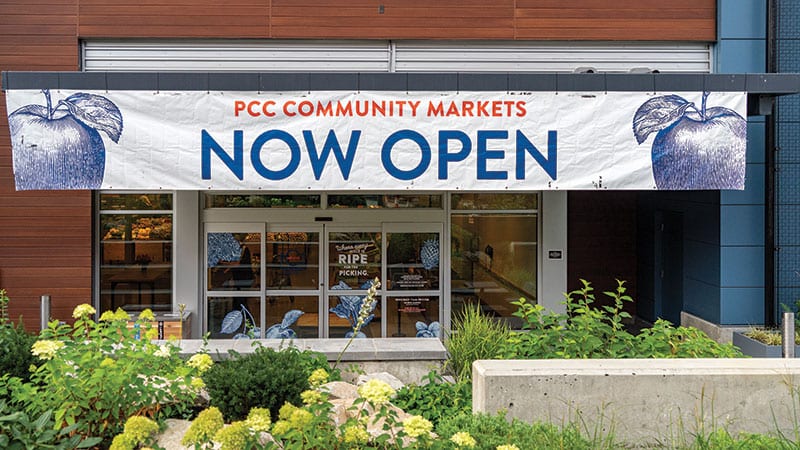 PCC has a new outpost on the Eastside. Its 15th store is now open at 316 116th Ave. NE in Bellevue.
The 26,000-square-foot building is the fourth PCC on the Eastside, joining Kirkland, Issaquah and Redmond. As then-CEO Cate Hardy said when the plans were first announced, "Bellevue holds a special place in our region's food history dating back to the 1800s when the town, rich with orchards, vegetable patches and berry farms, provided fresh produce to the rapidly growing city of Seattle.
"That same love of fresh food cultivated by local producers is what feeds our co-op, literally and figuratively."
The Bellevue store has an 825-square-foot classroom for PCC cooking classes, as well as an outdoor patio and an expanded bulk section with many health and body care items (see Behind the Bulk). In addition to PCC's standard departments, other notable features include grain bowls, a self-serve yogurt bar and self-serve pizza counter, a spirits department stocked with local offerings and an espresso counter. The store will bring more than 100 union jobs to the neighborhood. The opening store director is Tami Littlefield, who was previously director of PCC's Issaquah store and has more than 35 years of experience working with premier food retailers in the Northwest.
Even before the doors opened, staff members have been working on meeting our new neighbors and forming connections and new collaborations. For instance, PCC will support Bellevue HopeLink through its bulk buy and grocery rescue programs. We sponsored artist Maria Phillips' exhibit at the Bellevue Art Museum, "Hidden in Plain Sight," presenting work made from recycled materials. PCC has contributed to other Bellevue programs over the years, including a community grant for the nonprofit International Community Health Services to expand its community kitchen to Bellevue, and donations to numerous schools. We look forward to expanding these efforts.
As with other new locations, PCC is pursing Living Building Challenge petal certification, the world's most rigorous green building standard (see Living Building Challenge). The certification work requires ecologically sound building materials and resource conservation, among many other components. It also includes a visual art installation made from sustainable materials, and designed to both delight visitors and celebrate the store's culture, spirit and place. Bellevue's contribution to the arts petal will be "Murmuraton" by Camano Island artist Shogo Ota, inspired by the group of starlings he once noticed flying by: They were individually very small, he noted, but together became greater than the sum of their parts.
Ota wrote that "This concept of synergy echoes the theory behind why starlings murmurate, and fits into the ideals of a co-op: supporting communities, caring about people on an individual level, and believing in the change we can make on a grander scale."