Binda Colebrook's legacy of year-round gardening
By Rebekah Denn
This article was originally published in September 2020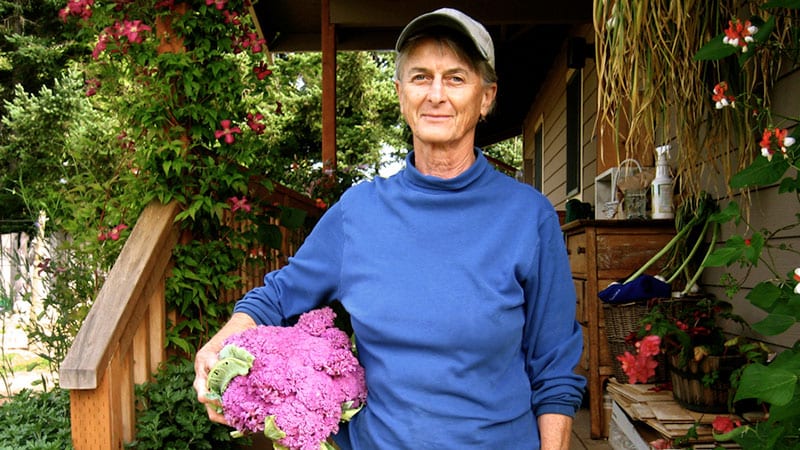 ---
The garden plot suggested for September plantings doesn't sound radical by modern standards: Bok choy, Bloomsdale spinach, oakleaf lettuce, mizuna greens and herbs, broccoli and cauliflower for spring harvests and slow-maturing garlic for summer. Radishes could be planted between the rows, among other ideas.
Forty-five years ago, though, when Binda Colebrook suggested that layout as part of PCC's Winter Garden Project, locally grown winter vegetables were rare—as were varieties that would reliably produce good harvests in this region.
Colebrook, who died earlier this year at age 82, used the garden project as the basis for her classic book "Winter Gardening in the Maritime Northwest," originally published in 1977 with the aid of a PCC loan. The book influenced countless home gardeners as well as farmers throughout its multiple printings, in enormous ways as well as small ones. Steve Solomon, for instance, wrote that Colebrook's book is what moved him to found the Territorial Seed Company, specializing in seed varieties adapted to the region.
Colebrook's lasting legacy began when she moved to Seattle from Massachusetts in 1971. As she wrote in one preface to the book, she found shelter and immediately sought the next important thing, "a spot in which to grow a garden." She used a plot at the city's first P-Patch in Wedgwood and planted another in her Capitol Hill yard, joyfully discovering the kale and parsley she transplanted from the P-Patch thrived in the "strange, wonderful mild winters of the Pacific Northwest." Almost immediately, she began opening other people's eyes to the benefits of that maritime climate.
She wrote that Rick Erickson, then-produce manager at PCC, convinced her to find out what other gardeners were doing year-round, teach some classes, and see if it was feasible commercially for local farmers to produce winter vegetables for the co-op.
The September 1975 PCC newsletter, a predecessor to the Sound Consumer, noted that Colebrook, a PCC member, was growing "upward of 20 vegetables" in her plot. Year-round gardening, as she thought of it, may have been well established in earlier generations, but had fallen out of favor and general knowledge in the area.
"It was Binda's feeling that local gardeners, especially those in the city, didn't have productive gardens through the rainy season; sometimes because of a bad site, but more often out of ignorance of correct technique well-mixed with a certain relief that the summer efforts were over…" the PCC newsletter said.
"There is also a cultural emphasis on preservation of food, as opposed to fresh produce, which comes from the experience of continental winters and is part of Northwest cooking techniques. This adds up, to the average person's surprise, that any vegetable at all will produce in our mild coastal environment."
About 15 participants that winter planted test crops to see at which point different varieties would freeze, with Colebrook observing their gardens around Seattle and as far as the San Juan Islands with the help of a PCC grant.
"I wouldn't want you to get the idea this was anything fancy or it could be called scientific research," she wrote in the book. "We were just a group of gardeners encouraging each other to be less dependent on trucked in vegetables, figuring out when various varieties had to be sown and enjoying the excitement of homegrown lettuce in January."
Colebrook later became involved with Tilth and worked with members there at Pragtree Farm in Arlington, learning "what commercial farmers are up against" and discovering new varieties of hardy vegetables, drawing on lessons from other countries as well. Tilth co-founder Mark Musick, who farmed at Pragtree, encouraged her to write the book.
Musick said Colebrook's varietal trials with kales, Asian mustards, chicories and other hardy greens provided the foundation for the seasonal salads created at Pragtree in the late 1970s. Those greens were credited as one of the first dishes of Seattle's farm-to-table dining renaissance, and a predecessor to the mixed salad greens that are now ubiquitous in supermarkets worldwide.
Also in those years, after reading the book, Solomon realized that many of the varieties Colebrook recommended were from Europe or Asia and unavailable in our region, Musick said. "His inspiration for Territorial Seeds was to seek out suppliers of those rare varieties and make them available for Northwest gardeners."
Other projects later in Colebrook's life included working on ecological restoration, Musick said. She lived in the Bellingham area for many years and collaborated in the design of native plant installations at Padden Creek Estuary, Little Squalicum Creek, and the public park at Woodstock Farm.
"Winter Gardening in the Maritime Northwest" is currently out of print, but the advice is ever-relevant, as with these words: "Remember, vegetables are the staff of life, and their seed is an arrow from the heart of time."