Pulse crops see big boost
By Gosia Wozniacka, guest contributor
This article was originally published in September 2020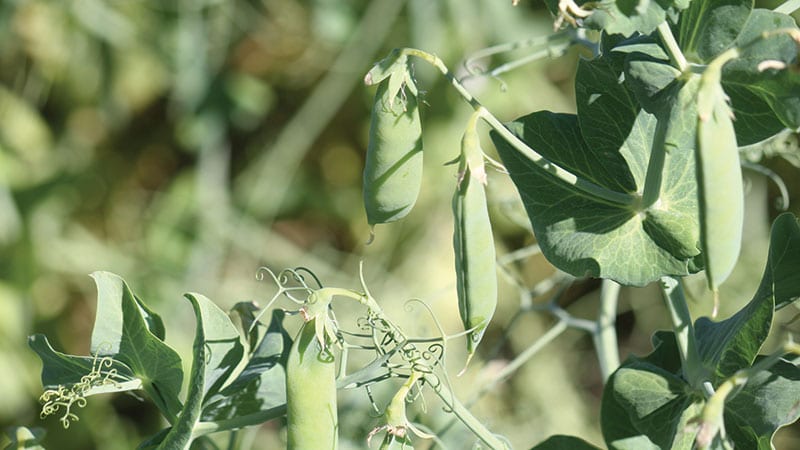 ---
As the COVID-19 pandemic brought the world to a standstill for months, it also fueled an unprecedented demand for pulses—lentils, chickpeas, dry peas and beans.
"I've been in this job for 26 years…to watch the store shelves be emptied out, every canned lentil soup, every bean soup, all the dry-packed bags completely stripped like a band of locusts had come through, it was quite telling," said Tim McGreevy, CEO of the USA Dry Pea & Lentil Council and the American Pulse Association. "I never thought I would see this dream come true."
Pulses, as consumers were reminded this year, are perfect in times of crisis—shelf-stable, nutrient-dense and affordable. They're one of the oldest crops on earth and in many cultures are considered the poor man's protein. The word comes from the Latin word "puls," which means thick soup or potage. Pulses are extremely nutritious: they contain around 25 percent protein, little fat, and loads of fiber. They're also very cheap, as compared to meat. Americans relied on them during the Great Depression of the 1930s for sustenance.
Because they were seen as foods of deprivation, they lost in popularity after the downturn ended. But in recent years, pulses have experienced a renaissance due to their nutritional value and environmental benefits. When the United Nations declared 2016 the International Year of Pulses, it brought the humble legumes to the attention of farmers, consumers and the food industry. (In the U.S., most of the pulses are grown in the Palouse, which includes parts of Washington, Oregon and Idaho, as well as in the Northern Plains, including North Dakota and Montana.)
The popularity of plant-based (flexitarian) diets—over one-third of Americans profess wanting to follow such a diet, according to a recent poll—has led to chefs and the foodservice industry creating new pulse-based recipes and blending or replacing meat with pulses. The trend also has spurred food companies to innovate and develop an array of value-added pulse products, including plant-based burgers, pasta, protein bars and ripple milk (made from yellow peas).
American farmers also vastly expanded their pulse crop acreage because pulses fix nitrogen in the soil and don't require synthetic fertilizers. They're an excellent crop for those interested in sustainable or regenerative agriculture. Three decades ago, lentils, chickpeas and other beans were rarely planted in the U.S. But by 2018, farmers harvested 2.2 million acres of pulses. That's half the acreage of total U.S. vegetable production (4.4 million acres), though it's just a small blip when compared to some commodity crops, including the 92 million acres of corn, 80 million acres of soybeans, and 46 million acres of wheat planted by American growers.
Then came the pandemic. Like the Great Depression, COVID-19 has changed the way people shop and eat. In a recent survey, 54% of respondents said they cook more than before the pandemic and 39% said they are preparing legumes and beans more often. Demand for pulses has also surged outside the U.S., including in Europe and Mexico, McGreevy said.
In the U.S., pulses also flew off the shelves at food banks, spurring the U.S. Department of Agriculture to make significant new orders of split, yellow and green peas and lentils, as well as canned chickpeas, he added.
A second soup season
In the U.S., sales of pulses normally level off in the spring, but not so this year. Many pulse processors worked around the clock to keep their plants open and ship more pulses to packagers, wholesale buyers, soup producers and other outlets. Some saw demand double as compared to last year, McGreevy said. And pandemic shopping for pulses has continued well past the initial panic buying period, he said.
Andrew Fontaine, president & general manager at Spokane Seed Company, a processor based in Washington state, said he has seen a "dramatic increase" in demand, leading the company to add a full graveyard shift to keep up. Typically, Fontaine said, shipment and processing of pulses is related to the "soup season," a cool weather period from September through February when Americans use them as comfort food, especially in soups and stews. COVID came at the end of "soup season."
"We saw that soup season continued through and surpassed the initial volume. We basically had two soup seasons this year," said Fontaine.
In Montana, pulse pioneer David Oien, who formed Timeless Seeds, Inc. with three other farmers and helped popularize pulse crops in the U.S., gained new customers and hired new employees to keep up with the surge in demand. Oien, who was one of the first in his state to plant organic lentils, now works with more than 40 organic producers and grows food for major retailers and restaurants. His company was featured in the 2016 book, "The Lentil Underground."
While the company's restaurant and foodservice distributors disappeared overnight as a result of COVID shutdowns, an increased demand from grocers, natural food distributors and online shoppers more than offset the loss, said Oien. In the first three weeks of the pandemic, shoppers ordered as much in product as during all of last year, he said.
Oien said the company was overwhelmed in trying to fulfill orders and had to buy more equipment, triple the number of workers on the packaging line, and extend delivery times. Timeless also ran out of some products and had to buy them in the open market.
"COVID has only strengthened our commitment to crop diversity and highlighted to the world the fragility of centralized food processing and the folly of assuming food security is only an issue for the poor," Oien said.
Pandemic lifts up pulse farmers battered by tariffs
To farmers, the rush on pulses has been a blessing after several years of hardship. While the crops have trended up with U.S. consumers, sizable tariffs imposed by India and China as a result of the trade wars have brought a sizeable decrease in pulse export markets and a crash in prices.
As a result of pandemic shopping, farmers were able to sell their pent-up stocks and pulse prices have gone up by about 20%, said McGreevy with the American Pulse Association. And this spring, some planted more acres to capitalize on the surge in demand (though many farmers have contracts in place by January so they can only make minor adjustments).
Farmer John Wicks in Ledger, Montana, was getting ready to seed this year's crop when the pandemic began. Seeing the demand, he planted an additional 30% in pulses, going from 600 acres of beluga lentils to 860 acres this year.
Wicks, who contracts with Timeless, hopes strong demand will continue into fall after he harvests his lentils. "I think people are seeing how this type of crisis can easily disrupt their lives and they may want to have the option to stock up on pulses and learn how to cook with them," he said.
Will people continue eating more pulses?
The pulse industry's hope is that the pandemic-inspired bags of lentils, beans, and chickpeas aren't just sitting in the pantry. "We want to make sure consumers have a great experience with them so that they will continue to buy pulses after the pandemic ends," he said.
To that end, McGreevy's trade group has been working to help Americans cook with pulses, including running a social media campaign, food blogging and featuring chefs who use pulses. Its website Pulses.org offers cooking tips, recipe ideas, meal plans, and nutrition information.
For Portland resident Molly Fandel, who works at a local credit union, buying a large amount of split peas, lentils, and a few different kinds of dried beans as the coronavirus began to spread was recommended by a pandemic prepping group she followed "in case something were to happen, since they're a good source of protein if you don't have access to meat and they're shelf stable," she said. Another reason, she added, was her 2-year old son. "Part of it is being a new mother, you have to stock up."
The pandemic has expanded Fandel's approach to pulses. To use up her stash, she has experimented with new recipes, including making split pea salad with cherry tomatoes, as well as serving beans with chicken, on salad, in tacos, and as side dishes during the week.
She had previously eaten mostly canned beans, but opted for dry pulses during pandemic shopping and plans to continue cooking with them even after the pandemic is over. "I have found that they taste better even though it takes longer to make."
Gosia Wozniacka is a senior staff reporter with Civil Eats. She lives in Portland, Oregon.