Sustainability report: Bringing carbon offsets closer to home
By Brent Kawamura
This article was originally published in May 2020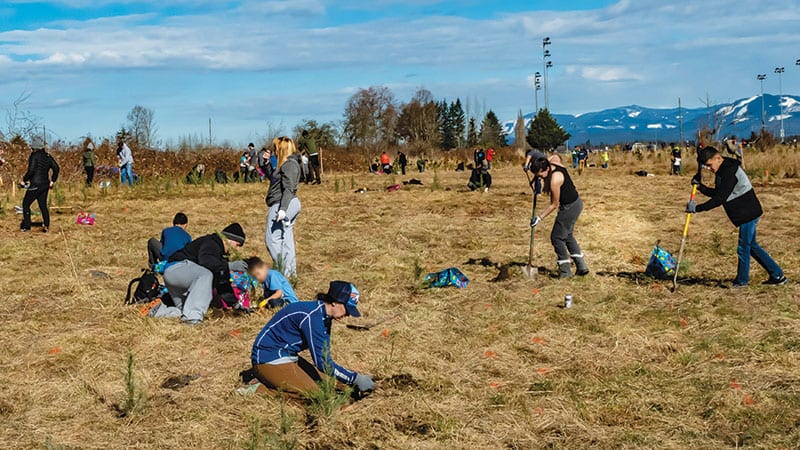 ---
More than 1,000 new trees are growing in our region thanks to a commitment from PCC.
We design and operate our stores to be as energy efficient as possible. One of the other ways we mitigate our carbon footprint is purchasing carbon offsets, compensating for our remaining emissions by reducing them elsewhere.
For the past two years, these offsets directly supported national projects to capture harmful landfill gasses, like methane. This year, we moved our focus closer to home.
As a participant of Forterra's Evergreen Carbon Capture (ECC) program, PCC purchased 1,028 native conifer trees, which were recently planted at Strawberry Fields Park in Marysville. In addition to absorbing carbon, these trees will support water quality in the Middle Fork of Quilceda Creek, a tributary to the Snohomish River—as well as reduce flooding downstream. We completed this project in celebration of Earth Day's 50th anniversary this year, partnering with Forterra, which is a Seattle-based nonprofit organization that has conserved more than 250,000 acres of land in the region and focuses on long-term livability, sustainability and equity.
Trees are a significant choice for carbon offsets because they breathe just like humans do—only difference is that trees breathe in carbon dioxide and exhale oxygen while humans do the exact opposite. This makes trees one of nature's most effective tools for cleaning air and removing carbon from our atmosphere. In fact, an acre of trees absorbs as much carbon emitted by a single car driven 26,000 miles. That's like driving from Seattle to New York nine times.
They're significant for this location because the state Department of Ecology classifies the middle fork of Quilceda Creek as a polluted body of water that requires restoration. Planting trees along Quilceda Creek will play a critical role in addressing this impaired waterway, while providing necessary habitat for native salmon and additional wildlife that rely on these riparian areas. By increasing shade along the creek, providing nesting sites for wildlife, and adding to a biodiverse palette of native plants, our trees will help to build a forest that will provide benefits to Marysville communities, plants and wildlife alike!
ECC began as a partnership with Seattle's very own Pearl Jam, who wanted to take responsibility for the carbon emissions produced from the band's world tour by planting trees, also choosing to do so in their local community. ECC has since planted over 33,000 trees through the region and has mitigated over 165,000 tons of carbon. We encourage other local companies, organizations and individuals like you to join us in our efforts by visiting forterra.org/carbon. You'll be able to calculate and mitigate your own carbon footprint while also helping to restore the ecological health of our region.
Brent Kawamura is PCC's senior sustainability specialist.