"Kiwi Queen" Frieda Caplan revolutionized the produce world
This article was originally published in May 2020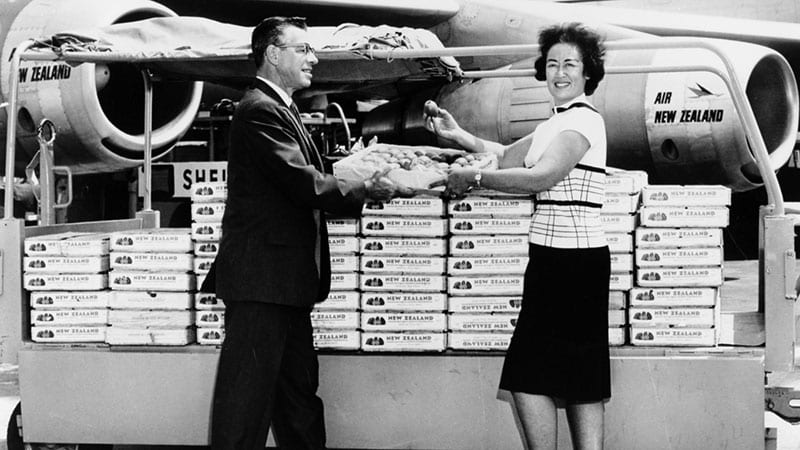 ---
She was hailed as "Mother Gooseberry" and "The Princess of Produce"; the woman who first brought kiwis to the U.S. grocery market and popularized dozens of other fruits and vegetables.
When Frieda Caplan died in California earlier this year at age 96, she left a tremendous legacy in fruit bowls and crispers and shopping lists around the nation. The Los Angeles Times called her "The woman who broke the glass ceiling in the testosterone-doused produce world and forever changed the way Americans eat fruits and vegetables."
A 2015 documentary, "Fear No Fruit" (fearnofruit.com) told how Caplan (also headlined as "The Kiwi Queen" and "The Lady of Shallots") entered the produce business as a Los Angeles bookkeeper in the 1950s when she was looking for a job that would allow her to keep nursing her infant daughter. She eventually stretched into sales, with a knack for introducing new finds and for promoting items that at the time were considered specialties—including current garden-variety staples like mushrooms.
Eventually, according to an Orange County Register profile, a manager for the Southern Pacific Railroad, which ran the produce wholesale market, asked her to start her own operation there.
"At that time, on the produce market, the other people on the market were only interested in high-volume items," Caplan told the paper. "Small farmers had no place to go. Nobody was interested. So I started listening to all these small farmers that came on the market."
She didn't invent anything new, but "dressed up" products, as she put it, and made it easier for industry buyers to access them and for home cooks to learn how to use them.
Snap peas, spaghetti squash, alfafa sprouts, finger limes, jackfruit and jicama are only a sampling of the harvests that Caplan helped nurture into mainstream popularity. She put a sticker on spaghetti squash explaining how to cook it, and labeled sunchokes, which were being confused with fresh ginger, with invitations to write her company for sample recipes.
The first U.S. air shipment of kiwis in 1964 came about when a buyer asked Caplan if she carried "Chinese gooseberries," as the fuzzy fruits from New Zealand were then known. Caplan located a supply, renamed them "kiwifruit," and convinced a local baker to serve them sliced on custard tarts so that potential industry buyers could see their appeal and bring them into stores. As a big sign in her business read, "The biggest hurdle specialty items have to surmount is the buyer, not the consumer."
The L.A. Times article noted that Caplan "even supplied the 'alien' fruits for 'Star Trek' episodes, which helped boost sales."
"I was never aware at that time how unusual it was that I was a woman in business," Caplan said in the documentary. Unusual was putting it mildly.
In starting her own business, The Washington Post wrote in a 2019 profile, Caplan also created a place in the industry where other women could come get a job: "No one hired women in sales back then," she told the paper. As the Post put it, "When she was later honored with the 'Produce Man of the Year' award in 1979 by the Packer, a produce industry publication, she simply handed it back…
"She was happy to accept the award later when it was renamed Produce Marketer of the Year."
Caplan continued to work at the business, Frieda's Inc., into her 90s. It's now run by her own two daughters.