New PCC chocolate is "sourced the way it should be"
By Rebekah Denn
This article was originally published in May 2020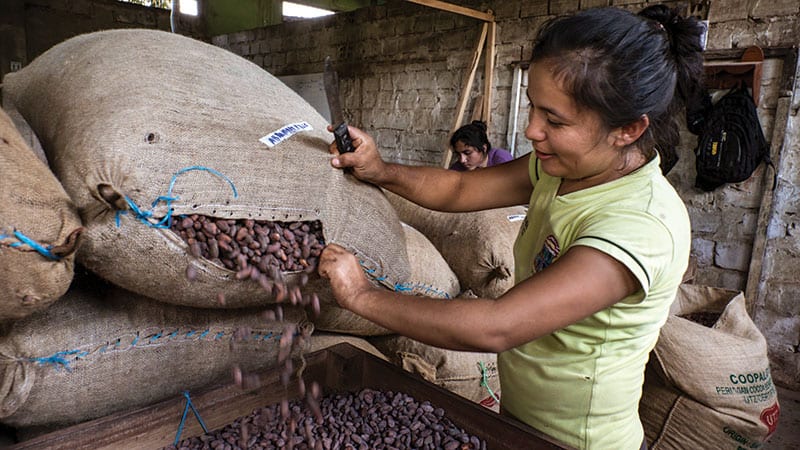 ---
A shipment of dark red cacao beans from the San Martin region of Peru was recently unloaded at the K'ul chocolate factory in Bellingham. Within 72 hours, the organic, fair-trade beans had been roasted, winnowed and processed into the first samples of PCC's private label chocolate.
"This is truly bean to bar," said Scott Owen, PCC's senior grocery merchandiser, as staff members sampled the bars and heard from K'ul co-owner Paul Newman about the company's history and work. "This is going to be the freshest chocolate you've ever had in your whole life."
Final flavors are currently being developed, and the chocolate is scheduled to be in PCC stores later this year.
With every bar beyond the plain chocolate, "we're trying to add an additional local layer of flavor to it," Owen said. Initial varieties being considered include both sweet and savory additions produced by local farmers and producers.
Testers agreed the flavors under development were sublime. But that was far from the only reason Owen called the partnership "a beautiful match."
Going beyond flavor and quality, products that carry PCC's label must also meet ethical and sustainability guidelines. Those standards are a particular challenge in the global chocolate industry, which is infamous for its continued use of child slave labor.
Several years ago, PCC adopted strict standards for all chocolate candy confections and cocoa powders sold in our stores, carrying products only from vendors that provide assurance that child slave labor is prohibited and follow International Labor Organization (ILO) Fundamental Conventions (see New PCC Standard: Chocolate Must Be Fair Labor). We're proud to feature many brands that are produced both delectably and responsibly.
With K'ul, we found a partner that could produce chocolates on the scale required to assure a continued fresh supply to PCC stores, while also making impressive efforts to improve the lives of the small women-owned farm cooperatives they work with in Peru and in the Dominican Republic.
"We're doing the work so you know you can sell a bar that is 100% sourced the way it should be," Newman told PCC staff.
A professional photographer, Newman showed slides of some of the various farmworkers who grew the company's cacao beans, and how long they had been working on the land.
"I didn't just pick up the phone" to order a shipment pooled from thousands of anonymous fields, he said. "We know the buyers we source from. We know their families."
The company has obtained fair trade certification, which PCC requires for the partnership and which guarantees a base price for beans regardless of market fluctuations. K'ul also practices direct trade policies.
"Direct trade means we pay directly. We write checks to their accounts," Newman said.
Cutting intermediaries like cacao brokers out of the supply chain means farmers get a bigger cut of the sales price, Newman said—and also provides more direct ways to assess whether the cacao is being grown as promised.
Newman said K'ul guards against using slave labor in a few ways: "We don't source from Africa," where the problem is more pervasive, he said. The bigger key is that "we know firsthand who we are buying from." Buying thousands of metric tons through intermediaries, "there's no way I would be able to know (how the beans are grown), there's too many hands in the pie."
Ultimately, he said, visiting the farms is the only way to truly guarantee the working conditions. K'ul staff visit a handful of times per year, sometimes doing spot visits without advance notice.
The definition of "child labor" in those regions includes some gray areas, but he believes the ethical lines remain clear: A 12-year-old working alongside a parent on a family farm, for instance, is very different than one kidnapped from his family and sold to work in another country. Newman is satisfied that the K'ul farms are on the right side of the line.
"I think we're doing everything possible short of living on these fincas (farms) and being there every day."
Newman and his wife, Ari Lee-Newman, founded K'ul after their 2014 honeymoon, which they spent working with Vitamin Angels, a nonprofit that distributes vitamins to mothers and young children in 70 countries.
Wherever they went, they noticed, it was women in the community who seemed to be helping children. They decided to start a company aimed at supporting women and keeping money in their local ecosystem.
K'ul's goal is to help 24 women's cooperatives become certified organic by 2025, with seven certified to date. The effects of that work, Newman said, ripple out from workers into their families and then to their villages.
"Those numbers, though they might look small, they have a lot of impact."