Central District PCC planned
This article was originally published in March 2020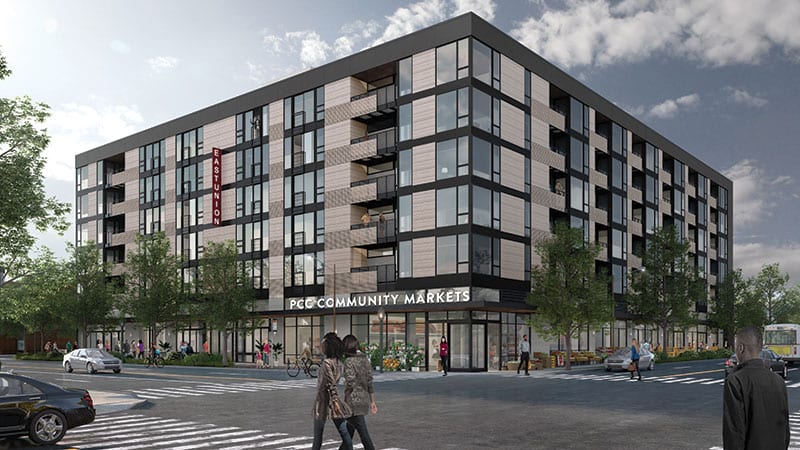 PCC's newest store will be in one of Seattle's oldest neighborhoods. A new PCC planned for the Central District is scheduled to open by summer.
The approximately 18,000-square-foot store is at the corner of 23rd Avenue and Union Street, in a development originally expected to house a New Seasons Market before that company left Seattle.
PCC CEO Cate Hardy said it was important that the location become a grocery store, as promised to the community.
"As one of the few remaining locally owned food markets in the Puget Sound, our co-op understands the rich history of the Central District and the historical significance it holds in our city…" she said in a statement. "As we do with any new PCC store, we will work directly with local individuals and organizations to gain a deeper understanding of how we can best support the community, with the goal of opening the store as soon as possible."
Patrick Foley, co-founder and principal of Lake Union Partners, the property's developers, said PCC shows a deep regard for the neighborhoods the co-op enters and serves. "We knew it was important to bring to the Central District a grocery partner who would respect the community and all that this location represents."
While nearby Capitol Hill has many shopping options, including a branch of Central Co-op, the Central District has historically been underserved by supermarkets. A Red Apple market had been a longtime neighborhood hub; when it closed in 2017 its importance was memorialized in "Shelf Life," an oral history project in an adjacent storefront capturing Central District memories. (The building has since been demolished, but "Shelf Life" still records and shares stories from current and former Central District residents at Wa Na Wari, wanawari.org.)
The Central District store will be PCC's 14th location. With each new store, PCC adds about 100 union jobs to the Puget Sound economy. The co-op prioritizes recruiting approximately half of new store staff from the surrounding neighborhoods and brings in the remainder from other PCC stores. The goal is to create deep community connections while also carrying forward the co-op's culture and values. Currently, PCC employs 1,600 staff across the Puget Sound area.
"This is a huge win for Seattle workers…" said Faye Guenther, president of the United Food and Commercial Workers (UCFW) Local 21 union, which represents staff at PCC as well as other grocery stores in Washington state. "The Central District PCC will bring quality union jobs with a written contract that provides workers with health care, a pension they can rely on, and a voice at work. UFCW 21 is excited to work with PCC to ensure that this store reflects the neighborhood's importance as a center of Seattle's African American community."
PCC's Bellevue store is scheduled to open later this year at 316 116th Ave. NE. New PCC stores are also planned for Madison Valley and Downtown Seattle.