Producer profile: One-woman kitchen grows into workers co-op
By Rebekah Denn
This article was originally published in March 2020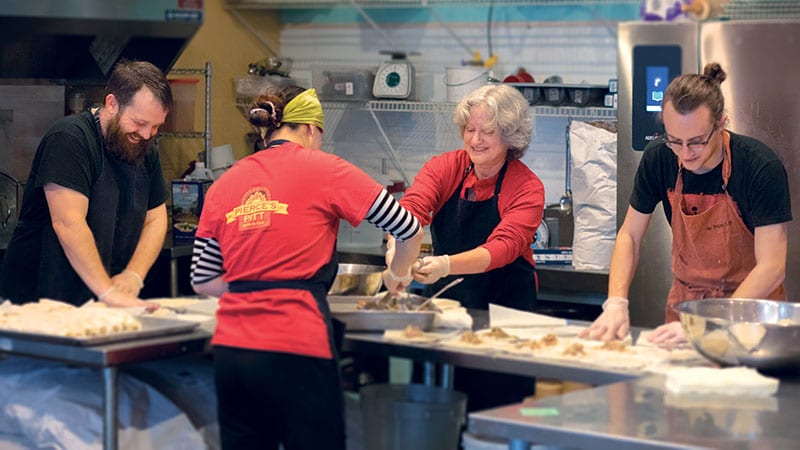 ---
Patty Pan Grill has gone through so many evolutions since Devra Gartenstein founded it more than 20 years ago. The longest-standing concession at Seattle's farmers markets is known for hearty quesadillas packed with local produce, for abundant tamales and burritos, and, more recently, tortillas made from local grains and even bean-to-bar chocolates. At a monthly "Humble Feast" at its Shoreline headquarters, neighbors and friends gather for a bargain-priced multi-course meal made with locally grown ingredients. At PCC and other outlets, Patty Pan now supplies freezer-case tamales through its "Patty Pan Pantry" division.
Of all the changes, the biggest might be that Gartenstein is no longer the sole force and face behind Patty Pan. In 2013 the business became a worker-owned cooperative.
"You go from just working at a market…to having a lot more at stake," said operations manager Trey Faber, one of nine current worker-owners, as giant pots of chicken mole and chicken tomatillo tamale filling simmered on the stovetop at the commercial kitchen.
"It was appealing to be able to contribute to a business that's still developing, even though it's been around a long time…" said Heidy Woods, who joined more recently.
"Being just an employee versus being a member-owner, it's a completely different dynamic."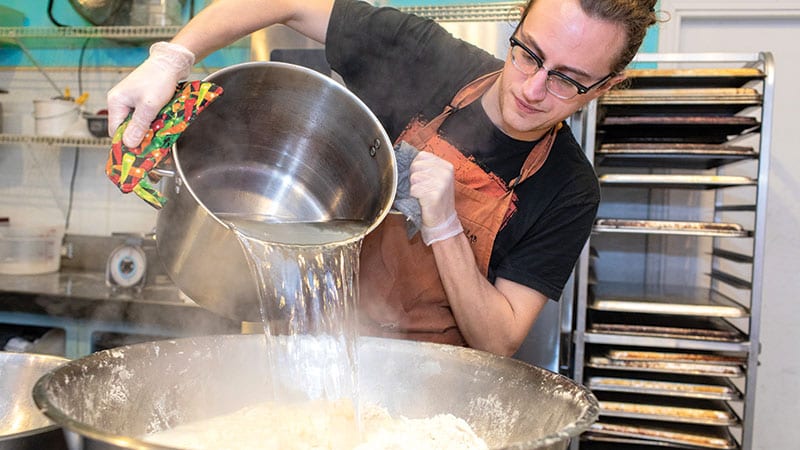 Worker-owned co-ops, where every member typically has a vote, are a less common variation on the more common consumer co-ops like PCC and REI or producer cooperatives like Organic Valley and Ocean Spray. (PCC members each own an equal part of the co-op, determining bylaws and electing a board of trustees; see pccmarkets.com/about/how-our-co-op-works.) The National Cooperative Business Association counted just 223 worker co-ops in 2011, compared with nearly 1,500 producer co-ops and more than 29,000 consumer co-ops. The numbers are steadily growing, though, according to the national Democracy at Work Institute, with an estimated 300 to 400 worker co-ops now operating in the U.S.
While the majority of such organizations start out as co-ops, Patty Pan's owners faced the added twist of figuring out how to shift from a well-established sole proprietorship to a new model.
"We've had to figure out how to share responsibility and revenue in ways that were fair to everyone. The arrangement had to offer enough to members to make them want to join, and it had to offer me enough to make me want to share," Gartenstein wrote on her blog soon after making the switch. Each Patty Pan member receives one voting share in the business and has an equal voice in making decisions; Gartenstein initially owned most of the business and will, in about four more years, finish transitioning that ownership to each of the employees until they own an equal amount of Patty Pan.
Gartenstein originally thought she might sell the business and move on as she got older and as the summer farmers market season became more grueling. But as time passed, she realized she wanted to stay with the business she loved, while sharing what had "grown above and beyond anything I could have created myself."
The business' origins began when Gartenstein started in the food world in 1987, making prepared foods for businesses that included PCC in the days before it had its own deli.
As the years went on, she's become conscious that "a business model is like a stock portfolio—you have to diversify."
Her themes have been consistent no matter what the products, though: cooking, supporting farmers, and remaining flexible in her ideas about how to get people good, nutritious food while staying in business.
For instance, the housemade tortillas—until recently pressed one-by-one by hand—came after Patty Pan catered Skagit County's Grain Gathering. "There were all these people doing amazing things with grains. We were buying these locally made industrial tortillas, and we thought, if we can take things one step further with everything this business has been about, we can be making our own tortillas," she said.
"That's back to the leap of faith. We did all the math and it almost worked." So they moved forward, because it fit their vision.
Chocolate, likewise, seemed an interesting challenge. The chocolate production idea came up when she visited a chocolate festival shortly after the 2016 election.
"It's something I like doing, and (the other owners) indulge me. I'm really scrupulous about having it not interfere with the other (product lines) because it easily could. But I'm just doing it on a small scale…I call it neighborhood chocolate, because I'm not looking to make chocolate for the whole country, I'm looking to make chocolate for my neighborhood."
How did tamales ultimately become a business centerpiece?
"They're so adaptable," she said. "They're a great way to showcase different kinds of ingredients."
She's conscious that tamales are also a traditionally Mexican food, when that's not her own heritage.
"We struggle with that," she said. "We're not pretending we're anything we're not. I think this is the modern world and we all cook and eat each other's food. And I think there are no easy answers. But we try to keep asking the questions."
In a business that advertises "consciously crafted" food, such questions and internal debates are endless.
The company's chicken, for instance, isn't local or organic, but it is certified humane.
Its flour is from Cairnspring Mills, which mills locally grown grain, and its masa harina is from Masienda, a company that sources corn from small farmers in Oaxaca. The company just transitioned to biodegradable bags for its tortillas, which adds to the cost unless they purchase in quantities so large that the printed bags might become outdated before they're all used.
Employees are eligible to become owners after eight months of work, if they are unanimously voted in by other members and pay the current $1,000 fee through a paycheck deduction that's balanced by the increased pay and benefits owners receive. If they leave, the investment is refunded.
"Eight months gives us a sense of how people work in the summer when things are really busy, and in the winter when it's more lean. How do people deal with scarcity, because there is scarcity," Gartenstein said.
As the co-op has become established, new skills, talents and voices have broadened the possibilities. The co-op owns its building in Shoreline—a handful of framed dollar bills in the stairwell represent the buy-in from initial members—after many years of bouncing around between different rented commercial kitchens. It recently purchased a heavy-duty, more automated tortilla maker. It's looking ahead to likely outcomes like outgrowing the current building's capacity in another few years. It's possible to picture a time when it will even run on without Gartenstein, an image that would once have been unimaginable.