"Reverse Nobel" for studying farmworker health
This article was originally published in January 2020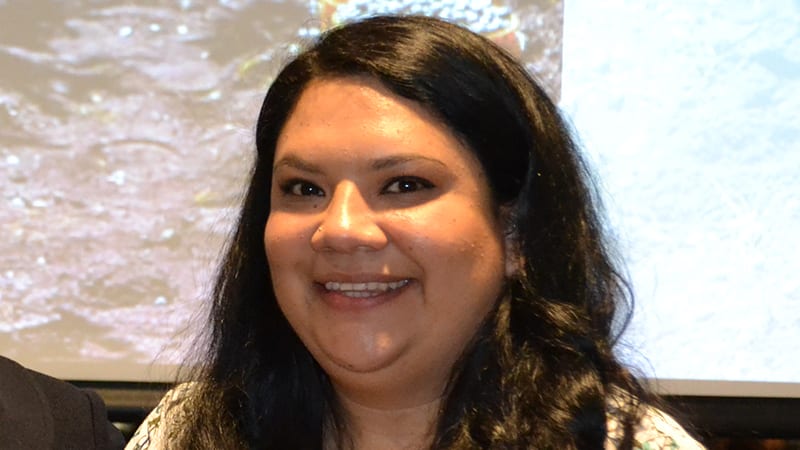 When people ask University of Washington graduate student Maria Blancas why she does the work she does, she replies "my family, mi familia."
Blancas researches the social and environmental impacts to farmworkers in Skagit and Whatcom counties as a doctoral candidate in UW's School of Environmental and Forest Sciences. She was recently awarded the Bullitt Environmental Prize from the Seattle-based Bullitt Foundation, meant "to help broaden and diversify the leadership of the global environmental movement."
The daughter of two immigrant farmworkers in Quincy, Washington, Blancas was the first member of her family to graduate from college. In a biographical video, she spoke about seeing her parents and siblings wake up before sunrise to work in the fields, talking with her father at the 4 a.m. breakfast table about which crop he would be irrigating or type of apples they would pick.
She joined them one summer in high school, learning to protect her face from the heat and dust, carefully pick apples to avoid bruising them through the long work day, and climb orchard ladders safely while carrying a full bag of fruit.
"I've seen how hard people work in the fields, and the impact the conditions have on their health," she said in a foundation press release. "Their work feeds us all, but harmful stereotypes devalue the people behind it. I want to use my skills to change the stories we hear about immigrants and farmworkers."
The prize comes with $100,000 awarded over two years.
Blancas plans to use these resources to complete her PhD, creating a digital platform for storytelling about farmworker experiences in the region.
"Agricultural produce touches everyone through the food we eat, yet too often we forget the people working to bring it to our tables," Bullitt Foundation CEO Denis Hayes said in a press release. "Maria's work gives voice to people who are frequently hidden from view, highlighting impacts to their health and bringing their needs out of the shadows." Hayes told The Seattle Times the prize functions as something of a reverse Nobel, nurturing young people with the potential to become leaders rather than rewarding decades of accomplishment.
Past winners of the prize include a soil carbon researcher, a wildlife conservation leader trying to reduce conflict between wolves and ranchers, and an advocate for organic food security.