Labeling laws target "burgers," "milk" and even "rice"
By Rebekah Denn
This article was originally published in January 2020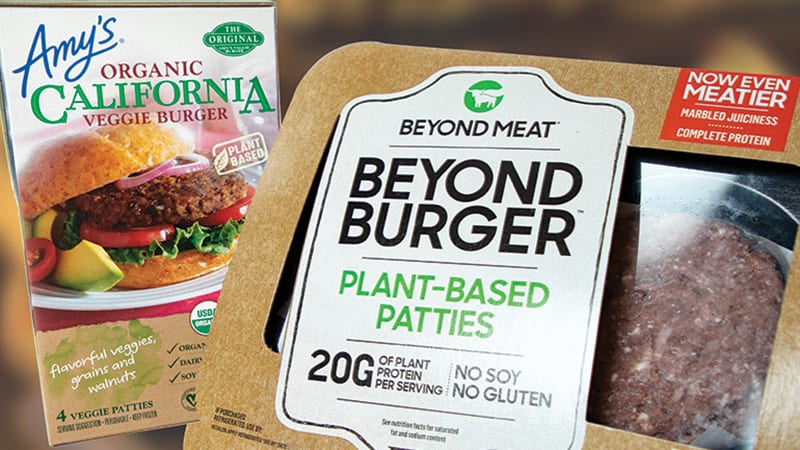 Do you think a "veggie burger" contains meat? Or that almond milk is a dairy product?
As vegetarian and vegan alternates to animal-based products become even more mainstream, new laws across the U.S. are barring manufacturers of plant-based products from using terms like "milk" or "meat" on their labels. Nearly 30 states "have either proposed or passed laws aiming to prohibit the use of meat-related terms by plant-based companies," according to VegNews magazine.
Last year, the American Civil Liberties Union (ACLU) and other agencies filed a lawsuit in federal court on behalf of the Oregon-based Tofurky company, challenging an Arkansas law on plant-based labeling. The law would impose fines of up to $1,000 every time a plant-based meat product, such as a "veggie burger" or "tofu dog" was marketed or packaged with a meat label, even if followed by modifiers such as "vegan," "veggie" or "plant-based," according to the ACLU. The fines would also apply to products with labels like "milk" that do not contain dairy, and —in a vegetarian-to-vegetarian lineup—would ban labeling chopped-up cauliflower as "cauliflower rice." (Restrictions also include cell-based meat.) A similar lawsuit is underway in Missouri, and one was working its way through the system in Mississippi until the state recently backtracked on its ban.
At a recent food industry meeting in Seattle, Jaime Athos, the CEO of Tofurky, said the labeling laws have a chilling effect on industries like his. The company, which specializes in products like plant-based "chick'n" and "roasts" in addition to its famous faux turkey, has been around for nearly 40 years. Consumers have
never reported feeling misled or confused about whether the products contain meat, he said. The meat industry didn't seem concerned either, he added, until the recent sharp rise in sales and public enthusiasm around new plant-based products.
"No one is even being that sneaky about what their intention is, and it's to harm my industry to the betterment of the Cattleman's Association," he said at the Smart Kitchen Summit in Seattle. (Beef and farming industry groups persuaded legislators to introduce such laws in more than a dozen states, according to The New York Times.)
"Imagine trying to sell a veggie burger if you don't use the term burger," Athos said. "Plant-based discs" don't have the same ring.
One solution, Athos said, might be to just not sell Tofurky products in places like Missouri where legislators are enacting these laws. And yet, he said, customers in Missouri want to buy Tofurky, too. "That's doing harm to their constituents. It frustrates me, I guess. This is not what I learned in civics class as a kid."
The U.S. Food and Drug Administration (FDA) has raised the issue of consumer confusion when it comes to plant-based labels, though, at least when it comes to dairy products. The agency asked for public comments in 2018 and early 2019 on how consumers understand terms like "milk" or "yogurt," saying the agency has concerns that "the labeling of some plant-based products, which can vary widely in their nutritional content, is leading consumers to believe that those products have the same key nutritional attributes as dairy products." It received nearly 12,000 comments.
"Does the FDA intend to prohibit Smuckers from calling their product peanut butter because someone might think it has butter in it?…Will it be a crime to sell coconut milk or coconut cream, neither of which has dairy ingredients?" wrote David Biehl, a physician.
Patients, he wrote, are aware of the differences between dairy and plant-based foods and "it should be public policy to encourage the use of analogue foods, which contain no cholesterol."
Not everyone agreed, not even all physicians. Leaders of the North American Society of Pediatric Gastroenterology, Hepatology and Nutrition wrote that consumers don't sufficiently understand "why some milk alternatives meet pediatric nutritional needs and others do not." It isn't in their best interests, the letter said, to label a product as milk if it doesn't come from cows or "does not contribute the nutritional value of milk to the diet."
A research firm that partnered with the Plant Based Foods Association analyzed more than half of the comments and reported that three-quarters of those commenters, including nearly all who described themselves as consumers, are in favor of allowing plant-based foods to use dairy terms. The 482 commenters who identified themselves as dairy farmers or family members were almost entirely opposed, the report said.