Sustainability Report
By Brent Kawamura
This article was originally published in November 2019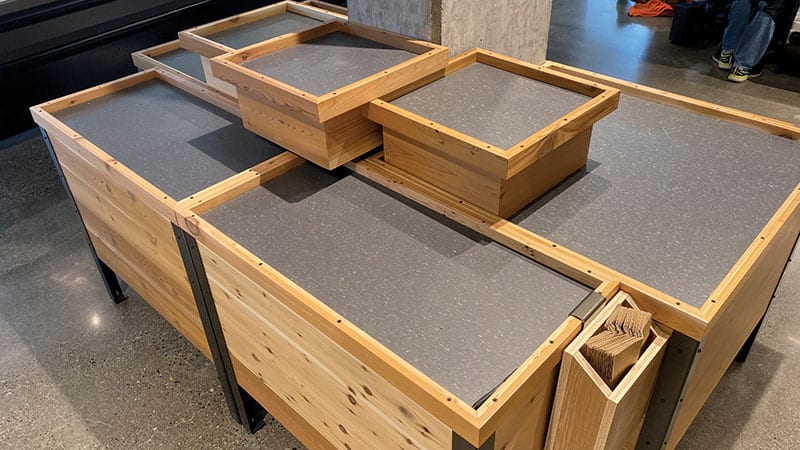 Taking on the Living Building Challenge
The produce tables at PCC's new West Seattle store were constructed with reclaimed cedar. We didn't have to travel far to source this eco-friendly choice; the cedar was originally used for exterior cladding and interior wall finishes at our original West Seattle store.
That's just one of many commitments involved as PCC pursued the Living Building Challenge (LBC) Petal Certification for our new stores (see related article for more details). The LBC is run by the International Living Future Institute (ILFI) and is comprised of seven performance areas, or Petals, of which PCC pursued Place, Beauty and Materials. The LBC is regarded as one of the world's most rigorous green building standards and the Materials Petal is a testament to that.
The LBC maintains an extensive list, also known as the Red List, of over 800 toxic substances that have the greatest impact to human and ecosystem health, such as polyvinyl chloride (PVC). Under LBC's strict Materials Petal requirements, building materials must be free of Red List substances wherever possible. Our store development team spent countless hours over two years reviewing all applicable building materials, down to individual components, to confirm that there were no Red List substances. Our team went above and beyond by also vetting some building components that weren't even required under LBC's Materials Petal.
Whenever we identified a building material that contained a Red List substance, we went back and identified a permissible alternative and tested it extensively to confirm it would hold up to the daily wear and tear of our robust retail environment. If acceptable alternatives weren't readily available, our team worked diligently with manufacturers to modify or custom-design a new toxic-free option. For instance, we discovered that our exterior signage contained a layer of PVC film, a Red List substance. We worked with the manufacturer to redesign the sign to achieve the same look, but without PVC.
We also encouraged manufacturers to provide more toxic-free options for this marketplace. For instance, our store development team wrote to manufacturers advocating the elimination of Red List substances from their products and educating them on why it's harmful to human and environmental health. The level of detailed work that went into achieving LBC's Materials Petal is unprecedented in the grocery industry.
Our work didn't stop here. We reduced the amount of generated construction waste by utilizing building materials efficiently and ensured that any generated waste was sorted and disposed of responsibly. We also offset the entire embodied carbon from our stores' construction. Building materials were sourced as locally as possible and all wood was either reclaimed, as with the West Seattle produce tables, or Forest Stewardship Council (FSC) Certified.
PCC has been long committed to reducing harmful substances from the products that we offer on our shelves. We are equally committed to these initiatives in the building products that we use to construct our stores.
Brent Kawamura is PCC's senior sustainability specialist.