New labels hope to enhance what "organic" can mean
By Max Goldberg, guest contributor
This article was originally published in September 2019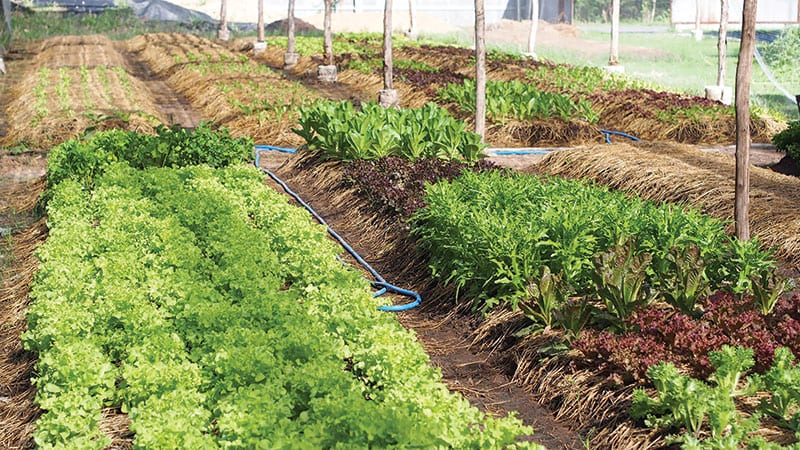 We're approaching a historic time for the organic industry.
After nearly 20 years of the federal government overseeing the National Organic Program, two new organizations—each one powerful in its own way—are trying to enhance what "organic" can mean.
Both organizations are introducing stringent new labels meant as add-ons to the existing U.S. Department of Agriculture (USDA) organic seal. While the USDA organic seal remains the only organic label regulated and enforced by the government, these new certifications want to build on its guarantees.
The Regenerative Organic Certification (ROC) and Real Organic Project (ROP) have largely different constituencies but share some board members and have complementary goals. Both organizations are addressing controversial aspects of USDA organic certification, such as gaps in its animal welfare protections, or its allowances for hydroponically grown produce and some milk from factory farms. Among other things, they say they want to raise the bar for what organic represents.
Short-term, customers are likely to see only a few products carrying either of the new labels. By 2020 Patagonia Provisions hopes to roll out ROC-certified dried spicy mangos, while Dr. Bronner's is working toward ROC-certified palm oil. Many more products are likely to follow, and it is important to recognize what each label represents—partly because many consumers still aren't clear on what the USDA organic seal means.
Both labels require that farms or brands have USDA organic certification as a baseline. From there, they diverge.
Better conditions for all living things
The ROC label centers on increasing the organic matter in soil and sequestering carbon, improving animal welfare, and providing economic stability and fairness for farmers, ranchers and workers. (Full standards are online at regenorganic.org.) It's backed by names familiar to many U.S. shoppers interested in sustainable living: Patagonia, Dr. Bronner's and the Rodale Institute. Other key players on the current board are from Demeter, Compassion in World Farming, Fair World Project, White Oak Pastures, Textile Exchange and Grain Place Foods.
ROC starts with certifications organic brands already may have, such as Fair Trade, Global Animal Partnership and others, and then makes sure the producers fill in any remaining gaps between their existing labels and what ROC requires. It provides guidance for farming and ranching operations, transportation, slaughter and processing facilities that produce food, cosmetics and fiber.
Many brands have shown early interest in acquiring the label, but ROC certification is difficult to obtain, especially the highest of its three levels, known as ROC Gold. Because the supply chain of ROC-certified raw ingredients is not built out yet, the products that customers can expect to see in 2020 most likely will have three or fewer ingredients, such as oils or fruit snacks.
Farms vs. brands
While ROC is very much a consumer label, the second label underway, the Real Organic Project (ROP), is different. Right now, ROP is only certifying farms, not food brands.
ROP certification was initiated by a handful of organic family farmers from Vermont and Maine and quickly became a national effort. Their collective experience in U.S. organic standards is unparalleled among any certification in the country.
Many members of its boards are either current or former members of USDA's National Organic Standards Board. Their goals reflect that experience: they aim to create and enforce a standard in line with the original intent and guidelines of USDA's National Organic Program, while also embracing centuries-old organic farming practices and new scientific knowledge of ecological farming.
ROP standards, which can be found online at realorganicproject.org, ensure crops are grown in soil (not in hydroponic systems) with a focus on increasing soil matter and soil health. It also ensures traceability in livestock origins, pasturing and grazing, greenhouse production, animal welfare and split farms. Backers believe that crops grown in soil and livestock raised on pasture-based systems are fundamental to organic farming.
Backers also believe that most USDA-certified farms already deserve to be seen as "real organic" products and would qualify for their certification. However, they see others, notably the large corporate operations, as violating the letter and spirit of the organic law and standards, with factory farm practices or hydroponics.
While some may assume that there is competition or conflict between the organizers of the different labels, this is not the case. Each one has praise for the other.
For instance, David Chapman, an organic tomato farmer in Vermont and executive director of the Real Organic Project, calls Regenerative Organic Certification "a tremendous effort and an aspirational label. It is where we want to go."
To many long-term observers in the industry, the introduction of these labels reflects some shortcomings in USDA's management of the National Organic Program. If USDA regularly followed the recommendations of the National Organic Standards Board, kept a much tighter eye on certifiers, and enforced the true spirit of the Organic Foods Production Act of 1990 (the law that Congress passed to establish the National Organic Program), there is a strong likelihood neither label would have been introduced into the marketplace.
Not only is this a reminder to elected officials in Washington, D.C. that market forces always will find a way to distinguish what consumers demand, but also these initiatives demonstrate that a core group of advocates in the industry will take the necessary steps to ensure that organic is continuing to improve and respond to consumers, farmers and the planet.
Max Goldberg is the publisher of Organic Insider, a subscription newsletter for the organic industry.
---
Regenerative organic certification
Website: regenorganic.org
Details: Starts with established certifications, such as Fair Trade, and fills in the gaps through third-party audits.
Progress: A pilot program with nearly two dozen major organic food brands at farms around the world commenced in 2018 and is expected to be finished in 2019. The first few ROC-certified products are expected in 2020.
Real Organic Project
Website: realorganicproject.org
Details: Certifies farms, not products. Certification is made through program management, not through third parties.
Progress: A pilot program with 60 farms across the U.S.—grains, orchards, vegetables, poultry and dairy—concluded on December 31, 2018. The first ROP-certified farms are expected to be announced at the end of 2019.